Association and club publications have always been a big part of adventure literature, but increasingly they're disappearing because of freely available online media. But now and again here at ExWeb, we come across a grassroots gem run by passionate disciples keen to spread the gospel of their chosen religion.
The latest to come to our attention is Telemark Journal, founded by Luca Gasparini, a long-term lover of the dark art of telemark skiing. For the uninitiated, telemarking or "tellying" is a variant of downhill skiing. The telly ski boot is mainly attached at the toe, and the free heel allows the skier to carve an elegant, sweeping turn by dropping to one knee. It was developed in Norway in 1866 by the Father of Telemark, Sondre Norheim, who also designed skis with incurving sides, the prototype for modern skis.
Gasparini and friends put together the journal to give voice to "international writers passionate about all aspects of fulfilment while gliding on telemark skis." Published twice a year, the journal comes as a hard copy, with nearly 300 pages of photo illustrated stories from telemarkers around the globe.
Issue 2 has just come out and features 28 essays, ranging from a homage to old-time skinny tele skis from adventure photographer and climber Pat Morrow to sunburnt telemarking in Australia by long-term fanatic Anthony Hunter.
Tele gear used to be much lighter than alpine touring gear, hence its attraction to backcountry skiers. That's no longer the case, and the sight of a telemarker linking turns through steep powder is no longer as common as it used to be. Some of the stories in the journal look back wistfully on the art's most recent heyday, in the 1980s.
To contribute a future article, painting or photo, contact the editor, Luca Gasparini, at journal@thewhiteplanet.it
About the Author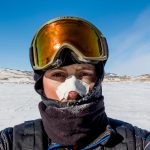 Ash Routen
Ash is an outdoor and adventure writer from the UK. He juggles a day job as a public health scientist with a second career in outdoor writing.

His words have featured in national newspapers, international magazines, and on various websites. Major bylines include Financial Times, Daily Telegraph, Porsche, Outside Magazine, Rock and Ice, and Red Bull.

He holds two degrees in Exercise and Health Sciences, and a PhD in Public Health.

His areas of expertise are polar expeditions, mountaineering, hiking, and adventure travel. In his spare time Ash enjoys going on small independent sledding expeditions, outdoor photography, and reading adventure literature.

Read more at www.ashrouten.com or follow Ash via @ashrouten on Twitter and Instagram.