Alex Gavan, "humbly listening to the signs" and heartbroken over the death of Sergi Mingote, has ended his attempt to climb K2 in winter without supplementary oxygen.
No word yet from partner Tamara Lunger.
More to come.
About the Author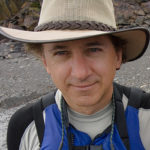 Jerry Kobalenko
Jerry Kobalenko is the editor of ExplorersWeb. Canada's premier arctic traveler, he is the author of The Horizontal Everest and Arctic Eden, and is currently working on a book about adventures in Labrador. In 2018, he was awarded the Polar Medal by the Governor General of Canada.