Alex Txikon and two Sherpas made good progress toward Camp 2 on Manaslu today. The team reached 6,350m, fixing rope along the way, before returning to Base Camp in the afternoon.
Tomorrow, it will be the turn of Simone Moro along with Nepali climbers Tenji Sherpa and Vinajak Jay Malla, and photographer Abiral Rai, to push on to Camp 2.
No word on how Txikon and company managed to avoid or surmount the large crevasse between Camp 1 and Camp 2.
Elsewhere, climbers are sitting tight at K2 Base Camp, awaiting the better weather predicted for the first week of February. Seven Summit Treks still has 20 Sherpas and over 15 clients at Base Camp.
About the Author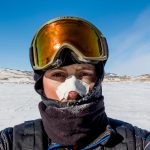 Ash Routen
Ash is an outdoor and adventure writer from the UK. He juggles a day job as a public health scientist with a second career in outdoor writing.

His words have featured in national newspapers, international magazines, and on various websites. Major bylines include Financial Times, Daily Telegraph, Porsche, Outside Magazine, Rock and Ice, and Red Bull.

He holds two degrees in Exercise and Health Sciences, and a PhD in Public Health.

His areas of expertise are polar expeditions, mountaineering, hiking, and adventure travel. In his spare time Ash enjoys going on small independent sledding expeditions, outdoor photography, and reading adventure literature.

Read more at www.ashrouten.com or follow Ash via @ashrouten on Twitter and Instagram.