American adventurer Colin O'Brady put in it a good effort but he has given up on winter K2. O'Brady made good time between Camp 2 and Camp 3 today, even after his partner, Jon Kedrowski, returned to Base Camp.
But as we reported earlier, Camp 3 featured more climbers than tents, which has meant that climbers who want to summit must accept putting in another marathon day on zero sleep. O'Brady's wife suggested on social media that more than a dozen climbers and Sherpas were trying to cram into just two tents, which made it difficult to rest, eat, and rehydrate.
It seems that this situation at Camp 3, and an intuition that "something doesn't feel right," led to O'Brady's decision.
O'Brady has remained in Camp 3 for the night with Ming Temba, who also ended his summit attempt because of a ripped glove. The pair will descend back to Base Camp tomorrow.
Now only Nirmal Purja — who like O'Brady, markets his projects as bringing off the impossible — can lay claim to a perfect record. The talented Nepali summited the mountain three weeks earlier.
About the Author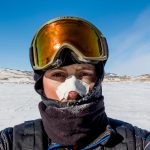 Ash Routen
Ash is an outdoor and adventure writer from the UK. He juggles a day job as a public health scientist with a second career in outdoor writing.

His words have featured in national newspapers, international magazines, and on various websites. Major bylines include Financial Times, Daily Telegraph, Porsche, Outside Magazine, Rock and Ice, and Red Bull.

He holds two degrees in Exercise and Health Sciences, and a PhD in Public Health.

His areas of expertise are polar expeditions, mountaineering, hiking, and adventure travel. In his spare time Ash enjoys going on small independent sledding expeditions, outdoor photography, and reading adventure literature.

Read more at www.ashrouten.com or follow Ash via @ashrouten on Twitter and Instagram.