Chhang Dawa Sherpa reports that the Seven Summit Treks climbers have abandoned their summit push.
On Instagram, Dawa wrote that "the entire team safely descended back to Camp 3, several of them approached 8,000m last night," but there were no successful summits.
They will start their descent from Camp 3 toward Base Camp in the next few hours.
This failed summit push includes Pasang Norbu Sherpa, who had been attempting to shoot up the mountain in just 24 hours. His tracker shows him descending from Camp 3. Unconfirmed reports suggest that a problem with his O2 apparatus ended the speed record attempt.
No further word about Snorri and the Sadparas, or the Mohr/Lunger duo.
About the Author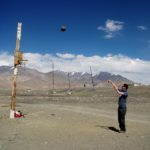 Martin Walsh
Martin Walsh is a freelance writer and wildlife photographer based in Da Lat, Vietnam.

A history graduate from the University of Nottingham, Martin's career arc is something of a smörgåsbord. A largely unsuccessful basketball coach in Zimbabwe and the Indian Himalaya, a reluctant business lobbyist in London, and an interior design project manager in Saigon.

He has been fortunate enough to see some of the world. Highlights include tracking tigers on foot in Nepal, white-water rafting the Nile, bumbling his way from London to Istanbul on a bicycle, feeding wild hyenas with his face in Ethiopia, and accidentally interviewing Hezbollah in Lebanon.

His areas of expertise include adventure travel, hiking, wildlife, and half-forgotten early 2000s indie-rock bands.