Jason Torlano, 45, and Zach Milligan, 40, are old enough to have known better, but last Sunday the two Yosemite Valley residents completed one of the riskiest skis in recent years. They skied iconic 2,694m Half Dome, from its shoulder to the valley floor. It's been mostly skied at least once before, but never all the way to the bottom.

Tackling Half Dome on sticks has been Jason Torlano's dream since the age of five. He grew up in the Valley, does not get paid to ski, but is one of those hardcore guys who take on such challenges for the love of it.

His partner Zach does not even consider himself a skier — he's more a climber — and almost took a fatal whipper near the top when he tripped over one of the cables bolted into the wall to help hikers scramble up that side of the Dome in summer. Luckily, "I was able to get my ice ax in and not die," Milligan matter-of-factly told the Fresno Bee. Thereafter, he cautiously sideslipped his way down.
Torlano had tried to ski this not-so-gentle giant three times before, but the snow wasn't right. Even this time, he and Milligan had to rappel on very sketchy rope down the so-called "death slabs" because of lack of snow — due, perhaps, to their verticality.
But after five hours of strenuous work along a route they described as "high consequence", they arrived safely at Mirror Lake.
The Fresno Bee compilation below includes a few clips of the descent.
About the Author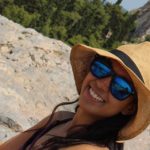 Kristine De Abreu
Kristine De Abreu is a writer (and occasional photographer) based in sunny Trinidad and Tobago.

Since graduating from the University of Leicester with a BA in English and History, she has pursued a full-time writing career, exploring multiple niches before settling on travel and exploration. While studying for an additional diploma in travel journalism with the British College of Journalism, she began writing for ExWeb.

Currently, she works at a travel magazine in Trinidad as an editorial assistant and is also ExWeb's Weird Wonder Woman, reporting on the world's natural oddities as well as general stories from the world of exploration.

Although she isn't a climber (yet!), she hikes in the bush, has been known to make friends with iguanas and quote the Lord of the Rings trilogy from start to finish.