The moment has arrived: The first wave of climbers is heading for the summit of Everest. Details are scarce, especially about the state of the ropes, but some teams have begun to head up.
Seven Summit Treks has reported that the Bahraini team is on the go, although they will move at a rather relaxed pace. They head for Camp 2 tomorrow and will rest there on Saturday. They then head to Camp 3 on Sunday, Camp 4 at the South Col on Monday, and the summit on Tuesday. Pakistani media report that so-called Broad Boy, 19-year-old Shehroze Kashif, who shares a permit and logistics with the Bahrainis, has joined them.
Garrett Madison and his team have just returned from Camp 3 and need some days of rest. However, he mentioned that British guides Kenton Cool and Jon Gupta, "along with their climbers, Ardavan and Rebecca, are planning to head up soon. They're here at Camp II, and they're probably going to make their summit bid in a few days."
About the Author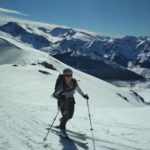 Angela Benavides
Senior journalist, published author and communication consultant. Specialized on high-altitude mountaineering, with an interest for everything around the mountains: from economics to geopolitics. After five years exploring distant professional ranges, I returned to ExWeb BC in 2018. Feeling right at home since then!