It's a beautiful summer day and you're heading to the beach with friends and family for a picnic. But after parking the car, you realize it's a bit of a walk to the perfect spot on the beach. It's hot and the kids can't wait to jump in the water to cool off. You're lugging a giant hardshell cooler to keep your drinks and snacks cold. It's heavy, bulky, and it's a pain to carry down the beach.
Now imagine if you had a backpack cooler. It fits comfortably on your back, leaving your hands free. The soft backpack cooler is easy to carry and doesn't beat you up like your old hardshell cooler.
In this guide, we break down the best backpack coolers on the market. Brands like Yeti, Hydroflask, RTIC, and IceMule are well known for their soft cooler backpacks. After hours spent on research and months spent on testing, we've rounded up some of the greatest backpack coolers for outdoor adventures. Whether you're looking for a comfy cooler for day hikes, bike rides, fishing, or car camping, the backpacks below are excellent options.
Cooler compartment holds 12 cans, or about eight plus ice packs
Main backpack compartment is in the neighborhood of 20 liters
Front organizer pouch has mesh pockets and key clip
Pros
Cools drinks efficiently
Construction is satisfying
Comfortable to carry even when heavily loaded
Cons
Front pouch organizer components are a little cumbersome
No hip or chest belts
As an active rock climber for over a decade, I'm primarily motivated by two principles: 1) safety first, and 2) for the best climbing experience, always carry more beer than gear. For light-duty days of single pitch climbing or bouldering, the Carhartt Cooler Backpack often helps me do both. I also commonly use it for float trips, campouts, and day hangs, like disc golf outings or bike rides.
I got the Carhartt as swag from a media junket in the summer of 2021. Ever since, its ability to keep beverages at least moderately cold for hours has impressed me. I usually load it up with two hard-shell ice packs, which leaves room for around eight 12-ounce cans. As long as the cans are cold when they go in, I've found their contents are still cold six-plus hours later on 95 degree-plus days. Of course, stashing the bag in the shade helps.
The pack's storage is nothing to get excited about. There's enough room in the main compartment for a harness, a few quickdraws, and your shoes and chalk. There's plenty of room for golf discs, or daily essentials. Carhartt doesn't list the volume, but I'd put it at around 20 liters.
See Carhartt 2-in-1 Insulated Cooler Backpack on Amazon
See Carhartt 2-in-1 Insulated Cooler Backpack on Carhartt
Holds 23 liters or around 18 cans and ice
Padded, airmesh shoulder straps
Roll-top opening
Waterproof exterior
Pros
Keeps drinks cool for a very long time
Durable exterior
Comfortable, lightweight fit
Cons
A great option for a full day adventure, the IceMule Pro Backpack Cooler can hold up to 18 standard 12oz cans with 20 liters of space. The insulated dry bag design means there will be no water leaking out. The super rugged outer shell stands up to branches, sand, dirt, and mud.
This soft-sided cooler backpack has air-mesh padded shoulder straps and a chest strap that provide enough support to carry a heavy load. The roll-top style allows for easy access, plus the whole cooler pack rolls up when not in use for easy storage. PolarLayer insulation provides 24 hours of cooling and ice retention. The bungee straps on the outside allow you to carry a jacket or picnic blanket.
See IceMule Pro Backpack Cooler on Amazon
See IceMule Pro Backpack Cooler on REI
See IceMule Pro Backpack Cooler on Walmart
Holds up to 28 cans
Padded, adjustable straps
Includes zippered and mesh pockets
Pros
Keeps drinks and food cold for hours
Comes with extra storage space
Budget-friendly option
Cons
Exterior front pocket crushes snacks (when the pack is at full capacity)
28-can capacity doesn't include ice
If you're looking for a budget-friendly, simple but effective option, the Coleman Soft backpack cooler is ideal. Holding 28 cans, this insulated cooler backpack looks like your average school backpack, but includes an insulated liner to take snacks and drinks on all your outdoor adventures.
Two mesh pockets and a zippered front pocket also allow you to bring picnic extras like napkins and silverware. Straps on the back allow you to stuff a layer, and the back panel is soft mesh. Adjustable and padded straps provide a comfortable fit for your shoulders and waist. This option is more affordable than many insulated packs.
See Coleman Soft Backpack Cooler on Amazon
20-can capacity and ice in main compartment
Padded shoulder straps
Outer pockets for extras
Pros
Size is best for go-bag, weekender users – not the best for hiking
External pockets for small electronics/snacks
Very attractive price point
Cons
Not the most durable fabric or zippers
On the small side
This soft-sided cooler backpack holds 20 cans, plus there's more room in the main compartment for ice. Mesh side pockets provide extra space for a water bottle or granola bars, and the zippered front pocket holds keys or a sandwich. Padded shoulder straps allow you to carry this cooler for long periods.
This cooler pack keeps drinks and snacks cold all day, even if you're walking around in the hot sun. Ice melts after for or five hours, say reviewers, but contents will stay cool all day. Some reviewers have had issues with long-term durability, but for a little over $20 (the price at the time of writing), this is a seriously great option. It's easy to carry and super-convenient for short road trips, picnics, and beach outings.
See OAGear Backpack 20 Can Cooler on Amazon
Top access and bottom insulated food compartment
Lots of pockets
Picnic accessories like bottle opener, cutting board, etc. included
Pros
Holds temperature well
Comes with handy picnic accessories
Insulated inner compartment accessible from bottom
Cons
This cute backpack puts other backpack coolers to shame in the accessory department. It has a built-in bottle opener, plus an included bamboo chopping board, stainless steel cheese knives, and corkscrew. The main compartment splits into two insulated compartments separated by a removable divider, so you can bring two bottles of wine without clinking them together while you walk.
The shoulder straps include an adjustable sternum strap for comfort. As a top backpack cooler, this backpack features top access and a flap that buckles to close. Access the bottom compartment with the bottom access zipper. Plus, lots of extra dry pockets hold your phone, keys, and other necessities.
See Igloo Daytripper Backpack Cooler on Amazon
Holds 20 cans and ice with a 2:1 ice-to-can ratio
Dryhide shell
Coldcell insulation
Hydrolok zipper
Padded straps and waist belt
Pros
Keeps contents cold for a long time no matter the weather
Durable fabric and tough overall construction
Leak-proof lining
Looks great, is comfortable to wear
Cons
One of the more expensive options
The Yeti Hopper Backflip 24 is built for one thing only, carrying enough food and drink to sustain you on any adventure. Sure, it's expensive, but the quality speaks for itself. The inside of the bag is insulated with closed-cell rubber foam. Yeti calls this technology Coldcell Insulation and it works much better than cheaper coolers. The contents of your bag will stay cool for hours, if not days.
The large insulated interior of the Yeti Hopper Backflip 24 is big enough to hold 20 cans with a 2:1 can to ice ratio. All of those beers are going to be pretty heavy, which is why the large padded straps and waist belt are so important. Another important feature is the Hydrolok Zipper, which is, in Yeti's words: "the toughest, highest-performing waterproof and leakproof zipper in the world." If you want one of the highest quality cooler backpacks on the market, the Yeti Hopper Backflip 24 is pretty hard to beat.
See YETI Hopper Backflip Backpack Cooler on Amazon
Holds up to 30 cans (without ice)
Leak-proof insulated lining
Multiple outside pockets
Bottle opener included
Pros
Keeps contents cold for hours
Competitively priced
Lots of pockets for accessories
Cons
Some reviewers have complained about durability when over packed
This next cooler backpack is a more affordable option. It holds about 30 (330ml) cans, but make sure you leave space for ice or ice packs. The leak-proof inner liner uses seamless technology to keep melted ice from leaking out of your backpack. This backpack also features lots of pockets, from two mesh side pockets to a zippered front pocket designed for utensils, plus a zippered pocket on the lid to keep your keys and wallet safe.
The padded shoulder straps also include a mesh pocket for your phone, and it features an integrated bottle opener. According to reviewers, the durable fabric is easy to clean and lasts for a long time. It's great to carry to the river, on boating trips, hikes, and picnics.
See TOURIT Cooler Backpack on Amazon
Why trust us
We spend lots of time outside, rock climbing, hiking, and hanging out along the rocky Washington coast, and we like to be hydrated along the way. So, having a high-quality backpack cooler (with a bottle opener preferably!) is a must for any day-long adventure. Our testers have taken their insulated cooler backpack to the river during hot Texan days, and to the climbing crags.
Who this is for
This guide is for anyone who is searching for the perfect backpack cooler. Whether you want something to carry drinks to the beach, to the top of the mountain, or for your next tailgate, backpack coolers are a great invention and deserve a place in everyone's gear closet. If you're struggling to keep things cold, but don't want the inconvenience of a big hard shell cooler that you can't take anywhere, you might need a cooler backpack.
How we picked
We chose our backpack coolers by testing, as well as researching what is currently best on the market. We picked our favorites from testing and researching cooler packs, from affordable but effective options for folks on a budget, to pricy premium backpacks that are ready for literally any adventure.
How we tested
We tested soft coolers by taking them outside to check their ice retention. We took them on long hikes to see how comfortable they were, and we stuffed them full to see how much they could carry. We tested outside pockets and exterior pockets. We made sure they provided easy access to your cold beverages and tested out extra features like an integrated bottle opener or bungee straps.
Features to look for in backpack coolers
There are lots of things to look for in your backpack cooler search, other than just whether or not it keeps your drinks cold. Here are a few things to look for.
Comfort/straps
The whole point of having a soft backpack cooler is to take it places. To take it on a longer hike, it's going to need to have padded shoulder straps and not just webbing that will dig into your shoulders. Look for a backpack with padded shoulder straps, a chest strap, a hip belt, and a comfortable padded back panel. Some models even put more effort into the back panel, including more support and providing airflow for when you start getting sweaty.
Size
The size of your cooler backpack influences how much you can carry, but it can also make it heavier and more cumbersome. Depending on your needs, you may look for the largest cooler backpack you can find, or you may want something smaller and more portable. Also consider whether or not you need space for things other than snacks and drinks, like space for extra layers or other necessities.
Max weight capacity
Liquids are heavy. So even if you can physically carry two 12-packs, make sure that your backpack can also handle that load. Your insulated backpack cooler should specify how much weight it can carry, and don't forget that you'll also want to include ice!
Extra pockets
If you want to carry more than just drinks and ice, you'll need extra pockets. Whether you want outer pockets to stash a sweatshirt and sandwiches, or two mesh side pockets to hold your water bottle, or a zippered pocket to keep your phone and keys safe, make sure that the cooler pack you choose has the features you need.
Material
What is your soft cooler backpack made out of? Some are made out of canvas like a regular backpack, while others are made out of thicker, waterproof material. Canvas or fabric cooler backpacks have the possibility of leaking melting ice, while having watertight zippers and fabric helps keep you dry while you hike around with your cooler pack. Some cooler backpacks also have features like bungee straps on the outer shell to hold jackets or other stashable items.
Insulation
Here's the important stuff! This is what is actually keeping your drinks cool. Plus it determines how long it takes before your ice melts. The inner compartment of your insulated backpack cooler could be made out of foam, or other insulating materials. Make sure to check how long your cooler backpack will keep drinks ice cold before purchasing. You definitely don't want to head out on a multi-day outdoor adventure, and then realize that your backpack can't keep your ice frozen for that long!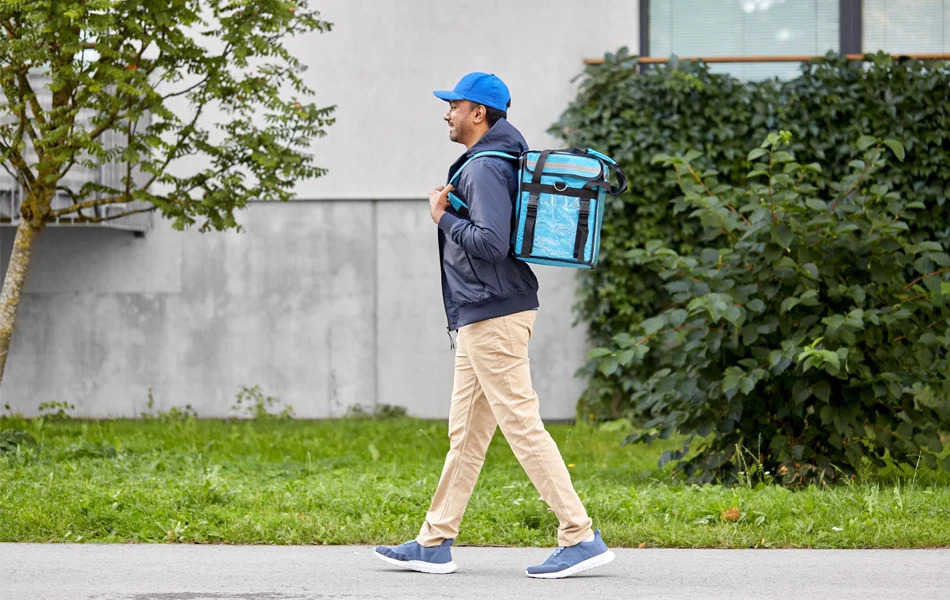 Backpack cooler FAQ
Q: What is the average size and capacity of a backpack cooler?
A: Backpack coolers weigh anywhere from one to six pounds. You could choose a lighter backpack cooler, but you will often compromise on durability and insulation. Heavier backpack coolers often provide a thicker outer shell and longer ice retention, but they will be harder to carry long distances.
Q: What's the best way to clean a backpack cooler?
A: Clean your backpack cooler or any soft cooler with soap and warm water before using for the first time, and then after use. Use dish soap and a soft rag to wipe out the inside of your backpack coolers. Rinse with a wet towel, and then dry off with a dry towel. Make sure your backpack cooler is completely dry before storing or reusing.
Q: Can backpack coolers hold ice?
A: Definitely. In fact, you will need some sort of ice or ice pack in your backpack cooler so that it keeps your drinks cold. The best backpack coolers will keep ice cold for a day or more, but keep in mind that if you use loose ice, it will melt and create a puddle in your backpack cooler. Having a waterproof zipper and inner liner can help keep melted ice inside your backpack.
Q: How long will a backpack cooler stay chilled?
A: This depends on the quality of your backpack cooler. Most backpack coolers offer anywhere from 12 to 48 hours of chill. It also depends on how much ice you use, how big the chunks of ice are, how warm it is, and more.
Tips for keeping your cooler cold for longer:
Chill it ahead of time — if the cooler and its contents are cold ahead of time, they will stay cold longer.
Use more ice — the more ice you use, and the bigger the chunks of ice, the colder your soft cooler backpack will stay.
Fill up space — if the space is filled with drinks or snacks or ice packs, it won't allow any warm air to infiltrate the insulated compartment.
Keep it out of the sun — if you want your backpack cooler to stay cold, keep it closed and out of the sun as much as possible.
Q: Can a backpack cooler be used to hold hot food?
A: The process is a little more involved, but yes, you can. There's a sufficient guide located here, giving you the full rundown on how to store your food to keep it hot in a cooler. Use aluminum foil, hot packs, or warm water to help keep food warm longer in your cooler backpack. However, it probably won't keep food warm as long as it would keep food cold. Check with the manufacturer to see if your backpack cooler can keep food warm.
Sources:
Cooler – Wikipedia
Why Is Styrofoam A Good Insulator? – Sciencing