The best hiking belts suit the wearers' needs. Wearing the wrong belt is an inconvenience at best, but it can also create lasting discomfort or chafing.
To find the best hiking belts, I sorted through tactical belts, lightweight hikers, some old-school leather belts, and everything in between, from brands both storied and obscure.
But everyone's hike is their own, so the profusion of belts made sense. I cinched down the category to deliver an array of belts that (I hope) reflect the diversity of hikers.
Alloy buckle with brass release clips
1.5" nylon belt
Heavy-duty construction
Comes with attachments
Pros
Robust
Handles attachments easily
Cons
Heavy
Buckle doesn't like to lay flat
At first, I was highly annoyed by QINGYUN's tactical belt. However, I came around as I got used to it. It's not the best belt for me personally, but that doesn't mean it's not a good tool. It had a solid buckle that operated easily during testing, and it handled any attachments.
The first thing I thought about the QINGYUN tactical belt was that it was heavy. It is. The nylon belt is thick, densely woven, and long, even in the smaller waist size. The buckle, in the right hands, could be fairly effective as a weapon.
The belt's size became even more apparent when I put it on. With an actual width of 1.45 inches, I had to work it through some of my narrower belt loops. And the detachable end of the buckle was too big to fit through the loops on any of my hiking pants. This was no big deal, and perhaps by design; It's a ladder lock, so you just unthread and rethread it.
Now for my final gripe: the belt's buckle did not want to lay flat. I figured out that QINGYUN's combination of thick nylon and a tight ladder lock made the material bunch and stood out. Eventually, I threaded the ladder lock where I wanted it with the belt off and put a dumbbell on top of it to flatten it.
But I found the QINGYUN tactical belt comfortable enough while I was wearing it. The buckle was secure, and the heavy-duty nylon would easily hold up to a variety of holsters or attachments. As shipped, my kit included a keyring and two Velcro MOLLE attachments. It would even work with a heavy accessory like a hiking belt water bottle holder.
Overall, I would categorize it as a useful hunting or tactical belt. It's too heavy to belong on hikes, trial runs, or climbs. Its lower MSRP tag feels more than reasonable for the quality. Read the in-depth review here.
See QINGYUN Tactical Hiking Belt on Amazon
Ratcheting buckle
Sturdy but narrow nylon strap
Invisible tail
Pros
Stout
Effective, satisfying ratchet action
Cons
Tested unit turned outward at the top back
Buckle scratches easily
Fairwin makes a heavy-duty nylon hiking utility belt with an ingenious ratcheting buckle. At 1.25 inches thick, it was narrow enough to fit in smaller belt loops, but it was robust with its 3.3mm density. It was low-key cool enough to wear casually but rugged enough to handle outdoor sports. I noticed an odd fitment problem, but that was my only complaint.
Fairwin's ratcheting buckle is easy to use. I simply fed the end of the belt through it, and an alligator clip captured progress. The belt's stout nylon has deep ribs, which helped the clip bite. A discreet release lever on the bottom of the buckle disengaged the clip, and I could pull the belt free. As an aesthetic note, the belt fed behind the buckle, which made the tail "invisible."
The belt was heavy enough to handle any hanging accessory.
In practice, I found Fairwin's buckle highly satisfying. I was able to tighten it precisely and it proved secure once I had it where I wanted it. The ratchet's noticeable click and solid feel were pleasing and inspired confidence. At first, I was worried that the release lever would accidentally engage, but it never happened during testing.
But I didn't love everything about the belt. My biggest complaint is a head-scratcher: For some reason, the top of the belt persistently turned outward at the back. This happened no matter how snugly I wore the belt. It doesn't seem like the biggest deal, but it was a hassle because it kept catching on to whatever I was carrying on my back. For that reason, I probably won't wear it much for hiking. As a secondary gripe, the buckle scratched easily.
All things considered, the Fairwin ratcheting web belt is a cool accessory that can work in various scenarios. Read the in-depth review here.
See Fairwin Ratchet Hiking Belt on Amazon
Elastic stretch
Polymer buckle/no metal parts
Length adjustable with belt on
Pros
Stretch provides long-distance comfort
Crossover use as a travel belt
Cons
On-the-go adjustment may be difficult
Arcade creates its Midnighter hiking belt with elastic stretch and no metal parts for maximal function and comfort. With its polymer buckle, the belt is airport-ready and washing machine-safe. The Midnighter's 90% nylon and 10% rubber construction makes it stretchy enough to be ideal for long-distance hiking missions. Functionally, it crosses over as a travel belt, where its stretchy design should prevent creasing and pressure points during long journeys.
The Midnighter's slim polymer buckle allows for on-the-go fit adjustments. This promises to be helpful if, say, you ford a creek during a hike and find yourself with saturated pants that are suddenly super-heavy. Of course, the feature also affords comfort for eating gut-busting meals. However, it seems to satisfy some reviewers but not others who report difficulty loosening the material from the buckle.
When you're back home from your adventure, throw your pants in the washer with the Arcade belt still in the loops — with no metal parts, it's washing machine safe. The Midnighter is 1.5 inches thick and fits waists up to 41 inches. And it's one of the best hiking belts for the lower-moderate price point.
See Arcade Midnighter Hiking Belt on Amazon
Two-pack
Simple nylon strap with plastic buckle
Available in a variety of colors and patterns
Pros
Cons
Cheap (possibly temperamental buckles)
Sketchy customer service
Upstart designer JASGOOD delivers a value utility belt with a plastic buckle in a two-pack. The belt is airport-safe and compatible with MOLLE-type attachments for knives, keys, tools, and beyond. JASGOOD (amusingly) stands for Just Attractive Stylish GOOD. Some online reviews mention poor or "no" customer service, which is 100% predictable if you even glance at the website. The company started in 2014 and primarily makes belts.
Enter its nylon tactical belt. It's a utilitarian nylon strap that's 3mm thick, with an unobtrusive plastic buckle. JASGOOD offers the belt in three sizes and a variety of colors and patterns. The two-belt package stands out with its value, two belts cost less than 30 bucks.
Considering that it's essentially a bargain belt, the JASGOOD enjoys a strong reputation across a broad pool of reviewers. However, nearly every negative Amazon review focuses on the same complaint: a cheap buckle. One unfortunate customer who experienced trouble unfastening the buckle kicks off his review by stating, "I almost crapped myself."
For the price, it's hard not to pull the trigger on the JASGOOD buckle. But if the anecdote above doesn't warn you to beware, I don't know what will.
See JASGOOD Nylon Tactical Hiking Belt 2-Pack on Amazon
High-strength polymer buckle
1.25" wide
Three available sizes
Pros
Looks lightweight
Simple design
Cons
May be too light-duty for attachments or tactical gear
Bison Designs' Elliptagon belt is a trail rig built with no metal that looks lightweight. The nylon hiking belt with its high-tech plastic buckle is just 1.25 inches wide and looks like a solid belt for hiking pants or walking pants.
Bison seems to have coined the term "elliptagon" to describe the shape of the belt's buckle. I don't know why or what's "stealth" about it, but I'm just here to observe and report. The ladder lock-style buckle is made of DuPont's Delrin material. That looks like a solid choice, DuPont describes Delrin as having "high creep resistance" and "high strength and stiffness," even claiming it's "the ideal material in parts designed to replace metal."
All this means you'll be able to wear your Bison Designs Elliptagon belt through the airport with no problem and its high-tech polymer buckle should prove durable over the long haul.
The simple belt comes in three sizes. It's available in a variety of colors and patterns, including a playful dancing bear entry.
See Bison Designs Elliptagon Hiking Belt on REI
1.5" wide nylon belt
Anodized aluminum buckle
Plastic pull tab
Pros
Lightweight but durable
Simple
Cons
The Arc'teryx Conveyor Belt sets the industry standard with textured webbing, an anodized aluminum buckle, and a riveted plastic pull tab. The Conveyor Belt's strength is its simplicity. The belt is a rugged nylon strap with a simple aluminum ladder lock, that's it. It is 1.5 inches wide. It weighs a modest 3.4 ounces. The aluminum ladder lock features the Arc'teryx logo, and "ARC'TERYX" is molded onto the plastic tab. The belt is otherwise unadorned. Contrasting color stitching adds subtle flair.
I'm forced to wonder if the plastic pull tab is helpful or just a spurious embellishment. My instinct is that it would try to make the belt's tail flop over, but reviews generally indicate that the nylon is stiff enough to prevent it. In fact, several reviewers find the belt so stiff that it's difficult to adjust and that the tail can stand rigidly out. Still, it doesn't seem to slip once it's adjusted, and long-time users revere the Conveyor Belt's durability. Three sizes and five colors are available to help outfit every hiker.
See Arc'teryx Conveyor Belt on Amazon
See Arc'teryx Conveyor Belt on Arc'teryx
99% polyester, 1% nylon
Aluminum hook buckle/bottle opener
1.625" wide
Pros
Solid brand pedigree
Dries quickly
Multi-purpose buckle
Cons
Expensive
Only available in one length
Legendary mountain man outfitter Filson makes the Togiak men's hiking belt to hold up the grittiest hikers' pants. A distinctive aluminum hook buckle and robust 1.63-inch width characterize the belt. Quick-drying polyester and a low profile make the Togiak a strong choice for backpacking.
C.C. Filson, the company's founder, had this to say about Filson's original line of outdoor gear in 1914: "The goods we quote must not be confounded with the cheap and vastly inferior grade with which the market is over-run. Such goods are not only useless for the purpose for which they are intended, but the person wearing them would be better off without them."
Filson's point-blank assertion resonates with anyone who has used bad gear in the wilderness. Like every item in the current Filson catalog, the Togiak belt follows the company's utile tradition.
The polyester belt dries quickly and should ride easily. The rust-proof aluminum buckle lays down flat, so layers and backpack waist belts are comfortable. Finally, the ingenious buckle is simple to use and moonlights as a bottle opener, because any salty mountain adventurer deserves quality refreshment.
The Filson Togiak is available in three colors and fits waists up to 45 inches. Reviews indicate it's not the best narrow-waist hiking belt; shoppers commonly mention excess tail.
See Filson Togiak Belt on Amazon
Recycled polyester belt
Forged aluminum buckle/bottle opener
One size fits all
Pros
Simple
Reputation for durability
Cons
Plain styling
Only one available size
Patagonia's Tech Web belt is all about no-nonsense functionality — well, the buckle doubles as a bottle opener — but other than that, the outdoor belt is all business. The Tech Web is a 1.5-inch-wide recycled polyester strap and Patagonia emphasizes that the belt can be repurposed as a lash strap in an emergency. (Can't pretty much any belt do that? But still).
Its toothed ladder lock buckle probably bolsters the belt's load-securing capacity. Of course, the teeth on the buckle are for prying off bottle caps, but they could also serve the purpose of helping the buckle bite the belt.
I think about it this way: if you've had the kind of day where, for some reason, you had to take off your belt to use it for emergency lashing purposes, at least you can sit down when it's all over and pop a bottle to soothe your extraordinary troubles.
The bottom line is the Patagonia Tech Web belt is a trusted classic among hiking belts. Devotees love its durability and versatility.
One size fits all in two available colors.
See Patagonia Tech Web Belt on Patagonia
See Patagonia Tech Web Belt on Backcountry
See Patagonia Tech Web Belt on REI
1.18" nylon belt
Polymer cam buckle
Available in multiple colors and patterns
Pros
Low profile
No-metal construction; good for airport travel
Cons
Plastic cam construction could be temperamental
Bison's T-Lock belt utilizes a high-tech plastic cam lock on a narrow 1.18-inch nylon belt to deliver a lightweight hiking belt that stands out for its travel capability. The T-Lock belt uses a Delrin buckle with cam closure. Delrin is a DuPont-created polymer intended to replace metal parts, characterized by high strength and creep resistance. Bison's cam lock closure system uses an alligator clip to bite the belt. The user feeds the end through the clip and the clip captures progress.
The T-Lock belt holds a serious advantage for traveling. It glides through airport security with its non-metal construction and its lightweight and low profile afford all-day comfort. The same features could play well in outdoor sports like climbing, though I would test the buckle thoroughly before taking it too deep into the backcountry. Bison makes the T-Lock belt in a variety of colors and patterns.
TPU coated 1.5" webbing belt
Enhanced load-bearing capacity
Natural ergonomic curve
Cast aluminum buckle
Pros
Coated belt for durability
On deep sale at the time of writing
Cons
Unqualified tech specifications
The Apex T-Rail features enhanced load-bearing capacity, TPU-coated webbing, and a natural ergonomic curve. TPU coating reinforces the belt's 1.5-inch webbing. TPU is the abbreviation for thermoplastic polyurethane, which is considered a hybrid between rubber and plastic. The coating serves as a protectant and could help keep holsters and attachments in place.
5.11 gives the belt a "natural ergonomic curve" to add comfort but doesn't qualify the feature any further. Nor does it explain the Apex T-Rail belt's "enhanced load-bearing capacity" — but as a 1.5-inch webbing belt, it should handle just about anything you can attach to it, and the TPU coating ostensibly only makes it stronger. A two-prong cast aluminum buckle completes the belt. It's available in several sizes and three color choices. 5.11 advises customers to buy one size up.
See 5.11 Tactical Apex T-Rail Belt on Amazon
Why trust this guide
As a gear tester and longtime dirtbag, I've had to keep my pants on a lot while hiking. I wrote this guide based on over a decade of hiking experience in various climates.
From approaching sea cliffs in Thailand wearing board shorts and flip flops to tackling alpine rock climbs in Rocky Mountain National Park, if it's a belt that you can wear for hiking, I've worn it.
Who this guide is for
Suburban trail dabblers and hardened backcountry operatives alike can use solid hiking belts. The specific belts needed by those two populations may look quite a bit different, but my goal is that they're both here.
And let's not forget kids! The hikers of the future need good belts too.
How we chose
I chose hiking belts to suit a wide variety of users. Heavy tactical belts suit those who carry lots of accessories and/or holsters. Lightweight trail belts are good for hikers and outdoor athletes, and belts with metal-less construction are convenient for international travel.
How we tested
I wore each tested belt to hike and climb in Red Rock Canyon NCA. I paid specific attention to comfort, weight, and abrasion resistance.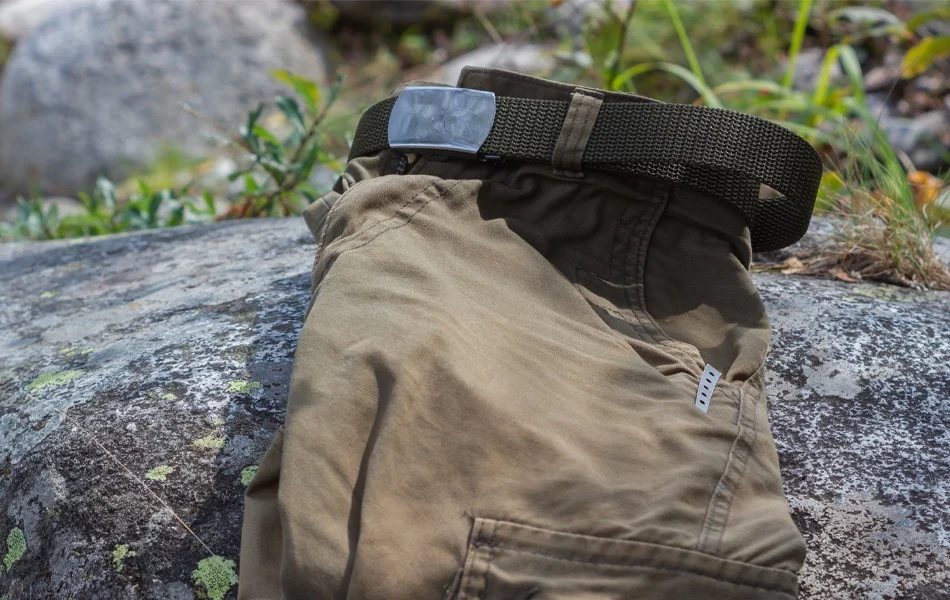 Features to look for in hiking belts
Material
Nylon is the most common hiking belt material, with nylon/elastic composites coming in second place. Full nylon belts are highly abrasion resistant and can have impressive tensile strength. The best web belts should be comfortable and durable.
Buckle
Most hiking belt buckles are stout metal. Cinch, clip, and auto-grip styles are common.
Weight
You may not think about it right away, but the weight of your hiking belt is pretty important. Wearing a heavy tactical belt every day will take its toll. At the other end of the spectrum, a super lightweight elastic belt is only useful if it doesn't break. So, it's best to evaluate how many belts you need for your objectives.
Length
Many hiking belts can be shortened simply by cutting material, but some can't. Be aware of your waist size.
Durability
Hiking belts have to take a beating! That's true whether you're tooling around your neighborhood trails or trekking in the alpine, but of course, those are two different beatings. Be aware of your goals and assess how heavy-duty your belt needs to be.
Release
Some hiking belts have quick releases like clips or switches. Some are basic, like those with simple friction clips.
Attachments
Some hiking belts are sold with attachments like carabiners, holsters, etc.
MOLLE
MOLLE is an acronym for Modular Lightweight Load-carrying Equipment, the current tactical gear used by the US and British militaries. A tactical hiking belt can fall under the category of MOLLE, with its ability to carry items with webbing attachments.
Hiking belt FAQ
Q: What is a hiking belt?
A: I'll admit it: I've been known to wear chalk bag belts and loops of nylon webbing to hold my pants up for months on end. Do I think these are the best practices for hiking? Absolutely not! My appreciation for the tool has grown from deprivation of it. It's when you don't have the thing that you realize why you want the thing.
Personal ramblings accomplished, a good hiking belt is any belt that helps its wearer on their hikes. For me, that's a lightweight belt with a low-profile buckle that I can put on and never think about until I unbuckle it. Belts built for attaching gear or crossovers that look good on the trail and off will attract others.
Sources:
The High-Performance Acetal Resin – Dupont
Difference Between Nylon and Polyester – 

DifferenceBetween.net