Oil lamps might seem like something you'd find in your grandmother's basement or lying around a Goodwill store, but these lamps are handy tools in adverse weather, power outages, and in the outdoors. We recommend having a few around as part of your emergency kit at the very least, but it is also critical that you know how to use them safely.
We have found our favorite oil lamps and hurricane lanterns to guarantee a lamp-lit solution for every situation, indoors and out. We scoured the depths of the oil lamp-loving internet, read customer reviews, tested a few lamps, and used our own knowledge to curate a selection of oil lamps with something for everyone.
Why you should trust us
I grew up on the hurricane-prone gulf coast. Not only were hurricanes a yearly event, so were floods, and tornadoes would sometimes make an appearance. Living in a natural disaster-prone area means you need to be ready for anything at a moment's notice. Emergency kits were always on hand to head out in a jiffy or stay put to ride out the storm. A crucial part of our kits were oil lamps and candles. I used them growing up as emergency lighting, and we kept them around for camping trips, too. I grew up with these tools as part of our lighting arsenal.
Additionally, for these tests, I enlisted the help of my roommate, who grew up on a homestead on the Washington coast and frequently used oil lamps as day-to-day lighting, and my partner, a very sentimental person who kept these lights from generations past and still uses them. Between the three of us, who grew up using oil lamps for multiple purposes, we devised tests and used our cumulative knowledge to bring you the best hurricane lanterns and oil lamps.
Let's dive in.
12 inches tall
11 hour burn time
Striking red exterior
Pros
Great for indoor and outdoor use
Consistent flame
Weather-resistant
Cons
On higher settings, this lamp produced considerable soot
First up on our list of the best oil lamps is this stunning red hurricane lantern. The Dietz #76 Original Oil Lamp is the best oil lamp for a power outage, emergency lighting, backyard décor, and camping. Not only is this lamp visually appealing, but it also stood up to our testing and passed with flying colors.
When testing this lamp, I tried to put it through the wringer. This lamp went on a quick camping trip and lit quite a few backyard fires. I tried jumping, running, and all kinds of movement in an attempt to get the flame to blow out, but not a single thing worked. I found this lamp to be much brighter than the other models I tested it against, and its size was perfectly suited for my needs. Read the in-depth review here.
See Dietz #76 Original Oil Lamp on Amazon
See Dietz #76 Lantern on Walmart
3-pack
4-inches tall
3 colorways
Pros
Great for emergency lighting
Excellent for indoor use
Easy to store
Lightweight
Cons
As far as emergency lighting goes, you will want to have several cool oil lamps in stock. I like to have several small options that I can use at night or in spots around the house where natural lighting is sparse. The Purism Style Glass Kerosene Oil Lamp is an excellent choice for indoor use. These lamps are on the small side, standing at just 4 inches each, but this makes them both portable and easy to store.
The style of these lamps brings back the features of antique oil lamps with some colored flair. The glass and metal construction makes these lamps sturdy, but they are best suited for indoor use. We recommend using lamp oil with this product and indoor service.
See Purism Style Glass Kerosene Oil Lamp on Amazon
14.75 inches tall
26 hour burn time
7/8-inch wick size
Pros
Great for indoor or outdoor use
Large fuel capacity
Large wick
Cons
While we may have said the Dietz #80 Blizzard Hurricane Oil Lamp is best for backyard decor, that is not its only purpose. This lantern is a well-rounded option that works well for emergency lighting, camping, and for your summer backyard BBQ. With its striking blue metallic exterior, this lantern might be the star of your party. It stands at nearly 15 inches tall and boasts an impressive 26 hour burn time on 31 ounces of fuel.
Some Amazon users have complained that this product is leaky. Keep in mind that overfilling a lantern is easy and is the most common cause of leaks. Lanterns should only be filled 70% to 80% of the fuel capacity, regardless of what fuel type you are using. This hurricane lamp is one of the best kerosene lanterns available.
See Dietz #80 Blizzard Hurricane Oil Lamp on Amazon
See #Dietz 80 Blizzard Hurricane Oil Lamp on Walmart
12 inches tall
Metal and glass construction
Pros
Lightweight
Portable
Easy to store
Great for use both indoors and out
Cons
Can be easily knocked over
Our next hurricane lantern is a lightweight, fantastic oil lamp option. The Lamplight Farmer's Oil Lamp weighs just 6.2 ounces, making it the lightest lamp on our list. While its weight may allow it to be blown around or knocked over more easily, it also makes this lamp more portable and great for backyard decor. Additionally, we love the simple black finish that nestles into any home or outdoor situation.
This hurricane lamp stands 12 inches tall and boasts the classic lantern style. The globe protects the flame from wind and cold, and the flat wick makes for excellent light output. As far as lightweight lighting options go, this lantern is an excellent choice.
See Lamplight Farmer's Oil Lamp on Amazon
See Lamplight Farms 52664 Oil Lamp on Walmart
5.75 inches tall
Ceramic and glass construction
Pros
Decorative
Easy to store
Fantastic for emergency lighting
Cons
Suitable for indoor use only
Small lamp
Our next lamp is excellent for indoor use and emergency lighting on a budget. The Purism Style Porcelain & Glass Kerosene Lamp is our most petite lamp at 5.75 inches tall. This lamp is a bit quirky in style, but that's one thing we love about it, it brings vintage style to modern oil lamps.
This lamp is best for indoor use and uses kerosene and lamp oil. The lamp features a ceramic base, metal collar, and glass shade. This lamp is best for tabletop use, although the base has a handle built-in for easy carrying.
See Purism Style Porcelain & Glass Kerosene Lamp on Amazon
Made in Germany
Ten-ounce fuel capacity
Ten inches tall
Five-inch diameter at the base
Galvanized steel and glass construction
Comes with instructions and an extra wick
Pros
Suitable for both indoor and outdoor use
20-hour burn time
Weather-resistant
Cons
Paint can rub off easily and impair movement
Our next hurricane lantern comes to us by way of Germany. The Feuerhand Hurricane Lantern features a galvanized steel construction and a SUPRAX weather-resistant globe that can handle all weather conditions, including rain and snow, without cracking and damage. This lamp is one of the best oil lamps for a power outage. This lantern features the classic hurricane lamp design, updated with today's technology for a lantern that can handle anything.
This German lantern stands 10 inches tall and is 5 inches in diameter at its base. For easy carrying, there is a carrying handle built into the design so you can take this lantern indoors, outdoors, or into the wild on your next camping trip.
Lastly, a full warranty on this oil burning lantern provides you peace of mind with your purchase.
See Feuer Hand 1283455 10″ Hurricane Lantern on Walmart
Who this is for
This guide is for all oil lamp users but is geared more towards those who are less familiar with them. If you have some experience or have picked up a lamp at Goodwill in the past, you will likely find helpful information in this article. Additionally, this guide is probably of use to those interested in building an emergency kit in case of a power outage or natural disaster. Oil lamps are an excellent and dependable lighting source that do not rely on electricity.
How we picked
Creating a well-rounded list that provided oil lamps for several purposes was a primary focus of our selection. We wanted to ensure there was something for users whose focus was emergency lighting, those who love the classic style, and folks who want something for camping trips. Other things we considered while rounding up oil lamps and hurricane lanterns were budget, construction, quality, and ease of use.
How we tested
In these tests, we used a pool of knowledge and ideas based on our previous experiences. We did all of our tests in an outdoor setting, and we employed the use of older Goodwill found lamps to compare with more contemporary oil lamps and hurricane lanterns. Our tests involved lots of tinkering and changing settings, hanging the lamps, and watching them function in a conveniently timed wind storm and other activities.
We took each lamp into particular spaces to test the lamp's brightness and focused our attention on how the flame stood up to environmental factors. We carried lamps around while dancing, jumping, running, walking, and performing other movements to see which lamps might hold up best and what flames stayed lit or resisted outside forces. We also lit all the lamps and monitored them for soot and smoke output and varying flame height levels.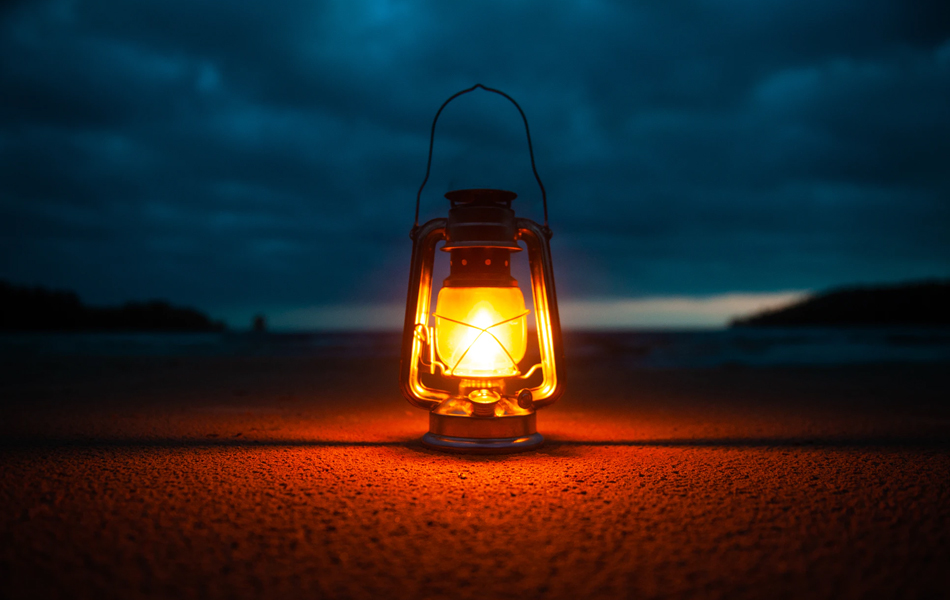 Features to look for in oil lamps
Durability
Oil lamps, particularly outdoor lamps, are built to last. These metal and glass lamps will last you ages and come in handy when you need them. You should look into the durability of your chosen lamp and verify it stands the test of time. However, I have found oil lamps at charity stores and used them for years. It isn't easy to run an oil lamp into the ground.
Features
Extra features are always a plus. However, there usually aren't many extra features when it comes to oil lamps. Our favorite features to watch for will be carrying handles, and an excellent rise, making using and caring for your lamp much easier. Features that make your oil lamp easier to use in a pinch are the ones that matter.
Style
Oil lamps come in various styles, from ornate indoor brass lamps to outdoor hurricane lanterns. Selecting your preferred style of lantern is both a question of intended use and your personal style. I'm a hurricane lantern style person myself, but my primary usage for oil lamps is extended outdoor lighting and power outages.
Size
The size of your oil lamp will vary with its purpose. Generally, the larger your lamp and its shade are, the more light output. This is not always true, but a taller globe or chimney will allow more space for the flame and more oxygen into the lamp to feed the flame.
Ease of use
Very simply, if a product is difficult to use, you are unlikely to use it with any regularity. It is important to consider how easy your oil lamp is to use in your purchase. Oil lamps can be tricky, and we recommend familiarizing yourself with how to use one before purchasing to avoid frustration. Oil lamps are not as easy to use as flashlights and headlamps, but they come in handy during adverse weather and extended emergencies.
Wicks
Oil lamp wicks are arguably the essential part of your oil lamp. Without the wick, you have no flame. The wick extends into the burner and fuel and comes out through the collar into the globe or chimney. Oil lamps usually use flat or circular wicks, be sure to review what type of wick you need before purchasing additional wicks for your lamp and verify that they fit. A proper fitting wick is critical to the operation of your oil lamp. Many indoor lamps will feature a circular wick, while many outdoor lamps will feature a flat wick to increase the flame size and light output.
Oil tank
When comparing oil tanks, you will want to look for options that are easy to fill and large enough to suit your needs. Keep in mind that when filing an oil tank for use, you want only to fill a tank 80% full, so you will not be using the entirety of the tank capacity. Generally, oil lamps will burn an ounce of fuel per hour, more in colder conditions.
Collars
Oil lamp collars allow the burner to be attached to the chimney or globe. A properly fitting collar is a critical piece to ensuring a stable oil lamp. When looking at replacing or updating a collar, make sure to get appropriate measurements to verify the fit is precise. Otherwise, your lamp will be unstable and wobble—not an ideal situation when we are literally playing with fire.
Burners
Burners attach to the collar and the fuel tank. The burner will also usually feature an adjustable knob for controlling the flame size. A properly fitting burner can be the difference between a well-sealed lamp and a leaky one.
Oil
When choosing your oil, check to see what oils are acceptable for your lantern with the manufacturer. Generally, lamp oil or kerosene are options for any lamp, but some models can run on other oils like olive oil. Lamp oil burns cleaner than kerosene but is more expensive. Kerosene is much less expensive but can release more pollutants. I generally use kerosene in all my oil lamps, but if you use your lamp indoors more often—you might opt for lamp oil if your budget allows it.
Globe (Chimney)
The chimney is a vital part of your oil lamp. The chimney contains the flame and a two-way channel for the flame to release smoke and oxygen to enter the lamp and fuel the flame. The size and shape of your chimney will depend on the size of your burner and the type of lamp. Indoor lamps often feature a fluted globe, while hurricane lanterns often have a larger, rounder globe.
Types of oil lamps
Table lamps
Table oil lamps are designed to sit on a table or flat surface. These versions will likely not have a great way to hold and move them when lit as they are generally stationary. All parts of your table oil lamp must fit securely so that it remains stable. A wobbly lamp is unsafe. Table lamps will often be easier to customize as you don't need to worry about additional parts for hanging or mounting.
Wall lamps
Wall oil lamps are mounted onto the wall and designed to remain stationary. These lamps can be for indoor or outdoor use. If you purchase a wall lantern, be sure to follow all instructions very closely during installation. These lamps can provide excellent lighting in a hallway or room, but you should take the utmost care to ensure it is properly mounted.
Hanging lamps
Hanging lamps are oil lamps that hang from a ceiling. These lamps will take more work to customize, but replacement parts for repairs and fixes are likely available from the manufacturer. Hanging oil lamps are particularly difficult to find, and you will not find any on this list. Your best option for locating a hanging oil lamp is to look for antique oil lamps.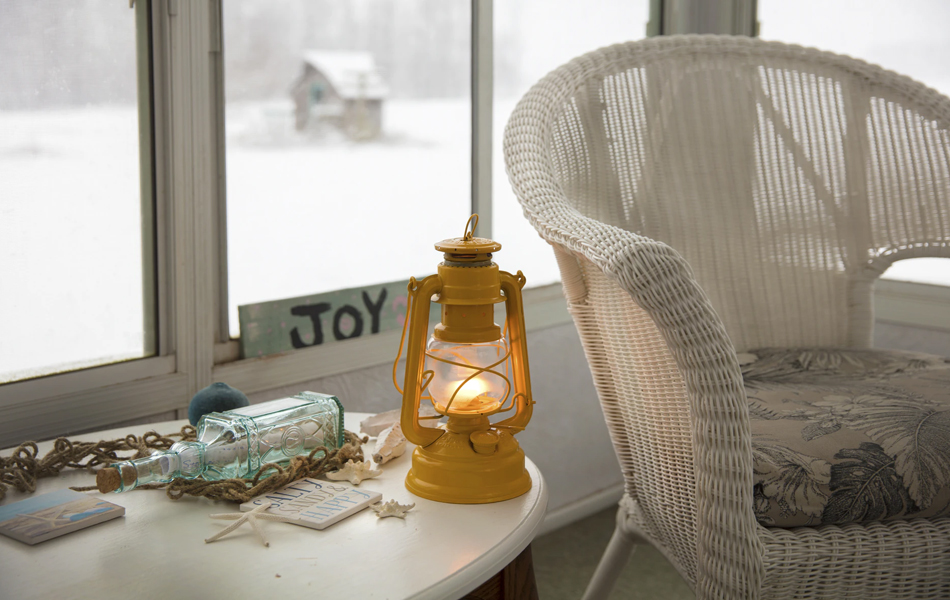 Oil lamp FAQ
Q: Are oil lamps bad for your health?
A: With proper usage, oil lamps are not bad for your health. The main concern most folks have is the carbon monoxide that can be released when burning kerosene. While this does occur in small amounts with kerosene, modern kerosene burns cleaner, and there are other oils you can use to fuel your lamp and avoid this problem. You should always use oil lamps in a well-ventilated area and make sure your smoke detectors and carbon monoxide monitors are working — whether you use an oil lamp or not.
Q: What oil is best for an oil lamp?
A: There is not necessarily the best oil for an oil lamp. Each lamp is different and can accommodate different types of fuels. Some models work only with kerosene or lamp oil, and others can accommodate other oils like canola oil and other common kitchen oils. Before experimenting, double-check with the manufacturer what oils are appropriate for your oil lamp. Each oil has its tradeoffs. Kerosene is cheap but produces more soot and pollutants. Lamp oil burns cleaner but is much more expensive and may be more difficult to obtain locally.
Q: Can oil lamps explode?
A: There are lots of factors that go into this question. There are plenty of old tales of lamps exploding, but this was mainly due to the mixture of kerosene with other fuels or users mixing flammable chemicals. However, modern lamp technology and chemicals make this situation highly unlikely to occur.
Q: How long do oil lamps last?
A: Oil lamps will last you a long time with proper care. Each piece of these lamps is replaceable, meaning if a part fails, your lamp may not be toast. Your oil lamp will last you decades with appropriate care and could even last long enough to serve future generations.
Q: Do oil lamps produce carbon monoxide?
A: Yes, if you are burning kerosene in your oil lamp, it will produce small amounts of carbon monoxide. Before using an oil lamp indoors, you should have a carbon monoxide detector or switch to a different fuel source for your lamp.
Q: Are oil lamps safe indoors?
A: Yes, oil lamps are safe for use indoors. Just be sure to follow the manufacturer's recommendations and safety warnings. When using an oil lamp indoors, you may want to opt for lamp oil or another cleaner-burning oil instead of kerosene.
Q: Can I put essential oils in my oil lamp?
A: While this is possible to do with certain fuels and lamps, we recommend more research on your particular model before attempting to add essential oils to your oil lamp. Some essential oils like orange oil are more combustible than other oils, so your oil choice matters as well as your fuel choice and lamp type. We recommend caution and research before attempting this.
Sources:
All You Need To Know About Oil Lamps With Wicks – Lightenel
Hall Lantern Instructions – B&P Lamp Supply
How to Use and Maintain Kerosene Lamps – WikiHow