In winter camping, and especially in arctic travel, the single most important item of equipment is a sleeping bag that works in the temperatures you'll be encountering.
Few people own, and few companies make, arctic winter sleeping bags. Why should a designer put effort into something that sells maybe 30 units? It's not like a camper can use such a bag for anything other than polar conditions. A sleeping bag that works at -40 or -50˚C is too warm even at -10˚C.
Best polar sleeping bags: Arctic tested
If you sleep outdoors at other times of year, you need different bags. I have about eight sleeping bags, and only use my arctic model on journeys where the temperature is likely to reach -30˚C or colder. These bags below should be considered a first choice for the most frigid expeditions.
Best For: Wearing a sleeping bag during tent chores in extreme environments and cold
Weight: 3,310gm
Fill: 750
Pros: Weight, two-in-one system
Cons: Big volume
Sustainability Features: None
Replacing the venerable and time-tested Tempelfjorden bag, the Spitsbergen model from Helsport has the same honorable pedigree. First, the company is Norwegian; if any country knows polar travel, it's Norway.
Second, the weight — 3.3kg, about 7.5 lbs — is right for a bag that actually handles extreme temperatures. It is a classic two-in-one system, with a thick inner down bag and a thinner synthetic overbag. The inner bag uses 750-fill goose down. The zippers are protected by an insulated fold-over flap, which helps to prevent the fabric from freezing over beneath your breath.
Finally, it includes an unusual feature: the inner bag has two zippers for the arms to come out. This way, if you don't have expedition-weight camp clothes (which you should), you can still warmly do your tent chores while in the sleeping bag.
Best For: Highest down fill rating mixed with durability 
Weight: 2273gm

Fill: 900+
Pros: Well constructed
Cons: Down integrated in the bag's underside
Sustainability Features: None
Another arctic winter bag on this list that I'd trust to do a good job at -40˚ is the Snowy Owl from the Seattle company, Feathered Friends. I've never used the bag, but their Rock and Ice has been my expedition down parka for years, and their Forty Below down pants kept one of my partners toasty warm for weeks at 40˚ below. Besides, the Snowy Owl's specs are reasonable: 3.5 pounds of 900-fill down. No other bag on this list has this much insulation.
While I don't quite believe in their -60˚F rating, you could extend it that low with an overbag. You'd probably want one anyway, to suck up most of the body moisture that rises through the insulation and condenses at the frost point.
My only criticism is the usual one: Why have down underneath you? You crush it, and if you roll over in the middle of the night, it takes a while for the now-exposed underside to reach full loft, during which time you get cold. And in not too many uses, the down underneath will get so squished and traumatized that it never springs back, so this bag lacks longevity. As do all the other bags on this list.
See the Featured Friends Snowy Owl EX -60 Sleeping Bag
Best For: Various size options including short, regular, long
Weight: 1,500gm
Fill: 900
Pros: integrated reflective layer helps bag retain body warmth
Cons: needs an overbag for arctic winter temps

Sustainability Features: None
The lightest bag on this list at barely more than three pounds, the Radical 16H comes from the Polish company Pajak Sport.
This bag is comfort-rated to -31˚C on the EN/ISO scale. Despite its featherweight specs, thanks to its gossamer-like nylon shell, its 900-fill down and puffy profile can handle at least that temperature.
Like all bags on this list, it is suitable for South Pole treks, which take place during the 24-hour sunshine of the Antarctic summer, and its light weight makes it particularly good for high-altitude summit pushes. Andrzej Bargiel used it on K2 before his epic ski descent.
See the Pajak Sport Radical 16H
Best For: Extra width
Weight: 2190gm
Fill: 900 or 950
Pros: Well-constructed
Cons: Unlikely temperature claims
Sustainability Features: None
PH Designs is a small British company catering to the seemingly endless queue of UK trekkers drawn to the polar regions. The Xero 1300, a little less than five pounds, uses 900-fill down, with an option to upgrade to 950-fill for an extra $200.
The base price is $1,550, and it claims a "typical operating temperature" of -54˚C (-65˚F). Don't count on it — not unless you also wear a down suit inside this large-cut mummy bag. That might work for high-altitude mountaineering, where you're only at high camp for a couple of days, but no one wears a down suit inside their sleeping bag on a long polar trek. Baffled parkas are so bulky that I doubt you could wear one inside even an outsized mummy bag without compressing the insulation of both parka and bag. Besides, a bag that needs that sort of supplementary insulation to work at its advertised temperatures is like claims of a flying aardvark: "just add wings."
This is clearly a decent bag, but unfortunately manufacturers in Britain have no access to -50˚C, so — thermocouple tests on copper dummies notwithstanding — their ratings are suspect. Side views of the bag don't show extraordinary loft. Again, with a good insulated overbag, this would be serviceable, however.
See the PH Designs Xero 1300 Down Sleeping Bag
Best For: Choosing a lightweight bag with additional size options
Weight: 1560gm
Fill: 1,000
Pros: Supreme warmth-to-weight ratio
Cons: Unlikely temperature claims
Sustainability Features: None
The company has a second bag, the Hispar 1200, which is even lighter (55 ounces) and has an even more outlandish temperature boast (-58˚C).
I like that it can be ordered extra-wide and extra-long, but its base price of US$2,200 makes it an extravagant gamble. Besides, it's still not quite as light as the much cheaper Pajak bag. Anyway, shaving a few ounces off a sleeping bag is false economy, because the weight saving typically amounts to a single day's snacks on the trail. I would love for someone to trade lightness in favor of superior insulation and come out with a six-pound bag with four pounds of 900-fill down.
Unfortunately, PH Designs gives overall weight but doesn't share how much down is in either of these sleeping bags.
See the PH Designs Hispar 1200 Down Sleeping Bag
Solid bags: Overbag needed
With an overbag, these should handle the worst cold. Without it, they may be marginal at the very lowest temperatures (-40˚ and colder). They will be fine on 8,000m peaks and in summer Antarctica.
Best For: Eco-friendlier expedition mummy bag
Weight: 1870gm
Fill: 850
Pros: One of the only sleeping bags with eco-friendly design features, oversized foot box accommodates boot liners, internal pocket for phone or GPS
Cons: Doesn't pack down super small
Sustainability Features: Certified Responsible Down Standard (RDS) premium goose down
Sea to Summit's Alpine bag occupies the same level as several other bags on this list. That includes Western Mountaineering's Bison, Mountain Hardware's Phantom, and Mountain Equipment's Redline.
This bag has a little under three pounds of down, a little over four pounds in total weight, and probably more suitable for 8,000m mountaineering than the coldest polar travel. Understandable: A lot more consumers travel to 8,000m peaks than camp at -50˚.
See the Sea to Summit Alpine Down Winter Sleeping Bag
Best For: Design that supports animal and human welfare
Weight: 1,950gm
Fill: 800
Pros: 10-denier outer shell is durable and light
Cons: Marginal in the coldest conditions
Sustainability Features: Fair Wear, Down Codex certifies animal welfare and down traceability
With just under three pounds of 800-fill down (large size), the German-made Redline is marginal for the coldest conditions but would be fine in both the Antarctic summer and April-May in the High Arctic — the best travel season above 74 degrees north.
As with most other models surveyed here, an insulated overbag would both make it suitable for any temperature and help reduce frost accumulating in the down. The GoreTex shell helps with alpine bivouacs: A bag made for -30˚C is not going to be subjected to rain.
See the Mountain Equipment Redline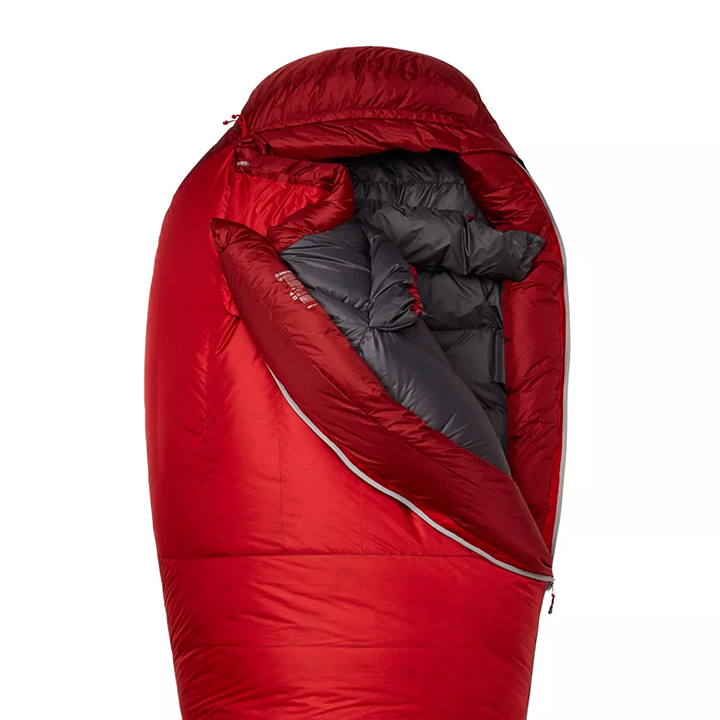 Best For: Budget-friendlier option
Weight: 2,260gm
Fill: 800
Pros: Waterproof Pertex shell, down-filled draft tube protects zipper
Cons: Small-gauge zipper can jam
Sustainability Features: None
One of the more affordable bags in this class, likely because the down is "merely" 800-fill rather than 850-fill or more. The CWM weighs exactly five pounds, includes a Pertex waterproof/breathable shell for bivys in snow caves, and a little interior zip pocket for tiny items.
A solid bag in its class, but I would not want to use it below -35˚C, except the first night or two. Remember that a bag's performance worsens over time. You want as much margin as possible to continue to use these expensive investments for years at the temperatures for which they are made. A bag that's been stuffed and unstuffed dozens of times would not pass the same lab specs as a new one.
And even on a bag's inaugural trip, the collar and hood soon become icy from breath. Frozen body vapor will also affect the down elsewhere in the bag, unless you block that vapor by some barrier or lessen it with a sacrificial overbag.
See the Marmot CWM Sleeping Bag
Best For: Cozy full-down collar, generously-sized hood, and insulated external hood ruff 
Weight: 2095gm
Fill: 850
Pros: Beefy draft collar, compressible bag
Cons: Windstopper feels cold
Sustainability Features: None
Western Mountaineering's Bison has all the specs of a solid -35˚C bag, including 1,200gm of 850-fill down and an ample draft collar. Just one feature sends my Spidey sense tingling: its shell of Windstopper material. Windstopper is great in moderate conditions, but it becomes stiff and boardy in deep cold. Windstopper also feels colder than other nylon.
If I were listing materials that are uncomfortable to handle in extreme cold, even through moderate gloves, I'd rank metal as the worst, then stiff nylon like Windstopper, then notebook paper. Windstopper seems a frivolous addition: Are you going to be sleeping outside in the wind at -30˚C? If I had, I'd likely be dead several times over, because exploratory polar bears occasionally wander into camp.
That said, everything else about the bag is solid.
See the Western Mountaineering Bison GWS Expedition
Best For: Expeditions on 8000m peaks
Weight: 2070gm
Fill: 850
Pros: Slightly oversized to accommodate expedition clothes, face baffle
Cons: Standard DWR versus eco-friendly DWR
Sustainability Features: Fair Wear and RDS certified
Its weight, just over 2070gm (4.5 lbs), initially does not sound promising, but 1400gm (over three pounds) of that weight is 850-fill down.
Depending on how warmly you sleep, and how much clothing you wear in the bag — this mummy is cut a little bigger to allow for extra layers — the Expedition 1400 may just fulfill its -40˚ promise. It'll certainly do -30˚F.
And the cost is reasonable: Most of these warmest bags on earth hover around the $1,000 mark. Some cost considerably more.
See the Rab Expedition 1400 Down Sleeping Bag
Best For: Cold-weather camping bag for ski mountaineering and alpine climbs
Weight: 1,307gm
Fill: 850
Pros: Contoured foot box for warmth, glow-in-the-dark zipper pull, snag-free zipper
Cons: No interior pocket for phone or other devices
Sustainability Features: RDS certified down, PFC-free down
The Phantom includes 1,307gm (almost 3 lbs) of 850-fill down, which should handle -35˚C. It promises -40˚, and you would certainly survive in it at those temperatures, but if I were expecting to encounter that or colder, I would shore it up with an overbag.
A reliable night's sleep is one of the most important things on an expedition: Why risk depriving yourself of it for the sake of a kilo or so? Its comparatively small draft collar for the neck is its major drawback. Its GoreTex outer shell theoretically adds expense, but given the economy of this bag, this is irrelevant.
However, given the option of GoreTex or no GoreTex, I would choose to do without: Although I can't be sure, the GoreTex might make it harder for body vapor to escape, leading to more frost buildup in the down.
See the Mountain Hardwear Phantom Gore-Tex
How to choose a polar sleeping bag
In his classic Antarctic tale, The Worst Journey in the World, Apsley Cherry-Garrard wrote of getting frostbite in his sleeping bag — a fair indicator of inadequate gear. When I was briefly involved with a group of Russian polar adventurers years ago, they proudly showed us the sleeping bags they used for a polar night trip on the Arctic Ocean. They were essentially three-season bags. "Was good experiment," enthused one rocks-for-brains strong man. "It showed us how much we are able to bear." They shivered all night and lost toes to frostbite because of crappy ski boots. Very good experiment.
It's a good idea to invest in the ideal sleeping equipment for your expedition. Although I continue to use the model that has worked for me — why not? — I keep close tabs on what else is out there. Plus, staying warm all night isn't just about your sleeping bag. When in doubt, consider the following details regarding the polar sleeping bag you choose and your full sleep kit:
Overbags
The overbag has several uses. Most obviously, it adds warmth, which, as the bag ages and the down flattens slightly, becomes increasingly important. It also helps preserve the insulation from the effects of frost.
At night, the moisture in your breath coats the inside of the tent with frost. If the head or foot of the bag rubs against the nylon walls, some moisture transfers to the down, especially on milder nights. Your breath is particularly destructive to the collar and hood of the sleeping bag, which can eventually become a casque of ice. A synthetic overbag helps protect the collar and hood of your inner down bag from these harmful effects of breathing.
In the coldest conditions (below -40˚) I slip my own sleeping bag into a custom-made overbag, which has a layer of synthetic insulation on top. Like the sleeping bag itself, it has nothing underneath but nylon: foam pads provide 100 percent of the ground insulation.
Synthetic overbags
Never use a down overbag, by the way: All overbags should have synthetic insulation. A synthetic overbag also partly protects your inner bag from moisture that your body gives off through the pores. You don't notice it after a day or a weekend. But on a long expedition, this moisture accumulates in the outer layers of the bag. When body vapor reaches the dew point, it turns into frost within the sleeping bag. Over time, it causes the down to clump together, creating huge "holes" in your bag's insulation.
Overbag conditions 
On 8,000m peaks or in the Antarctic summer, you don't need an overbag. The real yardstick for any bag's cold-bearing ability is how it fares in the Arctic or subarctic from January to March. All the down mummy bags on this list should do fine with an overbag.
Recommended overbags
We've tracked down several suitable overbags. The Wiggys Nautilus Overbag costs just $207. Its 92-inch length and square shape should nicely envelop the mummy bag without unduly compressing the down.
The PH Designs Thinsulate Overbag made in the UK (about $600) looks extremely promising. The bespoke company also offers custom-made sleeping bags, so you should be able to order an overbag big enough to comfortably contain your inner bag, whatever the model. Likewise, the synthetic Timmermade Merganser Overbag costs just $240 and allows generous custom sizing, up to 230cm long and 147cm wide.
Vapor barrier
Some people get around the issue of accumulated inner-bag moisture by using a vapor barrier — a coated nylon envelope within the sleeping bag. These envelopes are cold and clammy. With a synthetic overbag, much of the condensation forms in the overbag rather than the inner down bag. Frozen condensation does not bother synthetic insulation. It will stay just as warm.
Sleeping pads
What's underneath the bag is as important as the bag itself. On my first expeditions, I used 3/4″ of closed-cell foam (two pads). It was nowhere near enough. Although some travelers use Thermarests in winter, I don't, because finding a puncture in winter is difficult. (In summer, you just immerse the pad in a stream or lake and watch for bubbles.)
Instead, I use the two-inch open cell foam pad integral to my Triple Bag, plus the blue-foam pad that I sit on in the tent, plus a flattened camp chair, plus clothing. You can't have too much underneath you. With foam pads and overbag, my current sleeping bag system weighs 10 pounds. But it actually works at -50˚C.
No underside insulation 
My own sleeping bag is the Triple Bag from the odd little family company Warmlite, which hasn't changed its inventory since the 1970s. It's kept me warm at night down to -54˚C (-64˚F). On the coldest trips, I shore it up with a custom-made synthetic overbag, which like the sleeping bag, has no insulation on bottom. And the generous thickness of foam pads preserves the warmth underneath. I order the bag with 10 percent extra down.
Integrated pad
The bottom section of my sleeping bag, which can unzip completely from the two top layers, has big down-filled chambers running along the sides. They frame the 2″ open-cell foam pad that slips into an envelope beneath and keep the sides of the bag insulated as you sink into the soft foam pad. The bag also has a wide insulated collar underneath, plus a similarly wide one on top.
Sustainable features
Many of these sleeping bag have components of sustainable design while others have none. For the longevity of the planet and human exploration, it's essential for brands worldwide to prioritize high-level product design that also pushes the needle forward on environmentally-friendly materials, fabric treatments, sourcing, and manufacturing solutions that are less toxic for people and the earth.
A few sustainable design features in these sleeping bags include RDS-certified down and PFC-free down. A handful of brands have a Fair Wear label, which means the brand works with the Fair Wear Foundation to secure fair working conditions through avenues such as monitoring and implementing labour standards and improving work conditions. The company maintains observation of production sites and activates plans to address any issues.
Some manufacturers also establish their own avenues for sustainability validation. For instance, more than a decade ago Mountain Equipment developed the Down Codex, which includes auditing of the down supply chain in order to ensure animal welfare.
PFC-Free DWR
A handful of brands in the outdoor industry have developed non-PFC DWR options. Traditional DWR treatments are full of fluorocarbons, which are resilient chemicals that enhance a product's durability and overall life. However, these fluorocarbons (aka perfluorocarbons or PFCs) are toxic and can't biodegrade.
Last year, the European Union even banned perfluorooctanoic acid (PFOA), a type of fluorocarbon, and related compounds. Scientific research backs the legal move: The World Health Organization's International Agency for Research on Cancer found that these negative composites are carcinogenic for humans and that they pollute air and drinking water. Another University of Oxford study linked fluorocarbons to infertility.
Sleeping bag storage
How many years a sleeping bag lasts depends on how often you use it and whether it ever gets wet, but also on how you store it. The stuff sack that a bag comes in is made only for travel, not storage! Stuff a bag in its tight sack between trips, and within a few months, the insulation becomes permanently crimped, and the bag loses much of its effectiveness.
Sleeping bags, insulated clothing, even tents, should be stored loosely in large storage sacks. For most of us, this creates a crisis of space. Our two-car garage is chockablock with large cotton sacks and can barely accommodate a single vehicle. Properly stored and carefully used, a sleeping bag will last for about 15 years. For me, this translates to about a year of actually use, at one or two months at a time.
Product life
After about 15 years (barring the sleeping bag is well-cared for and not stored in a tight sack), it's not useless, but a -40˚ or -50˚ bag becomes a -25˚ bag. So while I've had two Triple Bags and am coming up on needing a third, for most people, a single expedition bag is all that most people will ever need.
Overall volume
When my Warmlite bag has all of its layers zipped into place, it looks clearly wider but not as puffy as some of the mummy bags reviewed here. But remember that since this bag has no down on the bottom, the vertical loft viewed from the side is half that of a mummy bag.
Rolled sleeping bag
My sleeping bag is meant to be rolled like a bedroll, rather than stuffed. It seems to keep its loft longer that way: It's a 10-year-old bag.
Sleepwear 
What clothing you wear in one of these super-sleeping bags depends on how cold the night is. Even the coldest places have milder nights. Poor Cherry-Garrard and his men considered the -50s a hot spell. Your bag clothing also depends on how cold you sleep.
I wear at most three layers in the bag: merino or synthetic undergarments, a thin mid-layer (winter running tights plus the equivalent on top), and a 300-weight fleece jacket and 200-weight fleece pants.
But on milder nights, -20˚ or -25˚C, I shed the fleece. Otherwise, I sweat. On those milder nights as well, you don't have to be quite as anal about zippers and hood shockcords, to ensure that no crumb of frigid air leaks into the bag. At -40 or -50˚, you need to behave with the precision of an astronaut.
Arctic sleeping bags: Subpar features
Likewise, here are the polar sleeping bag details that may or may not serve you on an arctic expedition — it depends on the specific conditions and duration of your adventure.
Condensation management
The Triple Bag that I use has two down layers on top, a thick layer and a thin layer. The underside of the thin layer has a silverized vapor barrier that catches the moisture that drifts upward from your body. By morning, loose frost from this vapor has accumulated between the two layers.
You need to brush this snow meticulously from the bag before it melts in milder conditions. This is a bit of a pain, but avoids an ordinary winter down bag's usual drawback: The moisture from your body rises upward through the down until it reaches the dew/frost point, when it condenses in the insulation itself.
Over the weeks, this frost clumps the down pods together, making them useless as insulation. A few serious winter bag systems include a synthetic overbag, which absorbs most of this condensation that would otherwise end up in the down. Synthetics keep their insulating ability even when full of frost.
Bulk
My Triple Bag is so bulky — about the size of a big green garbage bag full of leaves — that I would never use it for winter backpacking, only for sledding. Most other winter expedition bags have a more traditional mummy shape, with down on the bottom.
Temperature ratings
Buyer beware: there is some exaggeration. A rule of thumb is that manufacturers exaggerate their bag's capabilities by about 5˚C.
Weight-to-warmth ratio
A five-pound bag that promises a cozy night at -60˚C lies. My first expedition bag was a five-pounder. New, it worked to about -30˚C. At -45˚C, although I didn't get frostbite like Cherry-Garrard, I shivered all night.
Modern designs and loftier down (900cc down vs the 550cc down that was the elite standard when I started) make five-pound bags better now, but I wouldn't bring any on a winter arctic expedition without a serious overbag.
Goose down
Regarding this roundup of other extreme cold-weather bags, a disclaimer: All these bags have a design flaw: goose down on the bottom of the bag. My bag is the only product that avoids this. (Warmlite has never sponsored me or given me a discount for my endorsement.)
Loft 
Partners who've brought a new Warmlite bag on cold expeditions with me have not needed an overbag, because the bag itself is at maximum loft. Over time, a bag does sleep a little cooler.
Don't nest
Needless to say, you never put your face inside the sleeping bag for warmth, unless you're only camping for a single night. That was one of many mistakes Cherry-Garrard and his men made, and why they had to forcibly pry open their frozen bags every evening in order to crawl in.