When I'm participating in high-output outdoor activities, my main concern for gloves is that they are warm enough to keep my fingers toasty while I'm moving or during short windows of time while I'm not. They need to be waterproof and windproof enough to stand up to the elements, but more importantly, tactile enough that I don't have to remove them to do basic tasks. Hestra's Ergo Grip CZone Tactile gloves can do all of this, and they are durable to boot. They are my new favorite outdoor gloves.
The Ergo Grip CZone Tactile gloves have two layers –- the shell (made of leather and Gore-Tex Infinium Windstopper), and the lining (a proprietary waterproof breathable membrane that Hestra calls CZone Tactile). In researching the Ergo Grip CZone Tactile gloves, I discovered that many people use them as hiking gloves. But they are versatile enough to be useful across a range of activities.
I evaluated these hiking gloves based on five performance metrics – tactility, warmth, waterproofness, durability, and utility.
Tactility
I evaluated this first because it is the glove's chief selling point. I'm skeptical of manufacturer claims but these are highly tactile gloves. I just typed this sentence while wearing them, which is pretty good for leather gloves with an insert. I'm generally only able to pass the typing test with the most minimal liner gloves.
I also tested tactility by pulling zippers and buttoning buttons on all of my outdoor clothing, as well as tying knots on tent guylines, hiking shoes, and work boots. It took a little practice to tie the knots, but I got there. In short, these gloves provided a lot of tactility while still remaining durable and (somewhat) warm.
Warmth
The Hestra Ergo Grip CZone Tactile gloves don't have any insulation other than what the shell materials and insert provide. I found it to be a reasonable amount of insulation while moving around outside in temperatures below freezing–in other words, I had to be generating some body heat in order for these gloves to keep me warm long-term.
Gore-Tex Infinium Windstopper is an effective outdoor fabric. It does what it says it does –- stops the wind. Between that and the leather palms, these are fairly windproof gloves, though probably not enough to keep hands warm on low-output, high-wind activates like downhill skiing.
The neoprene cuff with hook-and-loop closure was effective at keeping out wind and rain and sealing in warmth.
Waterproofness
Leather isn't inherently waterproof, but the Ergo Grip CZone Tactile gloves come treated with a waterproof compound and ship with a tube of treatment for upkeep. Gore-Tex Infinium Windstopper is not a waterproof fabric. In fact, water tends to zip right through it. That's why there's a waterproof breathable membrane on the interior of this glove.
I've found the whole setup to be effective at keeping my hands dry in snow and light rain. I haven't tested it in heavy downpours, but given the shell materials and the limitations of waterproof-breathable membranes, I'd recommend waterproof over-mitts in environments likely to have heavy deluges.
The Durability of the Hestra Ergo Grip CZone Tactile Gloves
This is a well-constructed glove. The seams are tight and the materials are hardy. I subjected these gloves to abrasion on tools, trekking poles, rocks, trees, and firewood. I encountered the scuffing you'd expect to see when those materials encounter leather, but no rips, tears, or popped seams.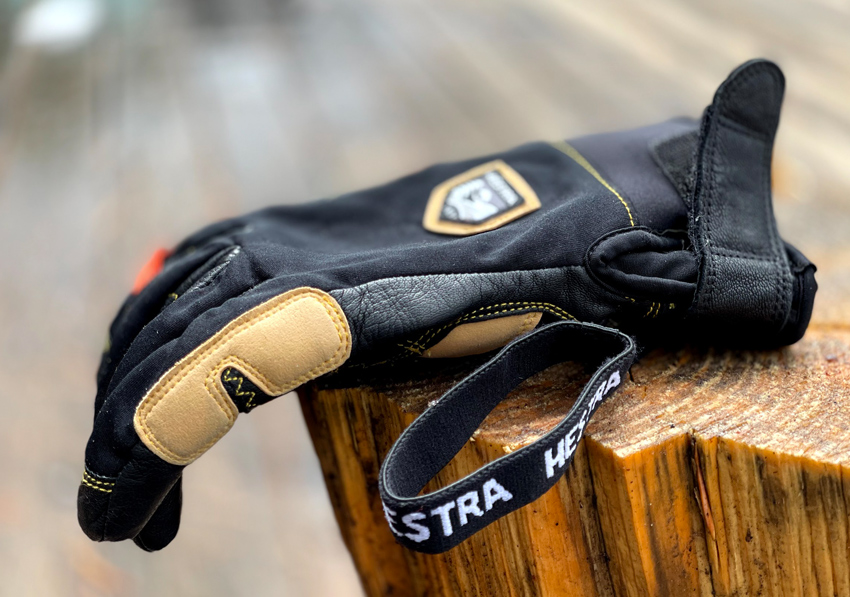 Utility
I didn't limit my testing of the Ergo Grip CZone Tactile gloves to backpacking and hiking but that's certainly their best use-case. They are expensive for work gloves and downhill athletes will likely prefer gloves with more insulation–though I could see them being effective for mountain bikers in shoulder seasons.
One of my favorite features on this glove is the attached elastic loop that allowed the gloves to dangle from my wrist while I interacted with my phone or accomplished other tasks that required naked fingers. A wrist connector isn't a new idea by any means, but it is effectively realized here, and I found it easily removable when necessary.
The Buy
Hestra Ergo Grip CZone Tactile gloves cost $165 dollars on Hestra's website. That's a lot for a glove, but in my opinion, it's a worthwhile investment. This is a glove that will last me a while, felt great on my hand, and kept my fingers warm while I completed all but the most complex outdoor tasks. Hard to beat!
See the Hestra Ergo Grip Glove on Amazon