While wondering where to go this summer, the largest community of opinion leaders Mountainplanet.com completed the task for you and combined the best routes into one list. Read, choose, and pack your luggage!
Did you start to plan your summer? We suggest you to check this list, containing the advice of Mountainplanet.com experts, to choose the most interesting routes. Europe or Asia? The Himalayas or Africa? Unfamiliar Georgia or comfortable France?
Our ten summer routes are ambitious and emotional at the same time.  Read and choose if you are thinking about the "7 summits" program or are asking yourself: "Where to go next time?".
We suggest the most interesting destinations of the season with active professional guides. They will help to make the trip safer and increase its quality: many people know, how easily unexpected things appear if something goes wrong.
The better the climb will be planned, the more information you will have, the less risks you will be subjected to. And the mountainpanet.com opinion leaders are ready to help!
1. Elbrus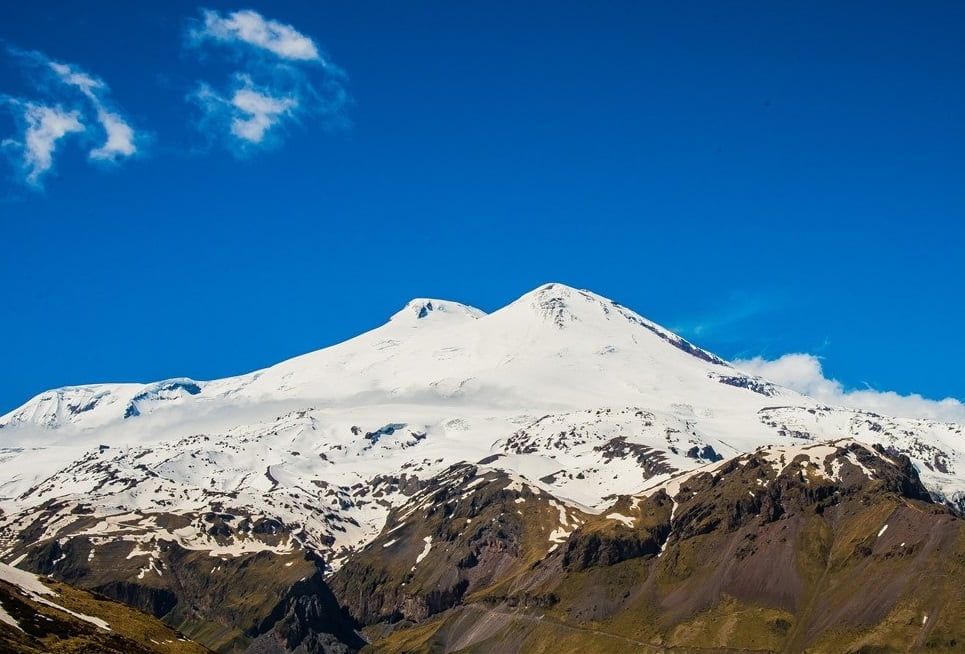 Did you see Europe's biggest mountain? It exists in Russia and reaches more than five thousand meters above sea level…
Of course, Elbrus is the highest point of Europe. Because of its height (5642 m Western peak, 5621 m Eastern peak), even in summer, climbing most parts of the route includes snow and ice, but in a relatively "milder" environment.
However, its seeming simplicity should not be undertaken: on Elbrus, both beginners and experienced mountaineers die regularly. Therefore, when passing all the routes, including the two main ones — along the southern and northern slopes — we recommend to follow the acclimatization process and pay special attention to the selection of your equipment and guide. Life hack: you can hire the missing outfit (clothes, high altitude boots, crampons or ice axe) on site (your guide will advise the better way).
Important: if you do not speak Russian as well as Schwarzenegger's character in the film "Red Heat", then in Russia you will definitely need the services of a interpreter and a tour guide, so we recommend you to choose English-speaking guides or the person, who can understand your language in advance.
Another life hack: part of the South Route the "lazy" climbers can be attended by with a snowcat, which takes people to an altitude higher than four thousand meters. However, you still need 3-5 days of acclimatization.
Interesting thing: if you are skiing or snowboarding, then you can shorten part of the descent. Anyhow, do not forget to consult with your guide: there are many crevasses on the slopes on the mountain, and you must not go down alone.
The complexity of the route: requires acclimatization and a good physical form, but with good weather conditions it is reachable by beginners as well as experienced climbers. The main thing is to follow your guide's instructions and never do something contradictory to them.
If you are worried about security issues — do not be shy; ask the guide and/or people who have already visited Russia. In terms of international standards, this journey is not more dangerous than traveling to any other country; if your documents are in order, there will be no problems.
Elbrus
Elevation: 5 642 m / 18 510,5 ft
Location: Russia, Kabardino-Balkar / Karachay-Cherkess Republics
Parent Range: Greater Caucasus
Climbers per year: 10 000
Climbing cost: $800
Climbing season: June — September
Death statistics: from 15 to 20 climbers per year
Requested time: from 7 to 10 days
2. Trekking to the Everest Base Camp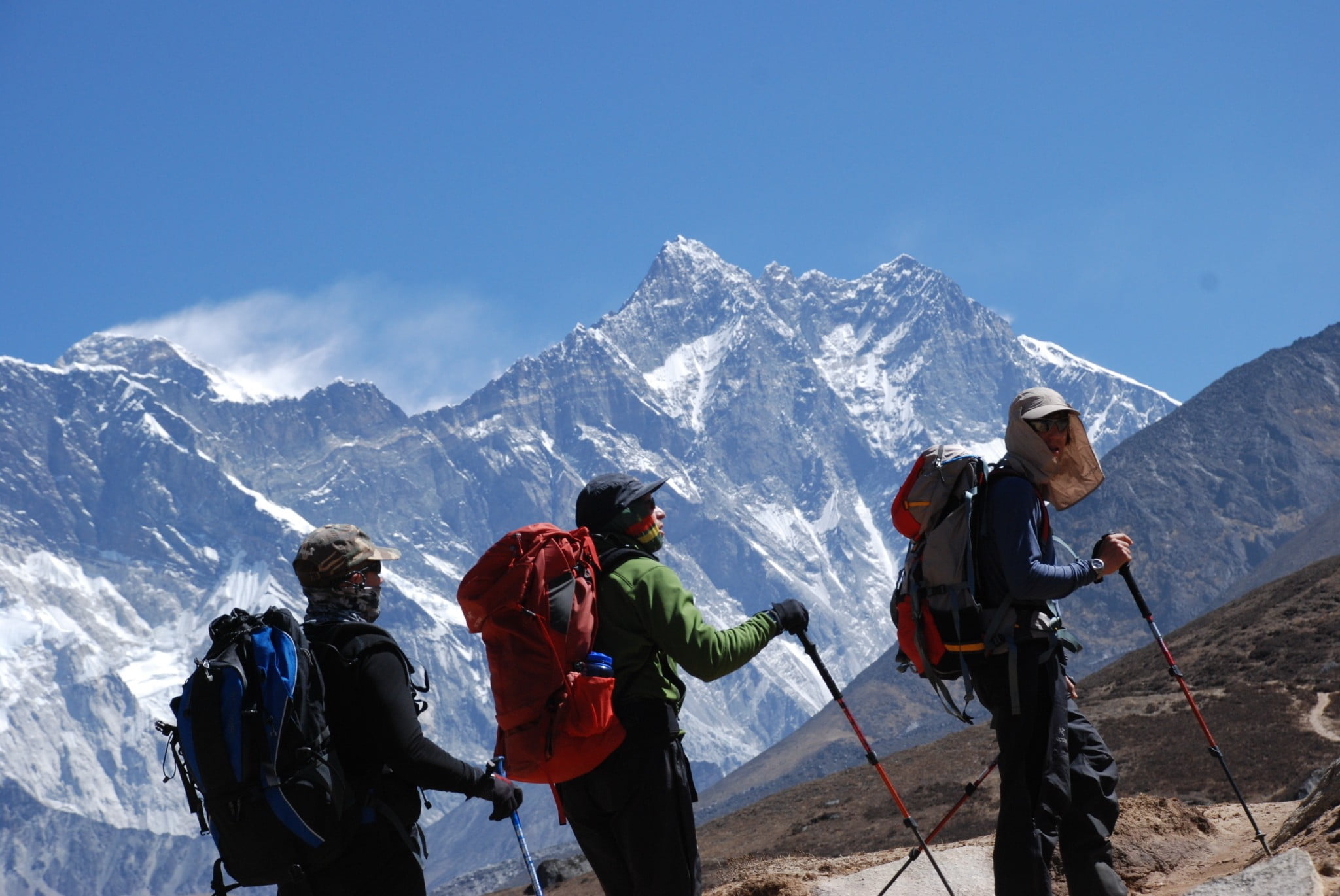 There is no mountain in the world above Mount Everest, and that says it all. Every year, thousands of people choose not to go to the sea, but to do trekking to the Sagarmatha Base Camp, and here is why. Swimming pools and sunbeds under palm trees are similar one to each other in any resort, but there is only one highest point of the world. And many are able to see it with their own eyes.
There are many things to see in Kathmandu, your departure point, before you start trekking for about 113 km, or 70 miles. The Buddhist temple Bodnath with a half-sphere stupa and a tower with eyes is famous all over the world! They say that in this place you look directly into Buddha's eyes.
The trekking route to the Everest starts from the city of Lukla (2886 m) and runs through the high-mountainous villages of Namche Bazar, Tianboche, Dingboche and Lobuche with a climb to the top of Cala Pathar (5545 m).
Important: Lukla is called "one of the most dangerous airports in the world" because of the short runway and complex terrain. Flights are available only during good weather conditions, so be ready to get lodged in Kathmandu or on the way back for some days. In order to avoid stressing, add to your trip plan a few extra days in case of bad weather.
Everest Base Camp
Elevation: 5 337 m / 17 510 ft
Location: Asia, Nepal (Central Region)
Parent Range: Himalaya
Yearly amount of trekkers: 30 000
Climbing cost: from $700
Climbing season: April 01 — June 15, September 01 — November 15
Death statistics: from 3 to 5 trekkers per year
Requested time: from 14 to 20 days
3. Kilimanjaro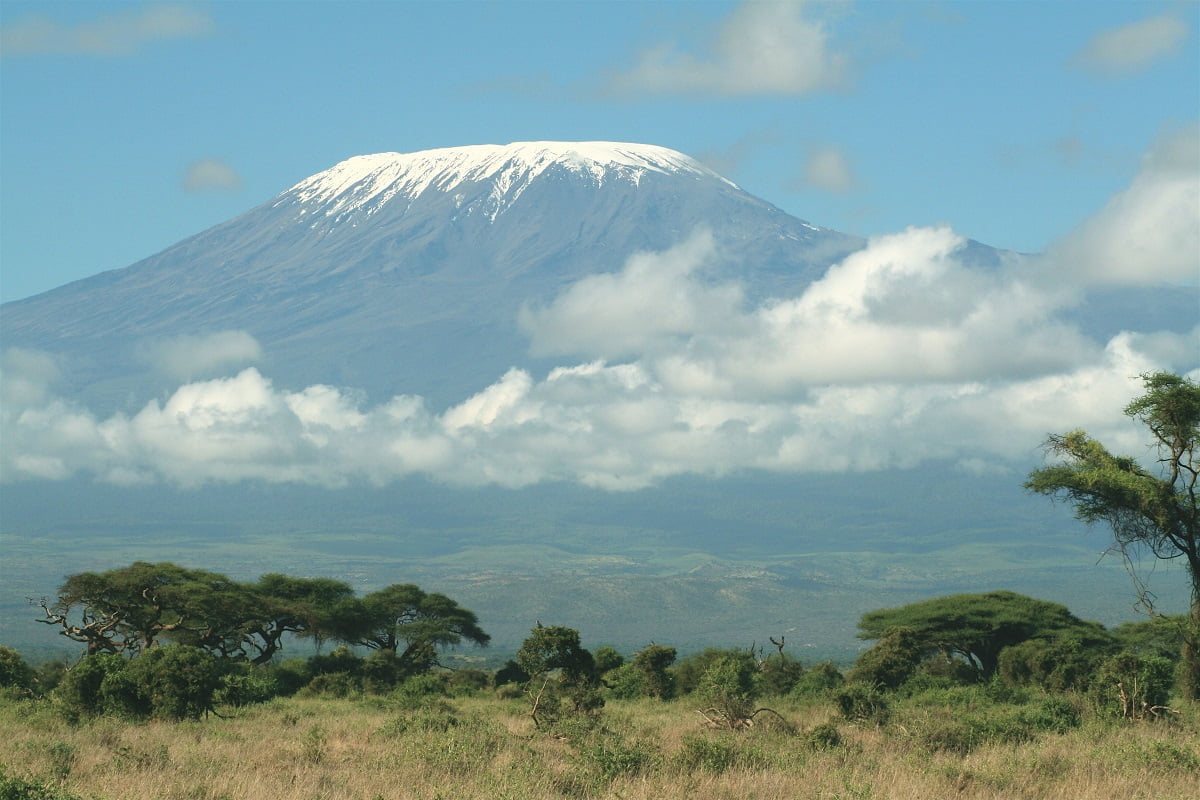 The highest mountain in Africa is included in the "7 summits" programme and "7 volcanoes of the world". In the last century, Hemingway turned the mountain into a legend that divides human life into parts: daily fuss, life, and the spiritual world and reflections on why we come to this world and what trace we will leave on it…
Although today everyone can leave a trace on the slopes of Kilimanjaro, it is worth considering about good physical conditions in advance. At least one month before the trip, start to take the stairs while going to the office or your apartment.
The two most popular routes on the mountain are Marangu and Machame. There are no unaccompanied climbs at the Kilimanjaro, and the number of people serving the group (guides, porters, cooks) can be two or three times higher than the number of climbers. But the assistants will not only take your things and cook the dinner, but also can provide first aid or just measure your arterial pressure.
Interesting: the tactics of guides on the the highest peak routes of Africa — pole-pole, or "slowly-slow." It is important, because when climbing Kilimanjaro you will acquire 1000 meters of height daily. The first days in the forest zone may seem easy, but be ready for harder conditions.
Once you are in Africa, it is worth going on a safari and see the wild nature of the animals often found in cartoons (elephants, giraffes, rhinoceroses, hippos and so on).
And, of course, hurry up to climb the Kilimanjaro if you want to catch its sparkling snow: since 1912 the snow layer of the summit has decreased more than four times and lost 86% of its area. But before that, do not forget to get vaccinated against tropical diseases.
Kilimanjaro
Elevation: 5 895 m / 19 341 ft
Location: Africa, Tanzania
Parent Range: East African Plateau
Climbers per year: 35 000
Climbing cost: $3000
Climbing season: all year around, April, May, November — the rain period
Death statistics: up to 6 per year
Requested time: from 7 to 10 days
4. Trekking to Mera Peak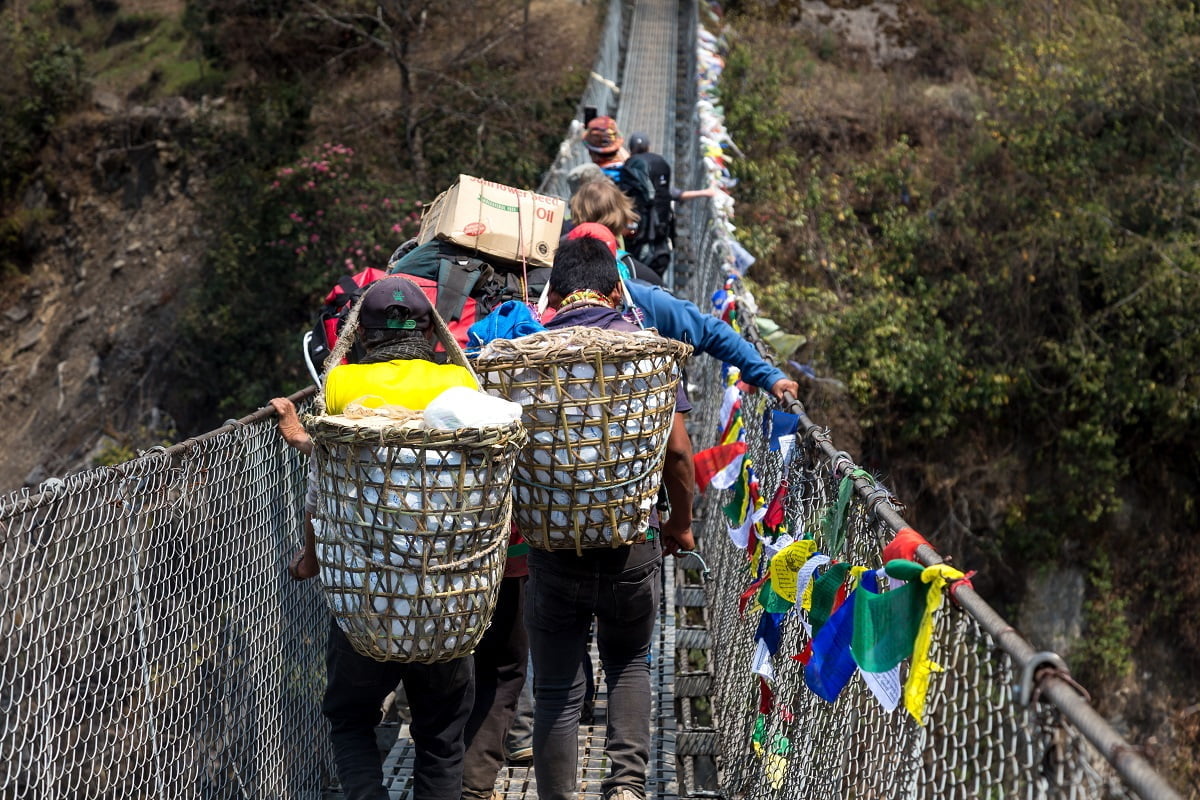 Trekking the Everest Base Camp seems too crowded? Then think about the Himalayan Mera Peak (6476 m). However, the preparation for the Mera Peak should be more serious: trekking will take place at altitudes from 2840 to 4610 m (when you reach higher places, it will be useful to be able to walk with crampons on the glacier and have an ice axe).
You will experience the transitions for 5-7 hours daily and camping in the wild. You will meet the high altitude lakes, bamboo and rhododendron forests, and you will be basically alone!
From the top of the Mera Peak you will be able to see a panorama of the five highest mountains of the world (Everest, Kangchenjunga, Lhotse, Makalu and Cho Oyu).
Important: on the mountain trails you will definitely meet yaks, the main transport mean in these places. Try to stay close to the slope and let the animals pass. They are not aggressive, but they should not interfere. Yaks can hurt you with their weight, or accidentally push someone down the slope, and medical care in these parts of the region is even worse than in urban areas.
The trekking route starts from the city of Lukla — so pay attention to the difficulties already mentioned when describing the trekking to the Everest Base Camp, and pay close attention to the time planning.
Mera Peak
Elevation: 6476 m / 21246.7 ft
Location: Nepal (Eastern Region)
Parent Range: Himalaya
Climbers per year: 2500
Climbing cost: $1900
Climbing season: April 01 — June 15, September 01 — November 15
Death statistics: very rare
Requested time: from 17 days
5. Mont Blanc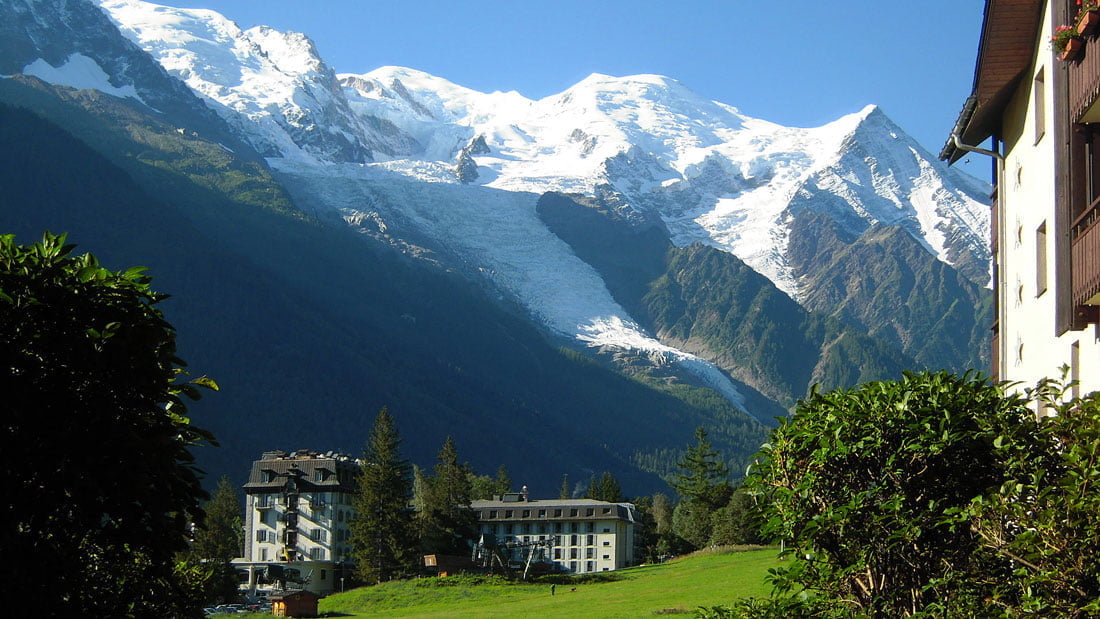 Mont Blanc is often considered "white and fluffy," but year after year it is not exactly like that. Sometimes in the region of the highest point of the Alps up to 100 rescue operations are carried out for the season! And this does not discourage both beginners and experienced climbers.
The mountain is located in the centre of Europe, it is conveniently accessible from nearby Geneva or Turin. Chamonix, the mountaineering Mecca, has an excellent infrastructure: for more than two thousand meters you can reach directly on a mountain tram. Among other things, the day of the first ascent on Mont Blanc, one of the most famous peaks of Europe, August 8, 1786 is considered the birthday of alpinism.
There are several routes to the ascent of Mont Blanc, and the most popular starts  from Eagle's Nest station (2370 m), where you will take the tram, then walk to the Tet Rus Glacier. You can overnight in tents or shelters (but it is better to book in advance).
If before Mont Blanc you did not have experience of using crampons crampons on snow-ice slopes, then practice with guides while acclimatizing. You can exercise, for example, on the Mer de Glace glacier , where the train from Chamonix starts. Do not go on a route until you are sure that using crampons is not a problem for you.
Important: even in summer in the area of ​​the summit the temperature at night and in the morning can drop to -20 °, squall winds are possible. So take it seriously. In the history of Mont Blanc ascending, more than 1800 people died, try not to increase the sad statistics and not create emergency situations. Listen to the guides and watch the weather forecast closely.
Mont Blanc
Elevation: 4 810 m / 15 781 ft
Location: France / Italy
Parent Range:  Graian Alps
Climbers per year: around 40 000
Climbing cost: $2300
Climbing season: June — September
Death statistics: 1 – 10 per year
Requested time: from 5 to 7 days
6. Ararat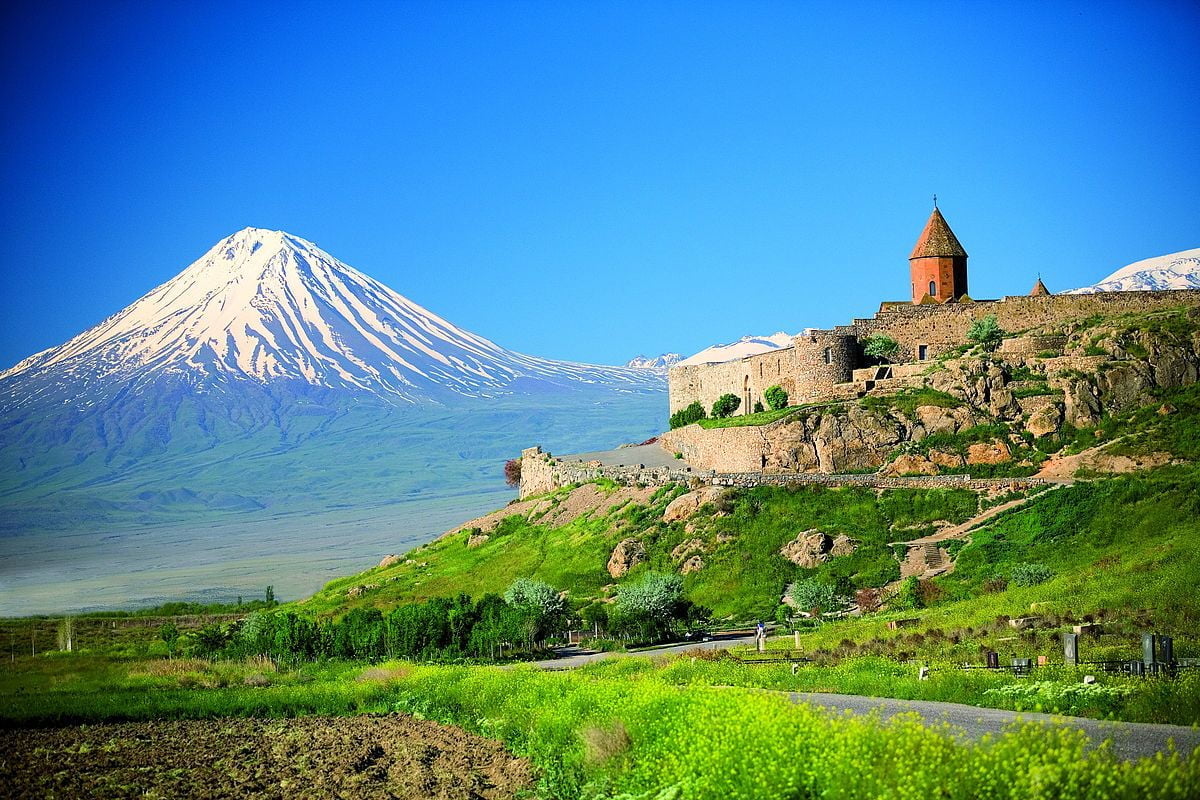 Noah's Ark is still being searched on Ararat — although historians and geographers claim that the biblical mountain is located in a completely different place. But people continue to believe it: American astronaut James Irwin, the 8th person to reach the Moon, organized several expeditions for this search.
The Turkish Ararat is quite easy to climb: there are no massive glaciers or steep rocky areas, but acclimatization is still necessary: do not underestimate the importance of 5000 meters altitude. And, of course, you will need the good equipment: unlike other popular routes, for example, Kilimanjaro, there are no overnight huts on Ararat, you should take the tent, sleeping bag and other staff with you.
Closer to the top (depending on the firn condition) you may need crampons. However, scientists argue that during the period from 1976 to 2011, the snowcap of Ararat decreased by 29%, and keeps melting.
If you are planning an independent ascent, then be ready not only to carry your things, but also food, a tent, a sleeping bag, a burner and other attributes of outdoor life. But if you agree on payment, a horse will carry all the things.
Ararat
Elevation: 5 137 m / 16 854 ft
Location: Turkey
Parent Range:  Armenian Highlands, Caucasus Mountains
Climbers per year: about 9 000
Climbing cost: $1300
Climbing season: June — September
Death statistics: about 5 during the last 15 years
Requested time: from 5 to 7 days
7. Mount Baker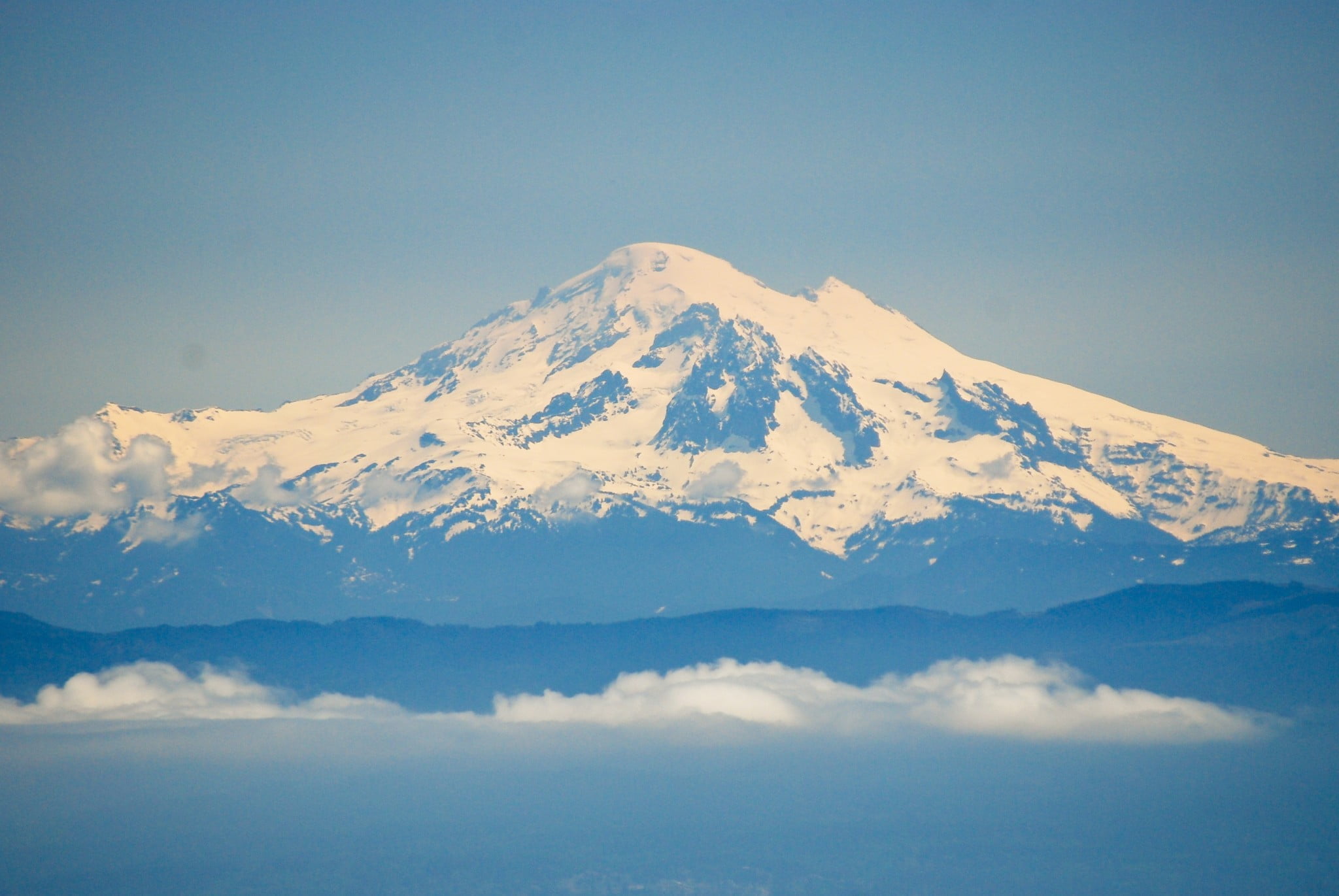 From a certain angle, the peak resembles the highest point of Europe, the Russian Elbrus — and it is a stratovolcano as Ararat and Kilimanjaro.
According to American mountaineers, Mount Baker is one of the best peaks for practicing ice skills; and a great experience for both beginners and advanced climbers. Working with an ice axe, the technique of self-restraint and using crampons are required on Baker, one of the snowiest places of the continent (up to about 15 m of snow on the slopes yearly).
Deducing conclusion: often the environment situation on Mount Baker is not very good! Serious avalanche danger is another obstacle. You do not need permission to climb, but the Ranger service strongly recommends registering with the office for your own benefit.
Pay attention: in 1975/76 the volcano showed activity (smoke emissions). There are rumours that it can still reactivate, but the same is said about all the volcanoes of the world.
Baker is also a ski resort that has been operating since the 1920s. Since 1985, there are legendary Banked Slalom competitions on natural terrain, where the best snowboarders of the planet competed. Including Tom Sims (organizer), Sean Palmer, Terje Haakonsen, Xavier de Le Rue, Mathieu Crepel and others.
Mount Baker
Elevation: 3 286 m / 10780.8 ft
Location: United States, Washington
Parent Range: North American Cordillera
Climbers per year: about 20 000
Climbing cost: about $1000
Climbing season: May — August
Death statistics: 2 — 5 per year
Requested time: 3 — 5 days
9. Kazbek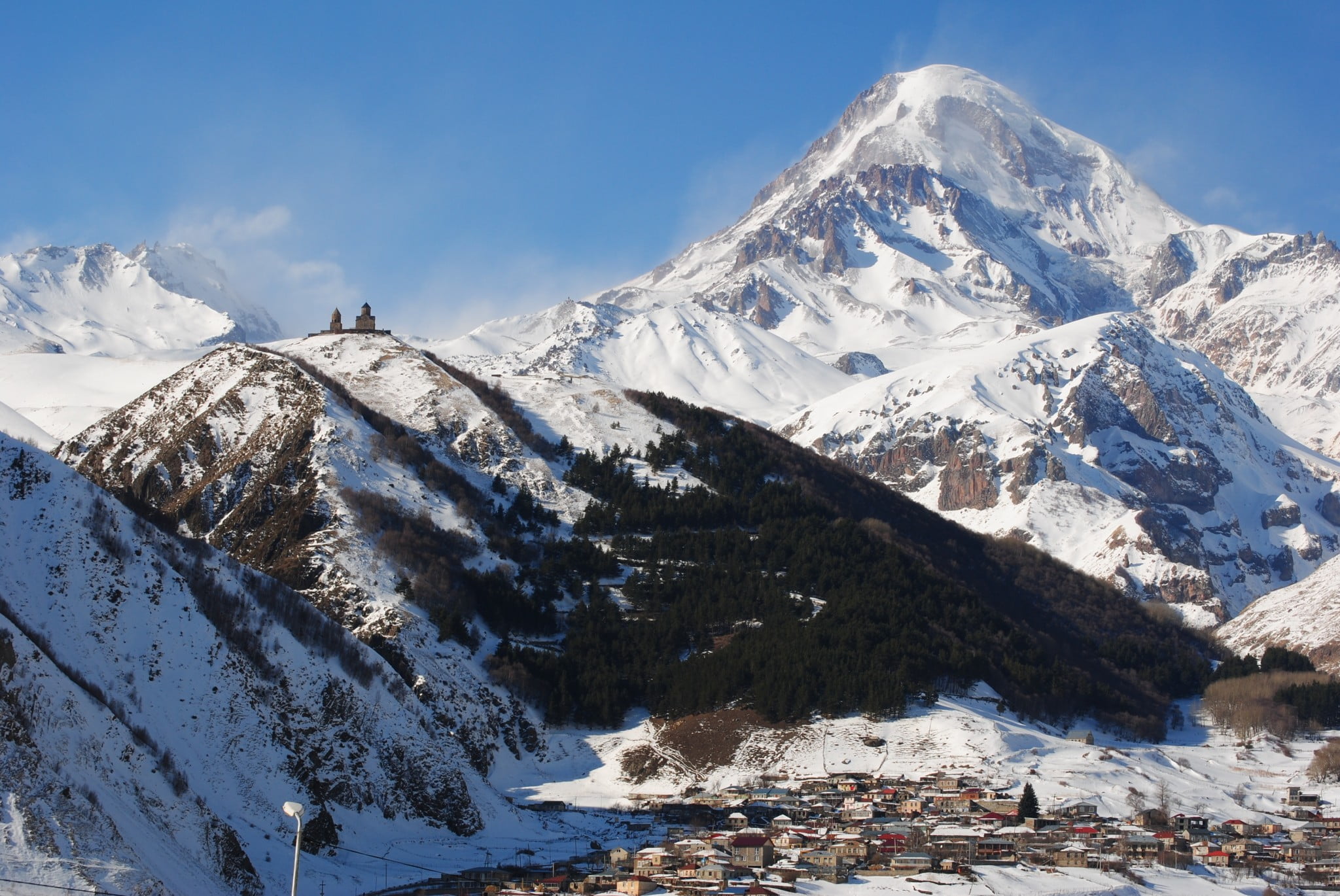 Georgian Kazbek is just a song! Just like the country of Georgia itself. Although the climb to one of the most famous Caucasian five-thousands meter peaks is not as simple as, for example, Kilimanjaro: because of a lot of snow and ice, good acclimatization requirement, ability to use crampons and walk in the roped group.
According to one legend, Prometheus, who brought fire to the people, was chained to Kazbek as a punishment. It is possible because of this the mountain has a "complex character", and weather conditions are quite unstable. There are often cases of frostbite and deaths due to the fact that climbers incorrectly estimate their forces and chose the wrong gear.
The ascent begins at an altitude of 3,700 meters, from the Meteorological Station Hut, built in the 1920s. And if you decide to go to the Georgia, you will not regret it! Kazbek is not only mountaineering, it is medieval Christian churches and monasteries, alpine meadows and blueberry fields. These are loads of incredible beauty and Georgian hospitality, all of whose wealth is difficult to describe in several sentences. It is impossible not to mention not only the Georgian cuisine, but also the legendary winemaking: the taste of wine in this country is deep, like a blue sky in the mountains, and is rich, like a man, lucky in friendship.
For the record: visiting Georgia being a foreign tourist is visa-free.
Kazbek
Elevation: 5033 m / 16512.5 ft
Location: Georgia (Mtskheta-Mtianeti), Russia (North Ossetia)
Parent Range: Caucasus
Climbers per year: about 4000
Climbing cost: about $900
Climbing season: July — September
Death statistics: 2 — 5 per year
Requested time: 7 — 10 days
10. Lenin Peak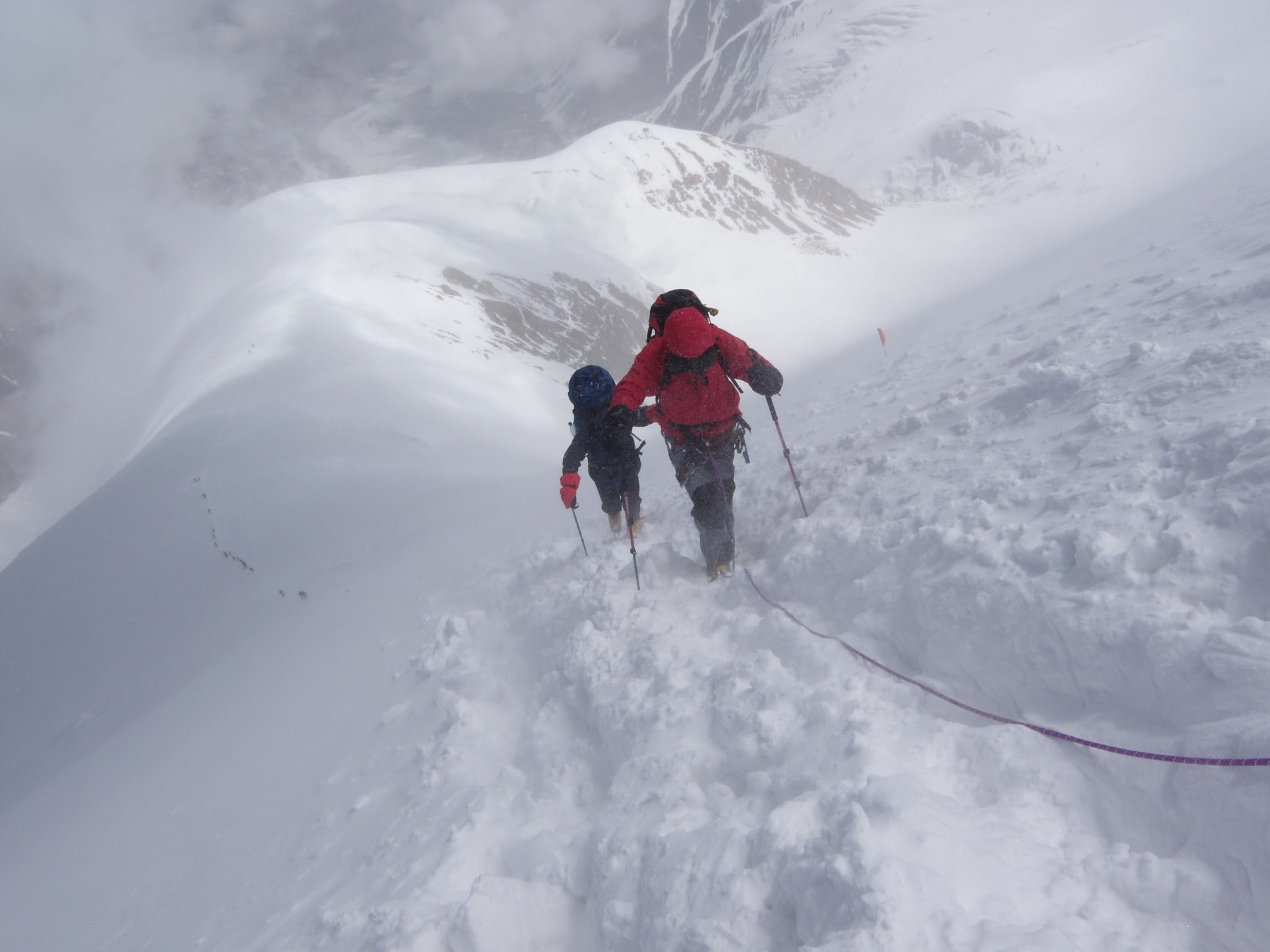 During the USSR Lenin Peak was the third tallest peak of the country (exceeding seven thousands meters). While nowadays, it is serving as a border between Kyrgyzstan and Tajikistan. In 2006, the peak was renamed in the honour of the medieval Persian scholar Ibn Sina (Avicenna) but still everyone calls it in the old manner, with the name of the former Russian revolution leader.
Lenin Peak is already a serious high-altitude climb presenting great snow and routine work at altitude. Fresh beginners better avoid it: opinion leaders do not recommend this ascent as one's first one.
Even experienced guides take additional days on the ascent due to acclimatization and bad weather. And do not listen to those saying that the mountain is "the most accessible seven-thousand-meter peak": it cannot be considered easy at all!
For most of time dedicated to the expedition (about three weeks) you will move from one camp to another — there are only four of them, with a varied international team of climbers. But the days in the base camps and even good acclimatisation does not guarantee success. According to statistics, only 25-30% of alpinists get to the top.
Be careful while ascending and descending, and take care in the mountains!
Lenin Peak
Elevation: 7134 m / 23405.5 ft
Location: Kyrgyzstan (Osh Region), Tajikistan (Gorno-Badakhshan)
Parent Range: Pamir Mountains
Climbers per year: from 1000 to 1500
Climbing cost: from $1900
Climbing season: July — September
Death statistics: 5 – 7 per year
Requested time: from 20 days