For the fourth time Sergey Nilov and Dmitry Golovchenko have been awarded the prestigious Russian "Golden Axe" award.
Our friends over at Russian Climb have reported back from the awards ceremony in Moscow, where Sergey and Dmitry were presented with the Russian equivalent of the Piolet d'Or for their successful ascent of the 2,011m Asgard peak on Baffin island in Canada via a new route on the North West Face.
The Route: Total 1,265m, Wall 765m
Altitude Difference: 1,050m
Average Gradient: Total 75 degrees, Wall 80 degrees
Russian Grade: 6B
There is a tradition on Baffin Island in Canada to name objects after the characters from local mythology, and so Sergey and Dmitry decided to name their new route on Asgard's NW Face Ratatoskr. The name seemed appropriate, as in Norse mythology Ratatoskr is a squirrel who climbs the world tree between the ground (Midgard) and heaven (Asgard).
Starting out from base camp on the 8th of August the two climbers found the route to be dry, forcing them to carry 36l of water. In all, the duo had fuel and food for 2 weeks climbing in tow.
The first three pitches of the wall were the most difficult. There was a narrow chimney, but it was severely damaged inside. The technical difficulty was such that they managed to climb only one pitch per day and bad weather made conditions increasingly difficult.
Working through pitches 10, 11 and 12, Sergey and Dmitry made it to the belly. Here on the vertical part of the wall with overhangs and ledges, they found an old rope lost be a team hoping to climb here in the 1990s.
After summiting on the 21st August the pair wanted to descend from the top via the most simple route. However they were unable find the loops and instead decided to descend again via their ascent line, returning to base camp on 23rd August.
With thanks to Lena Laletina from Russian Climb for the report.
Previous / Links:
Pakistan Update: Closing the games
About the Author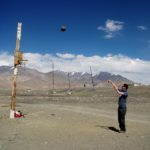 Martin Walsh
Martin Walsh is a freelance writer and wildlife photographer based in Da Lat, Vietnam.

A history graduate from the University of Nottingham, Martin's career arc is something of a smörgåsbord. A largely unsuccessful basketball coach in Zimbabwe and the Indian Himalaya, a reluctant business lobbyist in London, and an interior design project manager in Saigon.

He has been fortunate enough to see some of the world. Highlights include tracking tigers on foot in Nepal, white-water rafting the Nile, bumbling his way from London to Istanbul on a bicycle, feeding wild hyenas with his face in Ethiopia, and accidentally interviewing Hezbollah in Lebanon.

His areas of expertise include adventure travel, hiking, wildlife, and half-forgotten early 2000s indie-rock bands.