As Everest season approaches, news of climbers' plans has begun to appear on social media, message boards and personal blogs.
One notable development announced via Instagram a few days ago by British alpinist, photographer and cameraman Jonathan Griffith, is news of Sherpa Tenji targeting the Everest–Lhotse Traverse.
A long-time climbing partner of Ueli Steck, Tenji was to join Steck on an attempt of the traverse last April, before suffering frostbite and descending. As the climbing world knows, Steck remained in Nepal and suffered a fatal fall on Nutpse on April 30, 2017.
Griffith, a good friend of Steck, was planning to live stream and shoot a 3D virtual reality film of last year's attempt. This season, he is going back to capture Sherpa Tenji's effort.
Said Griffith: "I'm excited to be shooting Ueli's climbing partner Sherpa Tenji's attempt to finish what Ueli had started, and in his style. For me, it's about honouring the memory of one of my closest friends and bringing the Nepalese climbing community to the main stage".
 More details to follow.
Previous / Links:
Ueli Steck: After the Smoke has Cleared (Editorial)
'Swiss Machine' Ueli Steck killed in Mt Everest accident
A Deep Dive into Everest Stats
About the Author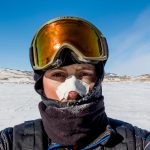 Ash Routen
Ash is an outdoor and adventure writer from the UK. He juggles a day job as a public health scientist with a second career in outdoor writing.

His words have featured in national newspapers, international magazines, and on various websites. Major bylines include Financial Times, Daily Telegraph, Porsche, Outside Magazine, Rock and Ice, and Red Bull.

He holds two degrees in Exercise and Health Sciences, and a PhD in Public Health.

His areas of expertise are polar expeditions, mountaineering, hiking, and adventure travel. In his spare time Ash enjoys going on small independent sledding expeditions, outdoor photography, and reading adventure literature.

Read more at www.ashrouten.com or follow Ash via @ashrouten on Twitter and Instagram.