Sherpa Tenji and Jon Griffith are attempting the Everest-Lhotse traverse via the South Col route.
The pair have spent four days at Camp 2 in the Western Cwm. On social media, Griffith suggests that the pair are in good physical and mental shape:
We've spent 4 days up here now and Tenji has been up to 8000m – he's proving to be a bit of a machine doing laps up the Lhotse face! Our next rotation takes us up for a night at South Col and our last acclimatization run. We're both feeling strong and psyched for the traverse.
Hamor and Colibasanu are also attempting the Everest-Lhotse traverse, but via the West Ridge. The pair are currently making their way to 7,000 metres where they will spend the next four to five days acclimatizing.
Previous/Links
Photo Diary – Jon Griffith on Everest
Sherpa Tenji to target Everest–Lhotse Traverse
Colibasanu and Hamor on the Move
Everest-Lhotse Traverse Update
Second Team to try Everest-Lhotse Traverse
About the Author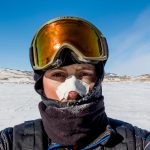 Ash Routen
Ash is an outdoor and adventure writer from the UK. He juggles a day job as a public health scientist with a second career in outdoor writing.

His words have featured in national newspapers, international magazines, and on various websites. Major bylines include Financial Times, Daily Telegraph, Porsche, Outside Magazine, Rock and Ice, and Red Bull.

He holds two degrees in Exercise and Health Sciences, and a PhD in Public Health.

His areas of expertise are polar expeditions, mountaineering, hiking, and adventure travel. In his spare time Ash enjoys going on small independent sledding expeditions, outdoor photography, and reading adventure literature.

Read more at www.ashrouten.com or follow Ash via @ashrouten on Twitter and Instagram.