British mountaineers Nick Bullock and Paul Ramsden were awarded a Piolet d'Or – or "Golden Axe" – for their first ascent of the North Buttress of Nyainqentangla South East in Tibet in October 2016. The Piolet d'Or is the Oscar of the mountaineering world. Paul Ramsden now has four of them!
Bullock and Ramsden made the first ascent of a 1,600m route up the North Buttress of Nyainqêntanglha's South East Face (7,046m) in Tibet, over seven days.
This was their very first project together, which is remarkable considering they were climbing alpine style on a very committed route in a virtually unknown valley!
About the Author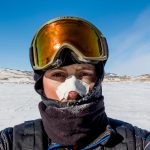 Ash Routen
Ash is an outdoor and adventure writer from the UK. He juggles a day job as a public health scientist with a second career in outdoor writing.

His words have featured in national newspapers, international magazines, and on various websites. Major bylines include Financial Times, Daily Telegraph, Porsche, Outside Magazine, Rock and Ice, and Red Bull.

He holds two degrees in Exercise and Health Sciences, and a PhD in Public Health.

His areas of expertise are polar expeditions, mountaineering, hiking, and adventure travel. In his spare time Ash enjoys going on small independent sledding expeditions, outdoor photography, and reading adventure literature.

Read more at www.ashrouten.com or follow Ash via @ashrouten on Twitter and Instagram.