Austrian mountaineer Hansjörg Auer has begun his solo climb of 7,181m Lupghar Sar West. At last word, he had headed up to 5,200m to acclimatize. He reported unstable weather, with fresh snow every day and winds ripping off the Lupghar Sar summits.
Lupghar Sar West is not a common climber's objective — there has been no recorded activity on the mountain since 2000 — and when Auer arrived in Karimabad a week ago, he first had to discuss with veteran porters and officials even where base camp was. Eventually, some remembered a route via the Baltbar Glacier. With rough directions in hand, Auer set out for the mountain last week with 25 porters.
On social media, he summarized the trek into Base Camp as "pretty epic",  due to the wrangy weather, no real trail and occasionally, very steep terrain. At one point, a porter dropped an important equipment drum over 150 meters down an overhang and into the river below. This drum held gas, high altitude food and ropes, and so could impact the later stages of his expedition.
The group finally reached Base Camp at the end of last week and pitched their tents on a side moraine of the Baltbar glacier at around 4,500 meters, with wild views all around. Wasting little time, Auer then began his acclimatization mini-ascents.
About the Author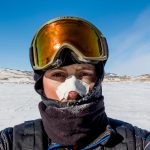 Ash Routen
Ash is an outdoor and adventure writer from the UK. He juggles a day job as a public health scientist with a second career in outdoor writing.

His words have featured in national newspapers, international magazines, and on various websites. Major bylines include Financial Times, Daily Telegraph, Porsche, Outside Magazine, Rock and Ice, and Red Bull.

He holds two degrees in Exercise and Health Sciences, and a PhD in Public Health.

His areas of expertise are polar expeditions, mountaineering, hiking, and adventure travel. In his spare time Ash enjoys going on small independent sledding expeditions, outdoor photography, and reading adventure literature.

Read more at www.ashrouten.com or follow Ash via @ashrouten on Twitter and Instagram.