[Editor's note: Article updated August 17, with latest details and corrections on the line taken]
Luka Stražar and Aleš Česen of Slovenia and Tom Livingstone of the U.K have made the first ascent of a new line on the north side of Latok I. The trio climbed three-quarters of the North Ridge before traversing right to the West Col between Latok I and 2. From here, they took the North Face to the summit.
Earlier reports, drawing on ambiguous Google translations of foreign mountaineering sites, incorrectly stated that they had climbed the full North Ridge. The North Ridge has been widely touted as the last great problem of the Karakorum. Because of the number of failed attempts, it has attained mythical status in mountaineering folklore. Jeff Lowe dubbed it "the unfinished business of the last generation".
Latok 1 itself has only been climbed once, when a Japanese team summited the south side in 1979. The North Ridge was first attempted in 1978 by the all-American team of Jim Donini, Michael Kennedy, Jeff Lowe and George Lowe. They climbed 100 pitches before sickness and poor weather halted their progress. Since then, over 30 attempts have failed to climb the full North Ridge.
Livingstone, Stražar and Česen decided to exit the ridge three-quarters of the way up to avoid dangerous snow mushrooms and cornices on the upper section. They were at roughly the same height where Sergey Glazunov died in a rappelling mishap earlier this season, also on the North Ridge.
A team which included well known British climbers Doug Scott and Simon Yates aborted their own North Ridge plans back in 1990 due to similarly perilous snow conditions.
Writing on Instagram today (August 17), Tom Livingstone said:
"The death of one Russian (and subsequent rescue of the other) reinforced the danger of pushing too far … on the upper section of the ridge"
Quebec climber Louis-Philippe Menard and his partner likewise failed on the ridge in 2006. Speaking to ExWeb, Menard conveyed the mystical allure of the north side, which still held him in its grip 12 years later:
"This is what I see every day [a photo of Latok I] when I sit down to eat breakfast … It's one of the most beautiful faces in the world".
Links
Updated: Gukov Rescued From Latok I
Gukov Trapped on Latok I After the Death of his Partner
Latok I's North Ridge Wins Again
40 Years Later and Latok I North Ridge Still Unclimbed
About the Author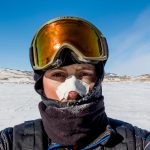 Ash Routen
Ash is an outdoor and adventure writer from the UK. He juggles a day job as a public health scientist with a second career in outdoor writing.

His words have featured in national newspapers, international magazines, and on various websites. Major bylines include Financial Times, Daily Telegraph, Porsche, Outside Magazine, Rock and Ice, and Red Bull.

He holds two degrees in Exercise and Health Sciences, and a PhD in Public Health.

His areas of expertise are polar expeditions, mountaineering, hiking, and adventure travel. In his spare time Ash enjoys going on small independent sledding expeditions, outdoor photography, and reading adventure literature.

Read more at www.ashrouten.com or follow Ash via @ashrouten on Twitter and Instagram.