American ski mountaineers Hilaree Nelson and Jim Morrison are currently on the lower slopes of Everest preparing to ski the Lhotse Couloir: the so-called Dream Line.
From the summit, the couloir drops 700 metres into an open face of around 1,400 metres that finishes at the head of the Western Cwm. The narrow, steep and rocky couloir has an average incline of 45 to 50 degrees.
This line on Lhotse, the world's fourth highest mountain, has never been skied, but the idea is certainly not new. Every year, rumours circulate that someone is going to try it. Everest guide, Adrian Ballinger, estimates that over 25 people have skied variants of the Lhotse face, either from Camp 4 to Camp 2 or starting lower down from Camp 3. "It's a bit of a holy grail," fellow guide Kenton Cool told ExWeb.
In 2007, American Jamie Laidlaw came close, but he was was forced to ski from just two-thirds of the way up the couloir, due to an issue with his oxygen tank.
This Dream Line is guarded by steep and sustained "no fall" terrain, which requires strenuous jump turns — incredibly difficult to sustain at extreme altitude. After skiing the Lhotse Face in 2011, Chris Davenport told ExWeb, "The problem is that after 20 turns or so, you are about to pass out from oxygen deprivation. We skied the face in stages, stopping to catch our breath and regroup."
Nelson and Morrison have both climbed and skied major peaks such as Denali and Cho Oyu together. In addition, Nelson climbed Lhotse and Everest in 24 hours in 2012, and earlier this year, Morrison skied part of Everest, though not from summit.
In this post-monsoon season, the pair are currently the only climbers on the mountain, and so will have a free run down. Their careful timing also avoids the rockfall that befalls the couloir in spring. "It's always a rubble chute [at that time]," says Kenton Cool.
As of September 15, Nelson, Morrison and their support team are en route to Camp 1 on Everest.
Previous/Links
Interview: The Pre-Acclimatized Ballinger, Baranov Lhotse Couloir Ski Attempt
The "holy shit grin" a.k.a. skiing down Everest Lhotse face
About the Author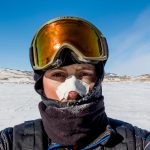 Ash Routen
Ash is an outdoor and adventure writer from the UK. He juggles a day job as a public health scientist with a second career in outdoor writing.

His words have featured in national newspapers, international magazines, and on various websites. Major bylines include Financial Times, Daily Telegraph, Porsche, Outside Magazine, Rock and Ice, and Red Bull.

He holds two degrees in Exercise and Health Sciences, and a PhD in Public Health.

His areas of expertise are polar expeditions, mountaineering, hiking, and adventure travel. In his spare time Ash enjoys going on small independent sledding expeditions, outdoor photography, and reading adventure literature.

Read more at www.ashrouten.com or follow Ash via @ashrouten on Twitter and Instagram.