In winter camping, and especially in arctic travel, the single most important item of equipment is a sleeping bag that works in the temperatures you'll be encountering. In his classic Antarctic tale, The Worst Journey in the World, Apsley Cherry-Garrard wrote of getting frostbite in his sleeping bag — a fair indicator of inadequate gear. When I was briefly involved with a group of Russian polar adventurers years ago, they proudly showed us the sleeping bags they used for a polar night trip on the Arctic Ocean. They were essentially three-season bags. "Was good experiment," enthused one rocks-for-brains strong man. "It showed us how much we are able to bear." They shivered all night and lost toes to frostbite because of crappy ski boots. Very good experiment.
My own sleeping bag is the Triple Bag from the odd little family company Warmlite, which hasn't changed its inventory since the 1970s. It's kept me warm at night down to -54C (-64F). On the coldest trips, I shore it up with a custom-made synthetic overbag, which like the sleeping bag, has no insulation on bottom — a generous thickness of foam pads preserves the warmth underneath. I order the bag with 10 percent extra down.
The overbag has several uses: Most obviously, it adds warmth, which, as the bag ages and the down flattens slightly, becomes increasingly important. It also helps preserve the insulation from the effects of frost. At night, the moisture in your breath coats the inside of the tent with frost. If the head or foot of the bag rubs against the nylon walls, some moisture transfers to the down, especially on milder nights. Your breath is particularly destructive to the collar and hood of the sleeping bag, which can eventually become a casque of ice. Needless to say, you never put your face inside the sleeping bag for warmth, unless you're only camping for a single night. That was one of many mistakes Cherry-Garrard and his men made, and why they had to forcibly pry open their frozen bags every evening in order to crawl in.
The Triple Bag has two down layers on top, a thick layer and a thin layer. The underside of the thin layer has a silverized vapor barrier that catches the moisture that drifts upward from your body. By morning, loose frost from this vapor has accumulated between the two layers. You need to brush this snow meticulously from the bag before it melts in milder conditions. This is a bit of a pain, but avoids an ordinary winter down bag's usual drawback: The moisture from your body rises upward through the down until it reaches the dew/frost point, when it condenses in the insulation itself. Over the weeks, this frost clumps the down pods together, making them useless as insulation. A few serious winter bag systems include a synthetic overbag, which absorbs most of this condensation that would otherwise end up in the down. Synthetics keep their insulating ability even when full of frost.
How many years a sleeping bag lasts depends on how often you use it and whether it ever gets wet, but also on how you store it. The stuff sack that a bag comes in is made only for travel, not storage! Stuff a bag in its tight sack between trips, and within a few months, the insulation becomes permanently crimped, and the bag loses much of its effectiveness. Sleeping bags, insulated clothing, even tents, should be stored loosely in large storage sacks. For most of us, this creates a crisis of space. Our two-car garage is chockablock with large cotton sacks and can barely accommodate a single vehicle.
Properly stored and carefully used, a sleeping bag will last for about 15 years. For me, this translates to about a year of actually use, at one or two months at a time. After that, it's not useless, but a winter bag becomes a spring/fall bag. So while I've had two Triple Bags and am coming up on needing a third, for most people, a single expedition bag is all that they will ever need.
My Triple Bag is so bulky — about the size of a big green garbage bag full of leaves — that I would never use it for winter backpacking, only for sledding. Most other winter expedition bags have a more traditional mummy shape, with down on the bottom. Although I continue to use the model that has worked for me — why not? — I keep close tabs on what else is out there. Buyer beware: there is a lot of exaggeration. A rule of thumb is that manufacturers exaggerate their bag's capabilities by about 5C.
A five-pound bag that promises a cozy night at -60 lies. My first expedition bag was a five-pounder. New, it worked to about -30C. At -45C, although I didn't get frostbite like Cherry-Garrard, I shivered all night. Modern designs and loftier down (900cc down vs the 550cc down that was the elite standard when I started) make five-pound bags better now, but I wouldn't bring any on a winter arctic expedition without a serious overbag.
What's underneath the bag is as important as the bag itself. On my first expeditions, I used 3/4″ of closed-cell foam (two pads). It was not enough. Although some travelers use Thermarests in winter, I don't, because finding a puncture in winter is difficult. (In summer, you just immerse the pad in a stream or lake and watch for bubbles.) Instead, I use the two-inch open cell foam pad integral to my Triple Bag, plus the blue-foam pad that I sit on in the tent, plus a flattened camp chair, plus clothing. You can't have too much underneath you.
With foam pads and overbag, my current sleeping bag system weighs 10 pounds. But it actually works at -50.
Few people own, and few companies make, arctic winter sleeping bags. Why should a designer put effort into something that sells maybe 30 units? It's not like a camper can use such a bag for anything other than polar conditions. A sleeping bag that works at -40 or -50C is too warm even at -10C. If you sleep outdoors at other times of year, you need different bags. I have about eight sleeping bags, and only use my arctic model on journeys where the temperature is likely to reach -30C or colder.
Before this roundup of other extreme cold-weather bags, a disclaimer: All these bags have a design flaw: goose down on the bottom of the bag. My bag is the only product that avoids this. (Warmlite has never sponsored me or given me a discount for my endorsement.)
The bottom section of the bag, which can unzip completely from the two top layers, has big down-filled chambers running along the sides. They frame the 2″ open-cell foam pad that slips into an envelope beneath and keep the sides of the bag insulated as you sink into the soft foam pad. As you can see above, the bag also has a wide insulated collar underneath, plus a similarly wide one on top. The image below shows the bag with all its layers zipped into place. It looks clearly wider but not as puffy as some of the mummy bags reviewed below, but remember that since this bag has no down on the bottom, the vertical loft viewed from the side is half that of a mummy bag.
This bag is meant to be rolled like a bedroll, rather than stuffed. It seems to keep its loft for a long time: you're looking at a 10-year-old bag. Finally, as mentioned, in the coldest conditions (below -40) I slip this bag into a custom-made overbag, below, which has a layer of synthetic insulation on top. Like the sleeping bag itself, it has nothing underneath but nylon: foam pads provide 100 percent of the ground insulation.
Now onto the reviews…
Rab Expedition 1400
Its weight, just over 4.5 lbs, initially does not sound promising, but over three pounds of that weight is 850-fill down. Depending on how warmly you sleep, and how much clothing you wear in the bag — this mummy is cut a little bigger to allow for extra layers — the Expedition 1400 may just fulfil its -40 promise. It'll certainly do -30F. Cost US$850.
Xero 1300
PH Designs is another small British company catering to the seemingly endless queue of UK trekkers drawn to the polar regions. The Xero 1300, a little less than five pounds, uses 900-fill down, with an option to upgrade to 950-fill for an extra $200. Base price is US$1,100, and it claims a "typical operating temperature" of -54C (-65F). Don't count on it — not unless you also wear a down suit inside this large-cut mummy bag, as their model does in the comical studio shot illustrating this bag at work. That might work for high-altitude mountaineering, where you're only at high camp for a couple of days, but no one wears a down suit inside their sleeping bag on a long polar trek. Baffled parkas are so bulky that I doubt you could wear one inside even an outsized mummy bag without compressing the insulation of both parka and bag. Besides, a bag that needs that sort of supplementary insulation to work at its advertised temperatures is like claims of a flying aardvark: "just add wings."
This is clearly a decent bag, but unfortunately none of those manufacturers in Britain has access to -50C, so their ratings are suspect. Side views of the bag don't show extraordinary loft. Again, with a good insulated overbag, this would be serviceable, however.
The company has a second bag, the Hispar 1200, which is even lighter (55 ounces) and has an even more outlandish temperature boast (-58C). I like that it can be ordered extra-wide and extra-long, but its base price of US$2,200 makes it an extravagant gamble. Shaving a few ounces off a sleeping bag is false economy, because the weight saving typically amounts to a single day's snacks on the trail. I would love for someone to trade lightness in favor of superior insulation and come out with a six-pound bag with four pounds of 900-fill down. Unfortunately, PH Designs gives overall weight but doesn't share how much down is in either of these sleeping bags.
Mountain Equipment Redline
With just under three pounds of 800-fill down (Large size), the Redline is marginal for the coldest conditions but would be fine in both the Antarctic summer and April-May in the High Arctic — the best travel season above 74 degrees north. As with most other models surveyed here, an insulated overbag would make it suitable for any temperature and help reduce frost accumulating in the down. Why it needs a GoreTex shell, however, is a mystery: A bag made for -30C is not going to be subjected to rain. Cost: about US$1,450.
Helsport Tempelfjorden
The Tempelfjorden bag from Helsport has an honorable pedigree. First, the company is Norwegian; if any country knows polar travel, it's Norway. Second, the weight — about 9 pounds — is right for a bag that actually handles extreme temperatures. Finally, it is classic two-in-one system, with a thick inner down bag and a thinner synthetic overbag. Many competent polar travelers have used it, including Borge Ousland on several of his adventures and Rune Gjeldnes and Torry Larsen on their Dead Men Walking trek across the Arctic Ocean. At $900, it's reasonably priced, too.
Feathered Friends Snowy Owl
Another arctic winter bag on this list that I'd trust to do a good job at -40 is the Snowy Owl from the Seattle company, Feathered Friends. I've never used the bag, but their Rock and Ice has been my expedition down parka for years, and their Forty Below down pants kept one of my partners toasty warm for weeks at 40 below. Besides, the Snowy Owl's specs are reasonable: 3.5 pounds of 850-fill down. No other bag on this list has this much insulation. $1,100.
While I don't quite believe in their -60F rating, you could extend it that low with an overbag. You'd probably want one anyway, to suck up most of the body moisture that rises through the insulation and condenses at the frost point. My only criticism is the usual one: Why have down underneath you? You crush it, and if you roll over in the middle of the night, it takes a while for the now-exposed underside to reach full loft, during which time you get cold. And in not too many uses, the down underneath will get so squished and traumatized that it never springs back, so this $1,100 bag lacks longevity. As do all the other bags on this list.
Nemo Canon -40
The Canon -40 (long size) from Nemo Equipment has three pounds of 850-fill down: in other words, pretty good. Maybe not a true -40 bag, but usable at -35C anyway. The width of the bag is encouraging; but the down-filled chimney above the face is a nice idea that falls short. For the first couple of nights, it keeps your face warmer, but your breath quickly turns the interior of the chimney into solid ice. It's cold, and further moisture condenses on the slippery sides and icy particles shower down constantly on your face.
Years ago, the Canadian company Kanuk offered a sleeping bag like this. The owner quickly discontinued the chimney idea once the drawback became clear. It makes no sense to have any sort of down insulation — such as a face mask — anywhere near your breath, where the down inevitably becomes wet and freezes. Cost of the Canon -40: $900.
Pajak Sport Radical 16H
The extreme test for any polar bag is how it fares in the Arctic or subarctic from January to March. Like other down mummy bags on this list, it should do fine with an overbag, such as the Nautilus overbag from Wiggys, whose 92-inch length and square shape should nicely envelop the mummy bag without unduly compressing the down. Cost of the Radical 16H: $1,300.
About the Author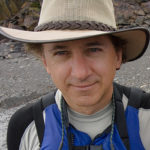 Jerry Kobalenko
Jerry Kobalenko is the editor of ExplorersWeb. Canada's premier arctic traveler, he is the author of The Horizontal Everest and Arctic Eden, and is currently working on a book about adventures in Labrador. In 2018, he was awarded the Polar Medal by the Governor General of Canada.