It's a well-trodden path: The battle-hardened older master takes the young up-and comer under his wing. But in this high-octane climbing film, the tables turn.
In a meeting of two generations, veteran American Conrad Anker, one of the finest high-altitude climbers of the 1990s, teams up with Austrian youngster David Lama, who in recent years has pushed the limits of technical free climbing at altitude. Their plan was to climb Lunag Ri (6,907 metres), an unclimbed peak on the border of Tibet and Nepal.
On their first push in 2015, the pair had to abandon after 23 pitches. The terrain was incredibly technical, temperatures too cold and exposure huge. The following year, Anker suffered a heart attack on the lower slopes of the mountain. After Anker's evacuation, Lama is left to weigh up his options: pack up and go home, or tackle the mountain alone?
Lama regroups, solos the easier but still risky lower slopes, then confronts the exposed and technical granite on the upper ridge of the mountain. Get ready to bite your nails at this point. The footage of Lama cranking hard on tiny crimps way above his self-belayed protection will make your palms sweat. Calling upon all of his 9a sport-climbing skills, the German storms through these difficulties, despite being over 6,000 metres, before reaching another impasse just above the 2015 high point. Lama is faced with another big decision: Press on for the summit, potentially suicidal, or retreat?
You'll have to find out for yourself what Lama's next move is, but one thing is for certain: The baton has truly passed to the next generation. High-altitude alpinism is safe in the hands of David Lama.
About the Author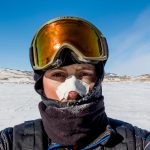 Ash Routen
Ash is an outdoor and adventure writer from the UK. He juggles a day job as a public health scientist with a second career in outdoor writing.

His words have featured in national newspapers, international magazines, and on various websites. Major bylines include Financial Times, Daily Telegraph, Porsche, Outside Magazine, Rock and Ice, and Red Bull.

He holds two degrees in Exercise and Health Sciences, and a PhD in Public Health.

His areas of expertise are polar expeditions, mountaineering, hiking, and adventure travel. In his spare time Ash enjoys going on small independent sledding expeditions, outdoor photography, and reading adventure literature.

Read more at www.ashrouten.com or follow Ash via @ashrouten on Twitter and Instagram.