Austrian climber David Lama has soloed Lunag Ri (6,907m), a virgin peak on the border of Tibet and Nepal.
Writing on Instagram, Conrad Anker — Lama's partner on two unsuccessful previous attempts — broke the news: "Congratulations @davidlama_official on your successful solo ascent and descent of LunagRi … Third time is a charm!"
In 2015, Anker and Lama set out to climb the peak via the West Ridge, but they had to turn back 300m from the top due to the difficult terrain, snow conditions and cold.
The following year, Anker suffered a heart attack on the lower section of the mountain. Lama later wrote in the American Alpine Club Journal: "During the first good weather period, we made an attempt on our previous line. On our first day, at about 5,800m, Conrad suddenly felt extreme pain in his chest. We immediately rappelled and called a helicopter, which picked him up at our advanced base and evacuated him to a hospital in Kathmandu. He had suffered a heart attack, but after emergency surgery he was doing better, and he soon left for home in Montana." The film Lunag Ri captures the drama as it unfolded.
After Anker's evacuation, Lama decided to press on alone and made good progress, but turned back just 250m below the summit: "I felt great fatigue when I reached my second bivouac …[and I knew that going further would deplete too much of my reserves to descend safely. After a second night on the mountain, I had to gather all my remaining strength to undertake the descent".
Lama had asked Anker to return to Lunag Ri with him this year, but Anker declined: During the heart attack, he said to himself: "Well, I always wondered when I was gonna get the message that it's time to let go of this game, and I think I got it." Since then, he hasn't climbed at altitude again.
The southeast summit (6,830m) of Lunag Ri had previously fallen to a French team in 2010,  but the main summit had remained unclimbed.
Links

About the Author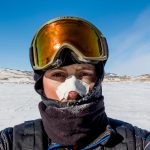 Ash Routen
Ash is an outdoor and adventure writer from the UK. He juggles a day job as a public health scientist with a second career in outdoor writing.

His words have featured in national newspapers, international magazines, and on various websites. Major bylines include Financial Times, Daily Telegraph, Porsche, Outside Magazine, Rock and Ice, and Red Bull.

He holds two degrees in Exercise and Health Sciences, and a PhD in Public Health.

His areas of expertise are polar expeditions, mountaineering, hiking, and adventure travel. In his spare time Ash enjoys going on small independent sledding expeditions, outdoor photography, and reading adventure literature.

Read more at www.ashrouten.com or follow Ash via @ashrouten on Twitter and Instagram.