"I don't think I've ever been frightened" — Gwen Moffat

In 1945, Gwen Moffat was a young driver in the British Army. After the war, she went off to the craggy mountains and sea cliffs of North Wales and South West England, climbing, living off scraps and sleeping rough. Ever restless, Moffat longed to cast her net wider, so she hitchhiked across Europe to climb in Chamonix, with little more than a sleeping bag and a climbing rope to her name. Moffat was essentially living dirtbag style, before that term was invented to describe the threadbare approach of American climbing luminaries Yvon Chouinard, Fred Beckey and company.
Her host of jobs included forester, artist's model, and helmsman on a boat. These passing occupations allowed her to hitch and climb across the Alps, the Rockies and the Sierras. Moffat eventually became Britain's leading female climber and the first woman in the country to qualify as a mountain guide.
In this charming short film, two young British climbers, Claire Carter and Jen Randall, tramp across Britain from North Wales to the Isle of Skye, in Scotland. They take on some of Moffat's climbs and run, camp and swim among the mountains, as she would have done some 70 years ago.
The film mixes interviews with the then 91-year-old Moffat, scenes from Carter and Randall's hijinks and backstory on Moffat. It was awarded Best Film at the prestigious Sheffield Adventure Film Festival in 2016.
Such was Moffat's colourful character and zest for adventure, that you may find yourself asking, as Carter does on many occasions throughout the film, "What would Gwen do?"
Click on the link below to view the film.
About the Author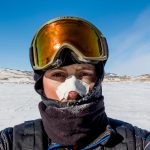 Ash Routen
Ash is an outdoor and adventure writer from the UK. He juggles a day job as a public health scientist with a second career in outdoor writing.

His words have featured in national newspapers, international magazines, and on various websites. Major bylines include Financial Times, Daily Telegraph, Porsche, Outside Magazine, Rock and Ice, and Red Bull.

He holds two degrees in Exercise and Health Sciences, and a PhD in Public Health.

His areas of expertise are polar expeditions, mountaineering, hiking, and adventure travel. In his spare time Ash enjoys going on small independent sledding expeditions, outdoor photography, and reading adventure literature.

Read more at www.ashrouten.com or follow Ash via @ashrouten on Twitter and Instagram.