Looming 1,200m over the Edward Bailey Glacier in Greenland, the Mirror Wall is aptly named; the granite tower presents a glassy, almost featureless challenge. In 2015, Leo Houlding led a team of young, relatively inexperienced expedition climbers on a first ascent of the northwest face. Their climb is documented in the feature film, Mirror Wall.
Houlding ranks among the best climbers in the world, with good reason. His resume includes many of the toughest routes on El Capitan in Yosemite, and most recently, an expedition in which he followed the Mugs and Edmund Stump route to climb one of the most remote mountains on earth, Antarctica's Spectre. Houlding's hand-picked team for the Mirror Wall features a patchwork of talented climbers, each operating somewhat outside of their traditional disciplines. Waldo Etherington is described as an "extreme tree-climber", Matt Pickles a talented sports climber, Joe Mohle a more traditional rock climber and Matt Pycroft an adventure film-maker.
The logistics involved in attempting the Mirror Wall were complex; just getting there was a major challenge. Flown in by helicopter, the team shuttled supplies over a dangerous crevasse field to the base of the wall. From here, they spent three days fixing ropes and setting up their first camp, 260m up on the lower wall. The team free-climbed 23 of the eventual 25 pitches on the wall. The freedom of leading each pitch contrasts nicely with the hard-graft of transporting their gear from camp to camp as they ascend.
The team spent 12 nights on the wall, and Pycroft's film is refreshingly personal. The expedition was Houlding's first since losing close friend and long-time climbing partner Sean Leary in a wing-suit accident, and his first since becoming a father. His efforts to rationalize his desire for adventure and to balance the inherent risks with his responsibilities to his family and young daughter are a recurring theme, with no obvious solution. Combined with the pressures of leading the expedition without the support of another world-class climber, Houlding has a lot on his plate. He grapples with what constitutes an acceptable level of risk and celebrates his daughter's second birthday far away from her, suspended high above the glacier.
You can see the full Mirror Wall film below.
About the Author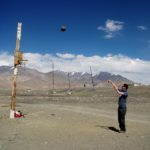 Martin Walsh
Martin Walsh is a freelance writer and wildlife photographer based in Da Lat, Vietnam.

A history graduate from the University of Nottingham, Martin's career arc is something of a smörgåsbord. A largely unsuccessful basketball coach in Zimbabwe and the Indian Himalaya, a reluctant business lobbyist in London, and an interior design project manager in Saigon.

He has been fortunate enough to see some of the world. Highlights include tracking tigers on foot in Nepal, white-water rafting the Nile, bumbling his way from London to Istanbul on a bicycle, feeding wild hyenas with his face in Ethiopia, and accidentally interviewing Hezbollah in Lebanon.

His areas of expertise include adventure travel, hiking, wildlife, and half-forgotten early 2000s indie-rock bands.