Four days ago, Frenchman Roland Banas began an unsupported trek across Death Valley National Park, on the Nevada-California border. On December 17, he quit what was his fourth attempt at the route. Starting in the south, Banas intended to splice the park right down the middle before finishing at the park's northernmost point. He estimated that the route is 230km long and would take eight days, averaging 29km per day over riverbeds, sand, salt and dry flats.
Banas suggested he would carry a 40kg backpack of supplies, consisting mainly of water, and thus his speed would pick up as he progressed. He kicked off with a 17km effort over six hours. Ramping up the following day, he came close to his target average by banking 26km over 11 hours. He finished at a campsite he called Mud Bath 2, for its natural hot springs.
On the third day he managed a respectable 24 km, but his tracker moved only a few kilometers on December 17, and he posted a simple "Time to Quit" message from close to a road. The reason for his sudden failure is not yet known.
Currently the only person to cross Death Valley unsupported and on foot is Belgian adventurer Louis-Phillipe Loncke. In November 2015, Loncke crossed the desert from north to south, covering 248km in 7 days, 23 hours and 40 minutes. About that trek, Loncke previously wrote: "The route has been attempted twice by an American using a desert cart. He failed because his cart always broke and he spent time doing repairs or carrying jerrycans of water back and forth across difficult terrain –- like riverbeds — until he could continue hauling his cart. I believe it's possible to cover the distance in 5.5 to 6 days only on foot with hiking poles, and by the way, desert carts are not permitted."
Banas has not cited reasons for his previous failures at this challenge. About the main difficulties, Loncke said: "The terrain is difficult: In places there is a crusty surface like frozen cheese with big holes in it. It's hard to push against with your feet and you can easily break the surface. Also there are salt flats, where the salt crust melts when it rains and results in deep mud. You can go calf deep in this, which really slows you down."
Links
Banas live GPS tracks
Loncke Expedition Write-Up
Loncke Expedition Description
About the Author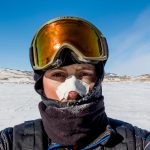 Ash Routen
Ash is an outdoor and adventure writer from the UK. He juggles a day job as a public health scientist with a second career in outdoor writing.

His words have featured in national newspapers, international magazines, and on various websites. Major bylines include Financial Times, Daily Telegraph, Porsche, Outside Magazine, Rock and Ice, and Red Bull.

He holds two degrees in Exercise and Health Sciences, and a PhD in Public Health.

His areas of expertise are polar expeditions, mountaineering, hiking, and adventure travel. In his spare time Ash enjoys going on small independent sledding expeditions, outdoor photography, and reading adventure literature.

Read more at www.ashrouten.com or follow Ash via @ashrouten on Twitter and Instagram.