Over the last 12 months, ExplorersWeb has documented incredible adventures in climbing, cycling, running, walking, skiing and anything involving force of will and dedication to a dream in the outdoors. As this year comes to a close, we present our countdown of the Top 10 Expeditions of 2018.
In modern mountaineering, original routes on major mountains have become a rarity, largely replaced by speed and quantity. So Hansjorg Auer's stylish solo of Lupghar Sar West stands out.
German brothers Hans and Sepp Gloggner first ascended the 7,157m peak in 1979, via the southwest ridge. The following year, a Japanese team bagged the slightly lower central peak. After this brief flurry, Lupghar Sar West — buried deep in Pakistan's Karakorum — was largely forgotten. A French expedition in 2000 marked the only recorded visit this century.
Before his expedition, Auer described solo, high-altitude, alpine ascents as the logical next step in his career. He began planning this attempt in 2014. Setting off in mid-June, Auer made an arduous trek to the mountain via the Baltbar Glacier with a team of 25 porters. Setting up base camp at 4,500m, Auer acclimatized and then scouted the unclimbed West Face.
The notoriously temperamental Karakorum weather allowed Auer an attempt in early July. He made his way from base camp to 6,200m in seven-and-a-half hours, setting up his bivy just below the wall. The next morning, he made the first ascent of the west wall, climbing a line to the left, up to the northwest ridge. Here, he left his bivy gear at 6,900m and pushed on through loose rock towards the summit. On the morning of July 7, he topped out under blue skies.
Auer describes the face as less technical than the ridge, though the whole climb was "spicy enough at around 7,000m and solo." His descent was similarly tricky, especially since he decided to forgo a planned second bivy. The weather worsened on the way down, but he completed his round trip, from base camp to summit and back, in two intense days.
Previous articles on the climb:
Hansjorg Auer begins Solo of Lupghar Sar
Hansjorg Auer Solos Lupghar Sar West
About the Author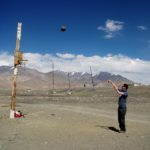 Martin Walsh
Martin Walsh is a freelance writer and wildlife photographer based in Da Lat, Vietnam.

A history graduate from the University of Nottingham, Martin's career arc is something of a smörgåsbord. A largely unsuccessful basketball coach in Zimbabwe and the Indian Himalaya, a reluctant business lobbyist in London, and an interior design project manager in Saigon.

He has been fortunate enough to see some of the world. Highlights include tracking tigers on foot in Nepal, white-water rafting the Nile, bumbling his way from London to Istanbul on a bicycle, feeding wild hyenas with his face in Ethiopia, and accidentally interviewing Hezbollah in Lebanon.

His areas of expertise include adventure travel, hiking, wildlife, and half-forgotten early 2000s indie-rock bands.