Update: Noon, Eastern Time:
Colin O'Brady woke up yesterday morning with just 129km to win his informal race with Lou Rudd and become the first person to make a solo, unassisted, unsupported traverse of Antarctica.
Now it seems that he is looking to finish in style. O'Brady has found himself in quite the zone lately, upping his daily totals and churning out the kilometres; this morning he has decided that he will attempt the final stretch in one long push.
"As I was boiling water for my morning oatmeal, a seemingly impossible question popped into my head. I wonder, would be possible to do one straight continuous push all the way to the end?"
O'Brady has now skied for over 24 hours. He's 3km from the finish and a truly incredible feat of endurance.
Meanwhile, at the end of Christmas Day, Rudd had about 130km to go.
About the Author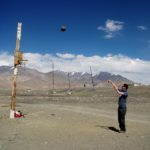 Martin Walsh
Martin Walsh is a freelance writer and wildlife photographer based in Da Lat, Vietnam.

A history graduate from the University of Nottingham, Martin's career arc is something of a smörgåsbord. A largely unsuccessful basketball coach in Zimbabwe and the Indian Himalaya, a reluctant business lobbyist in London, and an interior design project manager in Saigon.

He has been fortunate enough to see some of the world. Highlights include tracking tigers on foot in Nepal, white-water rafting the Nile, bumbling his way from London to Istanbul on a bicycle, feeding wild hyenas with his face in Ethiopia, and accidentally interviewing Hezbollah in Lebanon.

His areas of expertise include adventure travel, hiking, wildlife, and half-forgotten early 2000s indie-rock bands.