Over the last 12 months, ExplorersWeb has documented incredible adventures in climbing, cycling, running, walking, skiing and anything involving force of will and dedication to a dream in the outdoors. As this year comes to a close, we present our countdown of the Top 10 Expeditions of 2018.
At the end of September, experienced distance hiker and desert expert Louis-Phillipe Loncke completed a 52-day winter crossing of Tasmania. During his time in the Tasmanian wilderness, Loncke became known as the Mad Belgian by locals, and it's believed he made the world's first unsupported winter crossing of mainland Tasmania. He walked, paddled and bushwhacked from the quaintly named town of Penguin, in the north, to the South Cape, covering a distance of around 500km.
No stranger to hauling heavy packs through challenging terrain, Loncke started off with a whopping 62 kilos on his back, including food, water, snowshoes and a packraft. Despite the refrigerator-weight of food, his push for the finish was touch and go. He brought food for 40 days, but had to ration drastically in the final two weeks. In the last week, he had to make do with dining sumptuously on hot water, aspirin and a handful of nuts. In all, his weight dropped 16kg.
A long-distance hike may not be as technical as one of the cutting-edge climbs or ski descents on our list, but Loncke had to overcome many difficult obstacles along the way: icy whitewater rivers, dense scrub and deep mountain snow. The mild blizzards and sloppy wet snow he dealt with are in some ways even worse than dry arctic cold. Finally, while Sherpa porters are famous for carrying equivalent loads, they usually do so on mountain trails, not bushwhacking, and they use tumplines, which bear staggering weights better than western-style backpacks like the one Loncke used.
The trip comes 12 years after Loncke first spent time in Tasmania, completing a full crossing of the designated national park wilderness area and summitting fourteen peaks. Since then, the Mad Belgian has been named European Adventurer of the Year after completing a number of world first unsupported crossings including the Simpson Desert in Australia, Death Valley in United States and the Bolivian salt flats. Like many of Loncke's other original undertakings, his winter Tasmania adventure may remain unrepeated for some time.
About the Author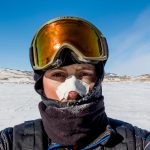 Ash Routen
Ash is an outdoor and adventure writer from the UK. He juggles a day job as a public health scientist with a second career in outdoor writing.

His words have featured in national newspapers, international magazines, and on various websites. Major bylines include Financial Times, Daily Telegraph, Porsche, Outside Magazine, Rock and Ice, and Red Bull.

He holds two degrees in Exercise and Health Sciences, and a PhD in Public Health.

His areas of expertise are polar expeditions, mountaineering, hiking, and adventure travel. In his spare time Ash enjoys going on small independent sledding expeditions, outdoor photography, and reading adventure literature.

Read more at www.ashrouten.com or follow Ash via @ashrouten on Twitter and Instagram.