Canadian endurance athlete Ray Zahab and his partner, Italian ultrarunner Stefano Gregoretti, have just set off on a 500km, coast-to-coast journey across Russia's Kamchatka peninsula. They aim to traverse the thick waist of Kamchatka unsupported, west to east, dragging 45kg sleds. Although the pair have supplies for 25 to 30 days, they'll travel light, keeping calorie intake low and using a wood stove to reduce their fuel payload.
Kamchatka lies in what Russians call Diki Vostok — the Wild East. It competes with Iceland for the title of The Land of Fire and Ice, because both regions combine an arctic environment and volcanism. Kamchatka's grizzlies, wolves, salmon rivers and volcanoes up to 4,750m give it the edge in the wilderness department. Its geothermal highlights include the Valley of the Geysers, the second largest geyser field on the planet after Yellowstone, and a crater lake with the pH of battery acid.
A seasoned adventurer, Zahab has run 14,000km across the world's deserts, including 7,500km across the Sahara and 2,000km across the Gobi Desert in Mongolia. He has also trekked unsupported to the South Pole and completed several expeditions in the Canadian Arctic. Gregoretti has partnered with Zahab on past arctic expeditions and is an elite ultrarunner. In 2018, the pair ran the length of Namibia, including 1,850km across the Namib Desert.
Zahab and Gregoretti started south of the town of Ichinskiy, on the west coast. They will travel in a southward-sweeping arc through the community of Mil'kovo and finish along the Zhupanova River, on the east coast. They intend to ski frozen rivers for the most part, but will likely have to schlep through a lot of deep snow and undergrowth on foot. They will also need to find a safe route through two avalanche-prone mountain ranges which scar that part of the peninsula.
Zahab and Gregoretti had to wait out some bad weather on the west coast. They spent the time making final kit preparations and consulting with locals about the route ahead. The weather broke on Sunday and they hit the trail.

Relevant links
Expedition website and live tracker
About the Author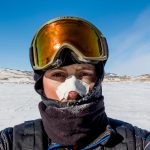 Ash Routen
Ash is an outdoor and adventure writer from the UK. He juggles a day job as a public health scientist with a second career in outdoor writing.

His words have featured in national newspapers, international magazines, and on various websites. Major bylines include Financial Times, Daily Telegraph, Porsche, Outside Magazine, Rock and Ice, and Red Bull.

He holds two degrees in Exercise and Health Sciences, and a PhD in Public Health.

His areas of expertise are polar expeditions, mountaineering, hiking, and adventure travel. In his spare time Ash enjoys going on small independent sledding expeditions, outdoor photography, and reading adventure literature.

Read more at www.ashrouten.com or follow Ash via @ashrouten on Twitter and Instagram.