"A beauty, bizarre and proud, ridges … forming stately shoulders like the wings of a giant bird," wrote double Piolet d'Or winner Valery Babanov in the 2008 Alpine Journal, about Nepal's 7,710m Mount Jannu. "Above all this, like a head of this bird, towers the summit pinnacle."
Because of its technical difficulty and unstable weather, Jannu is rarely climbed. The great Lionel Terray and a group of French alpinists made the first ascent in 1962, from the south side. But as we reported yesterday, two Russians, Sergey Nilov and Dmitry Golovchenko are currently taking on the unclimbed South East face, which has been attempted only once, a decade ago. A third member, Marcin Tomaszewski of Poland, backed out near the start of the climb, because he felt the terrain was too uncertain and dangerous.
Tucked away in a remote area near Kangchenjunga, the trio faced full winter conditions at the start of their trek in and had to take a lower route into Base Camp. Along the way, they had a few interesting encounters with the local wildlife. Tomaszewski told ExWeb: "Three cases of bedbug infestation, one invasion of chickens, one tick bite which makes Dracula's gnaw feel totally toothless and hours spent wading through crotch-deep snow."
Five of their porters, carrying loads up to 60kg, suffered from snowblindness and had to turn back. Finally, as soon as they reached Base Camp at 4,700m, the chain on their toilet broke and it overflowed. Then someone filled the generator with the wrong type of fuel, cutting off their electricity, and horror of horrors, their internet connection. Not all climbing problems are heroic.
The major technical difficulties on Jannu lie above 6,800m. With warm temperatures lower down and high winds forecast higher up, Tomaszewski decided on March 16 to pull out. "Dimitry and Sergey are highly experienced climbers and decided to continue with all the risks involved. Everyone knows that climbing at this world-class level is about managing risk and … I believe that they will prove successful."
Perhaps the recent death of his friend and former climbing partner, Tom Ballard, also played on Tomaszewski's mind. On social media, he paid tribute to a "wonderful and quiet man" with whom he had put up new routes in the Dolomites and on the Eiger. The pair had also planned to climb together in India later this year.
Meanwhile, Nilov and Golovchenko press on, trying to crack this hard nut of the Himalaya.
Related story:
About the Author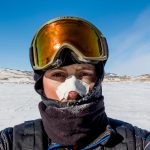 Ash Routen
Ash is an outdoor and adventure writer from the UK. He juggles a day job as a public health scientist with a second career in outdoor writing.

His words have featured in national newspapers, international magazines, and on various websites. Major bylines include Financial Times, Daily Telegraph, Porsche, Outside Magazine, Rock and Ice, and Red Bull.

He holds two degrees in Exercise and Health Sciences, and a PhD in Public Health.

His areas of expertise are polar expeditions, mountaineering, hiking, and adventure travel. In his spare time Ash enjoys going on small independent sledding expeditions, outdoor photography, and reading adventure literature.

Read more at www.ashrouten.com or follow Ash via @ashrouten on Twitter and Instagram.