Sergey Nilov and Dimitry Golovchenko have reached 6,510m on Mount Jannu, but may face some difficulties in the coming days.
Marcin Tomaszewski withdrew from the climb but has remained in Base Camp and has kept an eye on the pair's progress. He estimates that the pair have climbed around 400m over four days to reach their current high point.
The headwall above, where the real technical difficulties lie, has been deemed too difficult. Instead, the Russians plan to traverse towards the Southeast Ridge, despite that route's precarious seracs.
Should Nilov and Golovchenko summit, a return down the Southeast face is unlikely, as the icefall is too difficult and dangerous, according to Tomaszewski.
The weather may improve in a week or so, but currently it remains formidable: "Until the end of the month, the jet stream at 7,000m blows 80 to 112 kph from the northwest," says Tomaszewski.
About the Author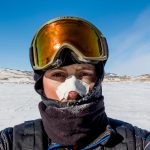 Ash Routen
Ash is an outdoor and adventure writer from the UK. He juggles a day job as a public health scientist with a second career in outdoor writing.

His words have featured in national newspapers, international magazines, and on various websites. Major bylines include Financial Times, Daily Telegraph, Porsche, Outside Magazine, Rock and Ice, and Red Bull.

He holds two degrees in Exercise and Health Sciences, and a PhD in Public Health.

His areas of expertise are polar expeditions, mountaineering, hiking, and adventure travel. In his spare time Ash enjoys going on small independent sledding expeditions, outdoor photography, and reading adventure literature.

Read more at www.ashrouten.com or follow Ash via @ashrouten on Twitter and Instagram.