Malyasian climber Wui Kin Chin is currently missing on Annapurna. The 49-year old anaesthesiologist disappeared during his descent from the 8,091m summit on April 23. At the time, he was part of a team of 13 climbers, guided by Barobian Michel Christian of France.
Mingma Sherpa, the chairman of Seven Summit Treks, said that Kin Chin was one of 32 climbers to stand on the summit that day, reaching the top at 16:10 local time.
Sherpa suggests insurance bureaucracy has delayed the search for Kin Chin, and that a helicopter search will begin April 25: "It's highly impossible to carry out a search on foot above Camp 4 on Annapurna…If weather allows, we will conduct an aerial search tomorrow morning."
Kin Chin is a relatively experienced mountaineer, who completed the Seven Summits by climbing Everest last spring.
The last message Kin Chin left on social media on April 21 reads: "Reached Camp 3 at 16:00, after 9.5 hours climb. It was scary at the ice cliff, [and] I am glad to make it up to Camp 3. The heavy snow has set in."
About the Author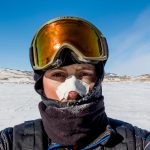 Ash Routen
Ash is an outdoor and adventure writer from the UK. He juggles a day job as a public health scientist with a second career in outdoor writing.

His words have featured in national newspapers, international magazines, and on various websites. Major bylines include Financial Times, Daily Telegraph, Porsche, Outside Magazine, Rock and Ice, and Red Bull.

He holds two degrees in Exercise and Health Sciences, and a PhD in Public Health.

His areas of expertise are polar expeditions, mountaineering, hiking, and adventure travel. In his spare time Ash enjoys going on small independent sledding expeditions, outdoor photography, and reading adventure literature.

Read more at www.ashrouten.com or follow Ash via @ashrouten on Twitter and Instagram.