A team of Sherpas led by Nirmal Purja have located missing Malaysian climber Wui Kin Chin, on foot at 7,500m on Annapurna.
The rescue team from Seven Summit Treks are now at 7,000m after helping the exhausted climber down. They aim to make Camp 3 (6,500m) today.
The 49-year-old Malaysian disappeared during his descent from the 8,091m summit on April 23.
A helicopter had located Kin Chin earlier this morning, and he was seen waving his arms. The rescue party were flown to Camp 3 (6,500m) and took around 90 minutes to reach Camp 4 (7,100m), facing strong winds as they climbed.
Mingma Sherpa, the chairman of Seven Summit Treks, told ExWeb: "My Sherpa team met him one hour ago. They say he is almost okay, and they are bringing him down now. Hopefully tomorrow morning, we can pick them up from Camp 3 by helicopter longline. The Sherpa team needs to descend to 6,600m for the helicopter to pick them up."
The rescue team of Nirmal Purja, Mingma Devid Sherpa, Geljen Sherpa and Ges man Tamang were dropped at Camp 3 by longline. Video: Mingma Sherpa
The helicopter pilot informing the rescue team on the flight plan to Camp 3. Team leader Nirmal Purja wears the black jacket with white patches. Video: Mingma Sherpa
About the Author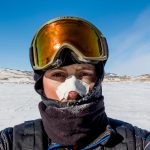 Ash Routen
Ash is an outdoor and adventure writer from the UK. He juggles a day job as a public health scientist with a second career in outdoor writing.

His words have featured in national newspapers, international magazines, and on various websites. Major bylines include Financial Times, Daily Telegraph, Porsche, Outside Magazine, Rock and Ice, and Red Bull.

He holds two degrees in Exercise and Health Sciences, and a PhD in Public Health.

His areas of expertise are polar expeditions, mountaineering, hiking, and adventure travel. In his spare time Ash enjoys going on small independent sledding expeditions, outdoor photography, and reading adventure literature.

Read more at www.ashrouten.com or follow Ash via @ashrouten on Twitter and Instagram.