Polish climber Olga Dobranowski has successfully summited 6,812m Ama Dablam. Dobranowski claims that she did her final push solo from Camp 3, via the ever-popular southwest ridge, although Alan Arnette reports that she followed two Sherpas fixing ropes to the summit. She is the first to climb the mountain, one of the most aesthetically beautiful in the Himalaya, this season.
Dobranowski braved strong winds at the leading edge of Cyclone Fani to summit on May 4. She then descended to Camp 2 in the nick of time, as the weather became increasingly severe. Finally, on May 6 she finished her descent and trekked down to Namche Bazaar.
Dobranowski had been climbing to raise funds for the construction of a hospital in the Solukhumbu Valley.
About the Author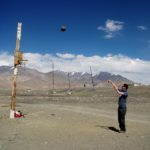 Martin Walsh
Martin Walsh is a freelance writer and wildlife photographer based in Da Lat, Vietnam.

A history graduate from the University of Nottingham, Martin's career arc is something of a smörgåsbord. A largely unsuccessful basketball coach in Zimbabwe and the Indian Himalaya, a reluctant business lobbyist in London, and an interior design project manager in Saigon.

He has been fortunate enough to see some of the world. Highlights include tracking tigers on foot in Nepal, white-water rafting the Nile, bumbling his way from London to Istanbul on a bicycle, feeding wild hyenas with his face in Ethiopia, and accidentally interviewing Hezbollah in Lebanon.

His areas of expertise include adventure travel, hiking, wildlife, and half-forgotten early 2000s indie-rock bands.