Last year, Jon Griffith of the UK and Sherpa Tenji of Nepal scaled Everest via the South Col in memory of their friend, Ueli Steck.
Steck died on Nuptse in 2017, before realizing his dream of linking Everest and Lhotse  without supplementary oxygen.
Tenji, who was to have been Steck's partner on that climb, aimed to do the traverse in 2018 without oxygen while Griffith accompanied him with oxygen, filming in 8K 3D to live stream the adventure via National Geographic.
Griffith and Tenji waited until the end of the season for their memorial climb and hit strong winds and unstable weather, so they canned the idea of the traverse and the livestream and climbed on bottled oxygen to the summit.
The resulting movie is currently playing in museums, schools and elsewhere and can be bought via Viveport, the virtual reality provider.
For the rest of us, the trailer is free and gives a great insight into climbing Everest. Click and move your mouse on the movie window to move the camera viewpoint around 360 degrees.
About the Author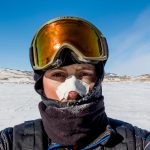 Ash Routen
Ash is an outdoor and adventure writer from the UK. He juggles a day job as a public health scientist with a second career in outdoor writing.

His words have featured in national newspapers, international magazines, and on various websites. Major bylines include Financial Times, Daily Telegraph, Porsche, Outside Magazine, Rock and Ice, and Red Bull.

He holds two degrees in Exercise and Health Sciences, and a PhD in Public Health.

His areas of expertise are polar expeditions, mountaineering, hiking, and adventure travel. In his spare time Ash enjoys going on small independent sledding expeditions, outdoor photography, and reading adventure literature.

Read more at www.ashrouten.com or follow Ash via @ashrouten on Twitter and Instagram.