Here at ExWeb, when we're not outdoors, we get our adventure fix by exploring social media and the wider interweb. Sometimes we're a little too plugged in, and browsing interesting stories turns from minutes into hours. To nourish your own adventure fix, here's some of the best links we've discovered this week…
Everest 3D: The clearest visual explanation ever of the location of Base Camp and Camps 1 to 4 to the summit.
A Final Ascent (Movie Trailer): One of Britain's finest mountaineers, gear innovator and mountain rescue expert, Hamish Macinnes, 88, has suffered from mental health issues in recent years and is facing one last summit push.
A Grizzly Affair: A journalist recalls her inner angst covering a fatal bear attack in the Yukon.
Billy Goats Gruff: The tragic tale of a goat who perished on the South West Face of Everest (sarcastic humour alert).
Going Underground: Exploring one of the world's most spectacular deep caves in Mexico.
Traveller Turned Politician: The multi-talented Rory Stewart, who walked across Afghanistan shortly after 9/11 and wrote The Places in Between — one of the best travel books of the last 20 years — is running for British Prime Minister.
A Rare Feast: After years of a ban on hunting caribou because of a population crash, the residents of a small town on Canada's Labrador coast once more get to savour their favorite country food after an unlikely series of events.
Stalked!! Entertaining blowhard Ash Dykes, who has never met an animal that wasn't trying to kill him, lays it on thick during his trek along the Yangtze River, now almost completed.
About the Author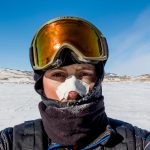 Ash Routen
Ash is an outdoor and adventure writer from the UK. He juggles a day job as a public health scientist with a second career in outdoor writing.

His words have featured in national newspapers, international magazines, and on various websites. Major bylines include Financial Times, Daily Telegraph, Porsche, Outside Magazine, Rock and Ice, and Red Bull.

He holds two degrees in Exercise and Health Sciences, and a PhD in Public Health.

His areas of expertise are polar expeditions, mountaineering, hiking, and adventure travel. In his spare time Ash enjoys going on small independent sledding expeditions, outdoor photography, and reading adventure literature.

Read more at www.ashrouten.com or follow Ash via @ashrouten on Twitter and Instagram.