The seven men and one woman missing on an unclimbed 6,000m peak near Nanda Devi East (7,434m) are now presumed dead. The victims include British citizens Martin Moran, John McLaren, Rupert Whewell and Richard Payne, Americans Anthony Sudekum and Ronald Beimel, Australian Ruth McCance, and Chetan Pandey, an Indian Mountain Guide. Indian authorities spotted five bodies in an avalanche-swept area from the air on Monday, but poor weather has suspended the recovery operation.
The expedition consisted of 12 climbers in total, whose main goal was Nanda Devi East. The group split into two, with four climbers led by guide Mark Thomas heading to Nanda Devi East, and the eight victims, including guide Martin Moran, going to acclimatize on a nearby unclimbed peak (known only as Peak 6,447m).
Moran's group checked in from their camp at 5,400m on May 25 and said they were going for the summit the next morning. When the team failed to return to the main Base Camp at Nanda Devi East, the alarm was raised. Mark Thomas scouted part of Peak 6447 and found avalanche debris and no sign of the missing eight. Bad weather then prevented an aerial search until Monday.
Climbers from across Britain have paid tribute to Mountain Guide Martin Moran, who had a legendary reputation among the UK climbing community. Moran had done many first ascents at home and abroad and was known as the guru of climbing in the Garwhal Himalaya. As an IFMGA guide, Moran mentored generations of aspiring guides and penned a number of influential climbing books. Kenton Cool wrote on social media: "He simply embraced the path less trodden and explored the deep unknown more than most and, as a result, he 'lived' more than most."
Relevant Links

Eight Climbers Missing near Nanda Devi East
British Mountain Guides: Update – Incident Nanda Devi East
Video: The 2009 British/Indian Nanda Devi East and Changuch Expedition
Martin Moran: A Personal Perspective
About the Author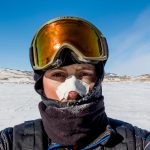 Ash Routen
Ash is an outdoor and adventure writer from the UK. He juggles a day job as a public health scientist with a second career in outdoor writing.

His words have featured in national newspapers, international magazines, and on various websites. Major bylines include Financial Times, Daily Telegraph, Porsche, Outside Magazine, Rock and Ice, and Red Bull.

He holds two degrees in Exercise and Health Sciences, and a PhD in Public Health.

His areas of expertise are polar expeditions, mountaineering, hiking, and adventure travel. In his spare time Ash enjoys going on small independent sledding expeditions, outdoor photography, and reading adventure literature.

Read more at www.ashrouten.com or follow Ash via @ashrouten on Twitter and Instagram.