Here at ExWeb, when we're not outdoors, we get our adventure fix by exploring social media and the wider interweb. Sometimes we're a little too plugged in, and browsing interesting stories turns from minutes into hours. To nourish your own adventure fix, here's some of the best links we've discovered this week…
The Ice Axe that Killed Trotsky: A fascinating short podcast on how Russian revolutionary Leon Trotsky died, and the story of the collector who hunted down that famous murder weapon.
Fram Expedition Revisited: A team of international scientists will try and channel the spirit of Fridtjof Nansen and spend a year trapped in the sea ice of the Arctic Ocean to collect vital climate data.
360 from the Roof of the World: Renowned adventure photographer Renan Ozturk captures a rare view of Everest using a drone.
The Last Overland: One of the original team, now 87, is re-creating the Oxford & Cambridge Far Eastern Expedition, which made history by being the first to successfully drive 10,000 miles from London to Singapore.
World's Highest Weather Station: A team of scientists and Sherpas have installed an automatic weather station at the Balcony on Mount Everest.
Limits of Endurance: Sports science writer Alex Hutchinson overviews a new study on the possibility of a maximum limit on human daily energy expenditure during prolonged exercise.
One to Chuckle At: In this article on Colin O'Brady's controversial crossing of Antarctica last year, the author declares, among other gaffes: "Any exposed skin, even a pin-prick in your thermal face mask, could cause frostbite in around 15 seconds."
About the Author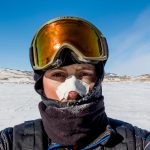 Ash Routen
Ash is an outdoor and adventure writer from the UK. He juggles a day job as a public health scientist with a second career in outdoor writing.

His words have featured in national newspapers, international magazines, and on various websites. Major bylines include Financial Times, Daily Telegraph, Porsche, Outside Magazine, Rock and Ice, and Red Bull.

He holds two degrees in Exercise and Health Sciences, and a PhD in Public Health.

His areas of expertise are polar expeditions, mountaineering, hiking, and adventure travel. In his spare time Ash enjoys going on small independent sledding expeditions, outdoor photography, and reading adventure literature.

Read more at www.ashrouten.com or follow Ash via @ashrouten on Twitter and Instagram.