Here at ExWeb, when we're not outdoors, we get our adventure fix by exploring social media and the wider interweb. Sometimes we're a little too plugged in, and browsing interesting stories turns from minutes into hours. To nourish your own adventure fix, here's some of the best links we've discovered this week…
One Say More: Everest season may be over but that hasn't stopped the ongoing analysis of the overcrowding. Writer and alpinist Mark Jenkins suggests some practical solutions.
Moulin Route: Well-known ice climber extraordinaire Will Gadd explores the murky inner workings of the Greenland Ice Cap.
One Small Step: As we approach 50 years since arguably the greatest expedition of all time, the first moon landing, the New York Times canvases the latest books on this famed event.
Deep Diving: A short video that goes deep with one of the world's best free divers.
Women to the Pole: A Smithsonian Magazine podcast on the first all-female, full-length North Pole expedition.
An Extraordinary Life: A look back at the life of Knut Haugland, Norwegian resistance fighter and member of the famous Kon-Tiki expedition.
About the Author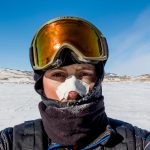 Ash Routen
Ash is an outdoor and adventure writer from the UK. He juggles a day job as a public health scientist with a second career in outdoor writing.

His words have featured in national newspapers, international magazines, and on various websites. Major bylines include Financial Times, Daily Telegraph, Porsche, Outside Magazine, Rock and Ice, and Red Bull.

He holds two degrees in Exercise and Health Sciences, and a PhD in Public Health.

His areas of expertise are polar expeditions, mountaineering, hiking, and adventure travel. In his spare time Ash enjoys going on small independent sledding expeditions, outdoor photography, and reading adventure literature.

Read more at www.ashrouten.com or follow Ash via @ashrouten on Twitter and Instagram.