Here at ExWeb, when we're not outdoors, we get our adventure fix by exploring social media and the wider interweb. Sometimes we're a little too plugged in, and browsing interesting stories turns from minutes into hours. To nourish your own adventure fix, here's some of the best links we've discovered this week…
Ice Warrior: The late Polish mountaineer Jerzy Kukuczka might have lost the race to become the first person to bag all the 8000'ers, but he was arguably the strongest high altitude climber of the 1980s.
Paddle and Portage: British kayaker Will Copestake recounts the 800km expedition he and a partner took through coastal Patagonia. Fiords, glaciers, difficult portages and exquisite photos of this wild backcountry.
Detained: America's half-witted approach to immigration hit a climber on the way back from his successful climb of Denali. The Guatemalan immigrant to the U.S. was dragged from a train and made to sweat it out in jail while border officials leisurely checked his right to remain in the country.
The English Patient: German magazine Der Spiegel tells the true story of Saharan explorer Laszlo Almasy, who was the inspiration for Michael Ondaatje's book (and the subsequent Hollywood film), The English Patient.
The Loneliest Man: Often forgotten, the third man of the famed Apollo 11 moon landing crew, Michael Collins, never set foot on the lunar surface but was left to orbit in the command module. This New York Times interview sheds light on what Collins did in those fateful moments as possibly the loneliest man in the universe.
Dodo's Delight: An international team of climbers encounter arctic ice, polar bears and storms as they go in search of unclimbed big walls on Baffin Island. The result? a wacky folk song. If you recognize the climbers, you'll know it's par for the course…
About the Author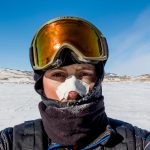 Ash Routen
Ash is an outdoor and adventure writer from the UK. He juggles a day job as a public health scientist with a second career in outdoor writing.

His words have featured in national newspapers, international magazines, and on various websites. Major bylines include Financial Times, Daily Telegraph, Porsche, Outside Magazine, Rock and Ice, and Red Bull.

He holds two degrees in Exercise and Health Sciences, and a PhD in Public Health.

His areas of expertise are polar expeditions, mountaineering, hiking, and adventure travel. In his spare time Ash enjoys going on small independent sledding expeditions, outdoor photography, and reading adventure literature.

Read more at www.ashrouten.com or follow Ash via @ashrouten on Twitter and Instagram.