Fifty-five year old German kayaker Freya Hoffmeister is 487 days and 11,480km into a mammoth journey to kayak the entire coastline of North America.
Hoffmeister estimates that her total journey add up to 50,000km, paddled in blocks of three to five months. She started in Seattle in March, 2017 and aims to complete the long-term project within the next decade.
Hoffmeister is currently in Alaska, heading north. She will then resume a section further south and continue down toward South America. She has been joined by a variety of partners for parts of her journey.
Broadly, she aims to paddle north for half the year and south for the other half. Hoffmeister is claiming a world first circumnavigation, but technically a circumnavigation requires travel in one direction only, and she has decided not to paddle strictly clockwise or counterclockwise.
Her route will take in a number of challenges, including the ice-laden Northwest Passage and northern Canada's massive Hudson Bay.
Hoffmeister's previous expeditions include circumnavigations of South America, Australia, Iceland, Ireland and the South Island of New Zealand.
Past honours include the World Paddle Award, National Geographic's Adventurer of the Year and the European Adventurer of the Year.
Links
Expedition Timetable
Expedition Map
About the Author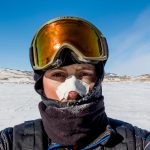 Ash Routen
Ash is an outdoor and adventure writer from the UK. He juggles a day job as a public health scientist with a second career in outdoor writing.

His words have featured in national newspapers, international magazines, and on various websites. Major bylines include Financial Times, Daily Telegraph, Porsche, Outside Magazine, Rock and Ice, and Red Bull.

He holds two degrees in Exercise and Health Sciences, and a PhD in Public Health.

His areas of expertise are polar expeditions, mountaineering, hiking, and adventure travel. In his spare time Ash enjoys going on small independent sledding expeditions, outdoor photography, and reading adventure literature.

Read more at www.ashrouten.com or follow Ash via @ashrouten on Twitter and Instagram.