Here at ExWeb, when we're not outdoors, we get our adventure fix by exploring social media and the wider interweb. Sometimes we're a little too plugged in, and browsing interesting stories turns from minutes into hours. To nourish your own adventure fix, here's some of the best links we've discovered this week…
Antarctica Controversy: In this excellent five-part series, the Outdoor Journal interviews Mike Horn, Colin O'Brady, Borge Ousland and Lou Rudd about last year's controversial Antarctic journeys undertaken by O'Brady and Rudd.
Trans Himalaya: Belgian ultra-runner Peter Van Geit is running 2,500km across 100+ Himalayan high passes, navigating moraines, glaciers, trails, alpine rivers and more.
Think Twice: A Washington Post journalist argues that we should steer clear of sacred mountains and commercialized Himalayan giants.
Arctic Obsession: Leading 19th century writers such as Sir Arthur Conan Doyle were peculiarly drawn to writing about the Far North. This New Yorker article discusses what sparked literature's arctic obsession.
Overlooked: The New York Times has started an interesting series of obituaries of those who were overlooked at the time of their death. The one covers the life of mountaineer Gertrude Benham, who climbed more than 300 peaks around the world.
Frozen Titans: World class ice climber Will Gadd on an epic mixed route at Helmcken Falls in British Columbia.
Seven Lonely Days: Exactly one year ago, Russian mountaineer Alexander Gukov was rescued after a week stranded at over 6,000m on Latok 1's North Ridge. This recounts one of the most dramatic rescues in recent mountaineering history.
About the Author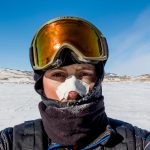 Ash Routen
Ash is an outdoor and adventure writer from the UK. He juggles a day job as a public health scientist with a second career in outdoor writing.

His words have featured in national newspapers, international magazines, and on various websites. Major bylines include Financial Times, Daily Telegraph, Porsche, Outside Magazine, Rock and Ice, and Red Bull.

He holds two degrees in Exercise and Health Sciences, and a PhD in Public Health.

His areas of expertise are polar expeditions, mountaineering, hiking, and adventure travel. In his spare time Ash enjoys going on small independent sledding expeditions, outdoor photography, and reading adventure literature.

Read more at www.ashrouten.com or follow Ash via @ashrouten on Twitter and Instagram.