Last week, 26-year-old Jared Munch completed a mammoth 37-day, 1,480km standup paddleboard (SUP) journey from Duluth, Minnesota to James Bay, in arctic Canada.
Munch began his journey on the north shore of Lake Superior. He knows that shoreline well, because in 2015, he circumnavigated the entire lake on his paddleboard. This time, Munch continued up Ontario's Micipicoten River. Then ensued a portage across a height of land to the Missanabie River, which he followed downstream to arctic waters.
A week from the finish, Munch also portaged around some rapids on the Missanabie, although he had run some easier whitewater some days earlier.
The whitewater rafting instructor made an average of 40km per day with equipment and supplies attached to his paddleboard. He used a light carbon fiber board on Lake Superior, but on the rivers, he opted for a bigger inflatable model. Munch picked up previously cached supplies en route.
His father paddled beside him in a canoe on some sections.
About the Author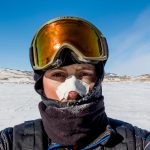 Ash Routen
Ash is an outdoor and adventure writer from the UK. He juggles a day job as a public health scientist with a second career in outdoor writing.

His words have featured in national newspapers, international magazines, and on various websites. Major bylines include Financial Times, Daily Telegraph, Porsche, Outside Magazine, Rock and Ice, and Red Bull.

He holds two degrees in Exercise and Health Sciences, and a PhD in Public Health.

His areas of expertise are polar expeditions, mountaineering, hiking, and adventure travel. In his spare time Ash enjoys going on small independent sledding expeditions, outdoor photography, and reading adventure literature.

Read more at www.ashrouten.com or follow Ash via @ashrouten on Twitter and Instagram.