Here at ExWeb, when we're not outdoors, we get our adventure fix by exploring social media and the wider interweb. Sometimes we're a little too plugged in, and browsing interesting stories turns from minutes into hours. To nourish your own adventure fix, here's some of the best links we've discovered this week…
Sailing Mongolia: In a rather madcap-sounding adventure, a new couple builds a cart and land-sails 300km across Mongolia. Besides windless days, one of the biggest obstacles to their progress was gopher holes!
King Denis: After rescueing three climbers, then stomping up a new line on Gasherbrum II this season, Denis Urubko cemented his Himalayan legacy further. This article examines his accomplishments this past Karakorum season.
Big E(go): In the perfect riposte to an email enquiry about climbing Everest, British climber and all-round entertainer Andy Kirkpatrick doles out some sage advice.
Heroes of Telemark: Popularized by the Hollywood movie, Heroes of Telemark, this Adventure Journal feature tells the story behind the famous WWII sabotage of a German heavy-water plant in Norway.
A Climber's Life: A profile of Pakistan's current high altitude giant Muhammad Ali of Sadpara. Among his many achievements, he made the first ascent of Nanga Parbat in winter with an international team in 2016.
No Turning Back: The late Austrian climber Hansjörg Auer was recently awarded a posthumous Piolet d'Or. This wide-ranging interview delves into Auer's relationship with fear, sponsorship and much more.
About the Author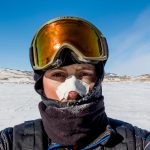 Ash Routen
Ash is an outdoor and adventure writer from the UK. He juggles a day job as a public health scientist with a second career in outdoor writing.

His words have featured in national newspapers, international magazines, and on various websites. Major bylines include Financial Times, Daily Telegraph, Porsche, Outside Magazine, Rock and Ice, and Red Bull.

He holds two degrees in Exercise and Health Sciences, and a PhD in Public Health.

His areas of expertise are polar expeditions, mountaineering, hiking, and adventure travel. In his spare time Ash enjoys going on small independent sledding expeditions, outdoor photography, and reading adventure literature.

Read more at www.ashrouten.com or follow Ash via @ashrouten on Twitter and Instagram.