Here at ExWeb, when we're not outdoors, we get our adventure fix by exploring social media and the wider interweb. Sometimes we're a little too plugged in, and browsing interesting stories turns from minutes into hours. To nourish your own adventure fix, here's some of the best links we've discovered this week…
The Impact of Antarctica: From polar penis to bowel movements, Lou Rudd discusses how last year's Antarctica expedition impacted his body physiologically.
Rescue in Pakistan: The past month has featured rescues aplenty in the Karakorum. This UK Climbing article discusses the complex issue of helicopter evacuation in Pakistan.
First Woman: British adventurer Sylvia Cook regales how she became the first woman to row across an ocean. Cook crossed the Pacific in 1971 with John Fairfax. Along the way, they swerved round a cyclone, evaded shark attacks and dealt with a broken rudder.
Manaslu: With the post-monsoon Himalayan season just around the corner, it's a good time to recall this Alpine Journal story of a failed attempt at a new route on Manaslu in 1996 (scroll down to page three for the start).
Yukon Dreams: Oliver Bailey recounts his 1,600km paddle through the Yukon into Alaska, as part of the biannual Yukon 1000 event, the world's longest canoe race.
Why Bother: Andrew Mazibrada, one of the editors of Sidetracked magazine, muses on that age-old question, what on earth is the point of going on adventures and expeditions?
About the Author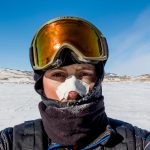 Ash Routen
Ash is an outdoor and adventure writer from the UK. He juggles a day job as a public health scientist with a second career in outdoor writing.

His words have featured in national newspapers, international magazines, and on various websites. Major bylines include Financial Times, Daily Telegraph, Porsche, Outside Magazine, Rock and Ice, and Red Bull.

He holds two degrees in Exercise and Health Sciences, and a PhD in Public Health.

His areas of expertise are polar expeditions, mountaineering, hiking, and adventure travel. In his spare time Ash enjoys going on small independent sledding expeditions, outdoor photography, and reading adventure literature.

Read more at www.ashrouten.com or follow Ash via @ashrouten on Twitter and Instagram.