Here at ExWeb, when we're not outdoors, we get our adventure fix by exploring social media and the wider interweb. Sometimes we're a little too plugged in, and browsing interesting stories turns from minutes into hours. To nourish your own adventure fix, here's some of the best links we've discovered this week…
Yangtze Complete: After warding off giant hailstones, altitude, stray dogs, wolves and bears, the ever-threatened Ash Dykes has survived by the skin of his teeth to complete his 6,400km walk along the length of the Yangtze River in China.
Waddington Success: British alpinist Simon Richardson and Canadian Ian Welsted have made the first ascent of Mt. Waddington's difficult West Ridge (4,019m) in Canada.
Brand O'Brady: A long-form essay from Outside Magazine on how controversial outdoor athlete Colin O'Brady built his own brand of storytelling.
New Rules: The Nepalese government are proposing new rules for Everest. Climbers may have to prove prior experience on peaks of 6,500m and above, and a minimum expedition payment of $35,000.
Link Sar: The full trip report of the standout first ascent of Link Sar (7,041m) by Americans Graham Zimmerman, Steve Swenson, Chris Wright and Mark Richey.
Paddle to Churchill: In this Sidetracked Magazine feature, Matt Cairns reports on paddling 1,600km from Winnipeg to the arctic town of Churchill.
About the Author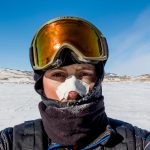 Ash Routen
Ash is an outdoor and adventure writer from the UK. He juggles a day job as a public health scientist with a second career in outdoor writing.

His words have featured in national newspapers, international magazines, and on various websites. Major bylines include Financial Times, Daily Telegraph, Porsche, Outside Magazine, Rock and Ice, and Red Bull.

He holds two degrees in Exercise and Health Sciences, and a PhD in Public Health.

His areas of expertise are polar expeditions, mountaineering, hiking, and adventure travel. In his spare time Ash enjoys going on small independent sledding expeditions, outdoor photography, and reading adventure literature.

Read more at www.ashrouten.com or follow Ash via @ashrouten on Twitter and Instagram.