Here at ExWeb, when we're not outdoors, we get our adventure fix by exploring social media and the wider interweb. Sometimes we're a little too plugged in, and browsing interesting stories turns from minutes into hours. To nourish your own adventure fix, here are some of the best links we've discovered this week…
Bum Deal: A British adventurer is planning to get a tattoo on her backside in return for a £15,000 donation toward her bid to become the youngest woman to trek solo and unsupported to the South Pole. Apparently she will face temperatures of -50. Perhaps the BBC have got the wrong Pole there…
Aviation Adventurer: Laval St. Germain has climbed Everest without oxygen, rowed the Atlantic and fatbiked in the Arctic, while balancing a full-time job as a commercial pilot.
An Everest Pioneer: Few of us recall the men and women behind the scenes who developed the equipment and science that made the first ascent of Everest possible. Meet one of those — Griffith Pugh, pioneer of altitude science and equipment.
The Revenant: The Revenant, the Western film in which Leonardo Di Caprio finally won his Oscar a few years ago, was based on the life of fur trapper Hugh Glass.
Kennedy's Unfinished Line: In 2017, climber Hayden Kennedy took his own life. The previous day, his girlfriend had died in an avalanche. A few years later, close friends of Kennedy set out to complete his unfinished plans on Mt. Hooker.
Lure of the North: Filmed in the remote Ontario wilderness, this short video beautifully captures the repetitive nature and hardship of cold-weather travel.
About the Author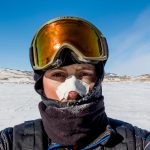 Ash Routen
Ash is an outdoor and adventure writer from the UK. He juggles a day job as a public health scientist with a second career in outdoor writing.

His words have featured in national newspapers, international magazines, and on various websites. Major bylines include Financial Times, Daily Telegraph, Porsche, Outside Magazine, Rock and Ice, and Red Bull.

He holds two degrees in Exercise and Health Sciences, and a PhD in Public Health.

His areas of expertise are polar expeditions, mountaineering, hiking, and adventure travel. In his spare time Ash enjoys going on small independent sledding expeditions, outdoor photography, and reading adventure literature.

Read more at www.ashrouten.com or follow Ash via @ashrouten on Twitter and Instagram.