When you think of Antarctica, a lonely traveler inching across an ocean of ice with a heavy sled may be the first image that springs to mind. But the vast continent is also home to the largest number of unclimbed peaks on earth. Mountaineers have been trying their luck on virgin ground down south for decades, including legendary names such as Messner and Bonatti.
In 2012, National Geographic sent four American climbers off to a remote and untouched mountain range. Flying into the Russian base of Novolazarevskaya in the north part of the continent, Mike Libecki, Cory Richards, Freddie Wilkinson and Keith Ladzinski headed for a cluster of granite towers in a previously unclimbed eastern part of the Wohlthat Mountains in Queen Maud Land.
Held back at the Russian base by poor weather, they, of course, had to indulge in that most time-honored Russian tradition of quaffing several shots of the local moonshine. When the weather broke, they were flown out to the edge of the range and left at the mercy of one of the "last mountain frontiers on terrestrial earth."
They were skiing around the spires to scout out possible climbs when the katabatic winds that often rage across the continent pounded them and their base camp, and forced them to fight to save their expedition.
Watch the video at the link below to find out if the winds got the better of them or not…
KATABATIC: Exploring Antarctica's Unclimbed Peaks
About the Author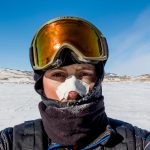 Ash Routen
Ash is an outdoor and adventure writer from the UK. He juggles a day job as a public health scientist with a second career in outdoor writing.

His words have featured in national newspapers, international magazines, and on various websites. Major bylines include Financial Times, Daily Telegraph, Porsche, Outside Magazine, Rock and Ice, and Red Bull.

He holds two degrees in Exercise and Health Sciences, and a PhD in Public Health.

His areas of expertise are polar expeditions, mountaineering, hiking, and adventure travel. In his spare time Ash enjoys going on small independent sledding expeditions, outdoor photography, and reading adventure literature.

Read more at www.ashrouten.com or follow Ash via @ashrouten on Twitter and Instagram.