Here at ExWeb, when we're not outdoors, we get our adventure fix by exploring social media and the wider interweb. Sometimes we're a little too plugged in, and browsing interesting stories turns from minutes into hours. To nourish your own adventure fix, here are some of the best links we've discovered this week…
Searching for Adolfo: A moving tale of a yearly pilgrimage to Aconcagua in search of a missing brother and climbing partner.
Swenson Swan Song: Sixty-five-year-old American climber Steve Swenson ended his high-altitude career in style with the first ascent of Link Sar this summer.
Across Siberia: Biologist Clemens Ratschan undertakes an 800km walk and paddle through Siberia's swamps, taiga, dry rivers and occasional solid ground.
What Next?: After his career-defining free solo of El Cap, Alex Honnold faces the same existential questions a prizefighter might grapple with after winning the heavyweight crown. ESPN probes where the world's greatest free soloist goes from here.
The Climbing Taxman: An insightful podcast with Mick Fowler, Britain's foremost adventure climber, who holds down a full-time job in the British tax system while spending his holidays making remarkable first ascents in the greater ranges.
Into the Ice: Mike Horn and Borge Ousland are on their way through the Arctic Ocean and are approaching the edge of the sea ice. Repair stops along the Alaskan coastline has delayed their progress a little.
About the Author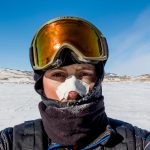 Ash Routen
Ash is an outdoor and adventure writer from the UK. He juggles a day job as a public health scientist with a second career in outdoor writing.

His words have featured in national newspapers, international magazines, and on various websites. Major bylines include Financial Times, Daily Telegraph, Porsche, Outside Magazine, Rock and Ice, and Red Bull.

He holds two degrees in Exercise and Health Sciences, and a PhD in Public Health.

His areas of expertise are polar expeditions, mountaineering, hiking, and adventure travel. In his spare time Ash enjoys going on small independent sledding expeditions, outdoor photography, and reading adventure literature.

Read more at www.ashrouten.com or follow Ash via @ashrouten on Twitter and Instagram.